A requiem for the Hindustan Times, Bhopal
The story of the Bhopal edition, and how it was slowly stifled before it was shut down earlier this week.
SHAMS UR REHMAN ALAVI recounts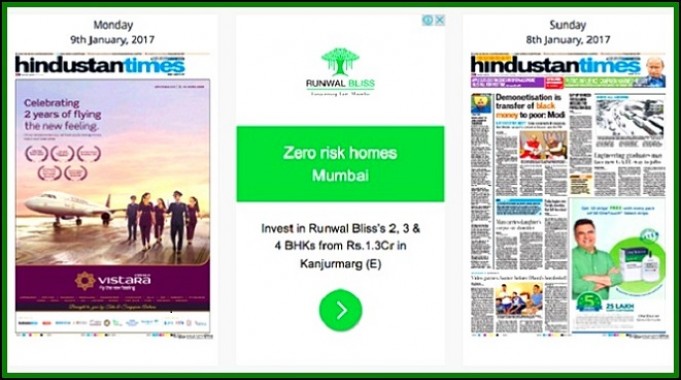 The last two newspapers published out of Bhopal.
BHOPAL: The Bhopal edition of Hindustan Times was launched in the year 2000. The paper had come to Madhya Pradesh at a time when HT had decided to expand in North India.
It was the right time to launch an edition in Bhopal, as there was no major competition. In fact, Bhopal did not have any edition of a national English newspaper.
Within a couple of years, HT established itself in Bhopal. The paper had a rare connect with readers here. Circulation was going up fast. Sixteen years later, the management decided to 'shelve' four editions including Bhopal. On January 10, the paper didn't reach the subscribers' homes. In the city, the reaction has been of shock. Readers were surprised at how such a big group could shut an edition that was so popular here. Many believe that financial reasons may have been the reason for the closure.
But the story isn't that simple and straight. Staffers and those who have worked with HT, Bhopal, knew that for the last few years there were strange, inexplicable, steps being taken which hurt the edition.
For many years, HT was the sole national English paper in Bhopal and had no serious competition. But it was 'decided' that the circulation would not be increased in Madhya Pradesh. Sales staff rued the fact that they were given instructions not to go for higher circulation.
In a way it was understandable that optimum circulation was maintained in view of high printing costs. But the paper wasn't sent to many cities and districts despite demand. With no competition for almost a decade (Times of India arrived only few years ago), HT had all the advantage.
Yet, it didn't go for higher circulation. The immensely popular Bhopal Live and Indore Live supplements were closed in 2011. Reader feedback was opposed to it, yet, the decision was taken. That was not the end.
After that, the pages were reduced in 2013. Then, one fine day, it was decided that the editing desk would be shifted to Delhi. This was in 2014. HT Bhopal was clearly withdrawing. Even the post of editor was kept vacant for long and later abolished. Now it was just a mini edition with a printing location.
In Delhi, a small team was given task of looking after the reports sent from Bhopal. Strange deadlines were set. The local management was also frustrated and privately the managerial staff would wonder, "Why they are doing it, targeting their own edition, killing it".
But nobody had an answer. The paper had enormous impact in MP. Journalists who came from outside were surprised to see the impact of stories in the HT here, especially, in terms of action and steps taken by government. Politicians and bureaucrats reacted very promptly.
The Bhopal edition raised issues of social concern and also reported stories from rural areas. Whether it was malnutrition deaths or scams like Vyapam, the paper took a lead over local Hindi papers despite the latter's huge network.
Some illustrious journalists who headed the edition as resident editors in the past had ensured journalistic freedom in the newsroom. Apart from this, readers had an emotional attachment with the paper in Bhopal.
The paper continued to have a healthy circulation. It survived many years despite attempts to weaken it. Finally, when it had been brought down to the level where it was easy to take the decision to 'kill it', without need to give any justification, this was done.
For the journalist fraternity in Bhopal who had witnessed the strangling of the paper due to strange policies, the decision was on expected lines . It was not just a paper for cities like Bhopal or Indore, but a paper that represented a state as big as Madhya Pradesh.
Journalists in Bhopal recalled how senior editors earlier would take a stand when such decisions were taken but not anymore. The sacking of journalists and the effect of a big group taking such a decision has also caused alarm among journalists, who are already feeling the pinch in other organizations.
"Whenever such a proposal was brought in a national newspaper, the Delhi-based editor would retort, why not axe a non-performing manager, his salary alone would cover the salaries of our entire editorial staff", said a senior journalist in Bhopal.
"But those were different times, now who will take such a stand for fellow journalists", he rued.
(Shams Ur Rehman Alavi has been a journalist for 18 years. He was special correspondent with HT Bhopal when he quit the paper in 2015)