Anguish in Kashmir over mothers' deaths
The death in firing of two mothers who leave behind babies has provoked another wave of outrage on social media.
MOAZUM MOHAMMAD reports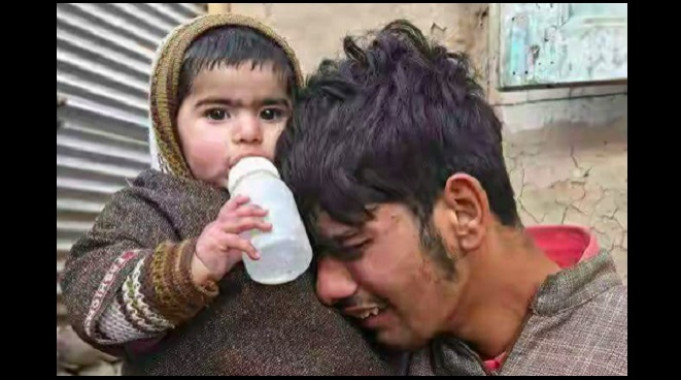 Pix: Touseef Mustafa
Srinagar: Two searing images of baby girls whose mothers were killed this month, allegedly by government forces in north and south Kashmir villages, sparked anger and indignation on social media. The photos of the two babies in Kupwara and Shopian villages brought into sharp focus the continuing suffering the children face in the region. Their story was covered in the local press but has hardly surfaced in the mainstream media.
Agence France Presse (AFP) photographer Touseef Mustafa clicked a photo on December 11 which captured six-month-old Maryam Jan, daughter of slain 22-year-old Mysra Bano of village Unsoo in the border district of Kupwara, with a feeder in her mouth as people were readying her mother for burial. As soon as the photo was put online by the agency, it went viral on social media, receiving hundreds of likes and shares with messages condemning the government forces' action.
Similarly, in another photograph, 11-month-old Azra Jan, daughter of 24-year-old Beauty Jan of Batumaran village in Shopian is seen being held by her grieving 27-year-old maternal uncle Mohammad Yaqoob Bhat. It received the same reaction on social media.
On the night of December 11, according to Ishfaq Wani, the husband of Mysra Bano, they were told by government forces to stay in the courtyard as they had laid siege in the village to hunt hiding militants. "It was raining and I along with Mysra and our daughter were sitting in the courtyard in the night. Suddenly, my daughter fell down on the ground and Mysra on the other side. I took my daughter and found my wife in a pool of blood," he said.
In Shopian, Beauty Jan's killing on December 19 resembled Mysra Bano's. In the village, clashes were going on as two Jaish-e-Mohammad militants were killed. Around 11:30 am Beauty Jan brought a glass of water for her ailing uncle into the room and within no time she lost balance and her daughter fell from her arms, said her brother Mohammad Yaqoob Bhat.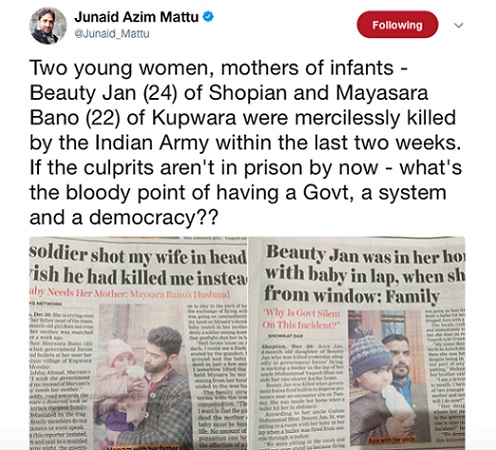 "We found Azra was safe and only Beauty was hit by bullets. We took her to hospital where doctors declared her brought dead," he said. The police claimed that the woman was killed in "cross firing" during the encounter.
A photo of six month old Maryam Jan, shared by human rights activist Khurram Parvez on Facebook asked: "Tears of this baby, whose mother was killed today in Kashmir, will not shake us?"
These children still have one parent. Orphans in Kashmir are even unluckier. The UK-based charity Save the Children's 2012 report "Orphaned in Kashmir - The State of Orphans in Jammu and Kashmir" has put the estimated number of orphans at more than two lakh. Of this figure, 37 per cent were orphaned in the ongoing armed conflict
Ather Zia, a poet and a political anthropologist who teaches Anthropology and Gender Studies at the University of Northern Colorado Greeley, noted on Facebook that she does not "find strength to make yet another post about a child orphaned and mother killed". She was referring to the Shopian mother.
Journalist and author Mirza Waheed, while tweeting the photo of Azra, wrote that 60 civilians were killed so far this year. In a subsequent interview through email, when asked why the mainstream media had not covered the story of the two mothers, he alleged that over the last few years, large sections of the Indian media have essentially characterised Kashmiris and their children as the expendable 'other'.
"The loss of life in Kashmir, nearly 60 civilians have been killed this year, is now mostly presented as a necessary cost to keep Kashmir in check. Perhaps that explains the lack of outrage," he told The Hoot.
According to him, "Equally, when militants killed a police officer earlier in the year, it was heartbreaking to see the weeping photos of his young daughter Zohra''. This death too instigated a strong outpouring on social media as well as the mainstream Indian media. The photo of eight-year-old Zohra, daughter of Constable Abdul Rashid who was killed by militants on August 28, was taken during his funeral. Cricketer Gautam Gambir offered to pay for the girl's education for life.
The painful story of the two Shopian and Kupwara babies prompted an angry reaction from National Conference spokesman Junaid Azim Mattu .
"Two young women, mothers of infants….were mercilessly killed by the Indian Army within the last two weeks. If the culprits aren't in prison by now, what's the bloody point of having a Govt, a system and a democracy??" Mattu tweeted.
"She is unable to sleep. Azra is looking at the face of every person in the family in search of her mother," said her father Ishfaq Wani.
Child rights expert Hilal Bhat who is Technical Advisor to the Jammu and Kashmir government on Child Protection and Juvenile Justice, said that children are not on anybody's agenda.
"Unfortunately the political will is falling short of investments required in children for a better future. The government has to see the future dividends it can reap in long run from appropriate investment in children," said Bhat.
Moazum Mohammad is a journalist based in Srinagar. He works with Kashmir Reader.