Hadiya: a media spectacle
The life of Hadiya – confined for converting to Islam and marrying a Muslim - has become the property of her father, the media, and the courts
GEETA SESHU reports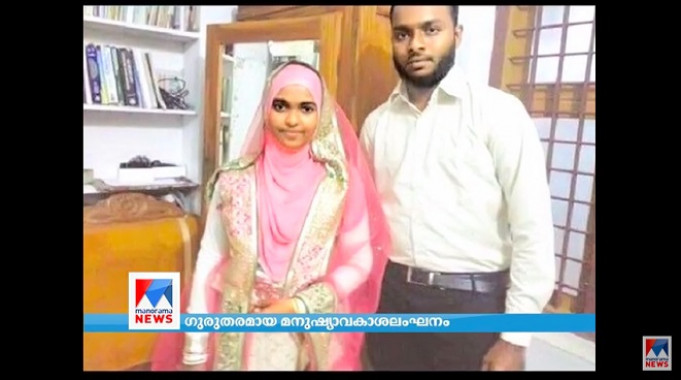 The release of a snippet of a video of Hadiya, alleging a threat to her life, is the latest in a long list of news reports, television bulletins and innumerable posts and messages on social media on the plight of the 25-year old woman who spends her days in the most bizarre, court-imposed house arrest in TV Puram in Kottayam district of Kerala, after her conversion to Islam and marriage to a Muslim youth, Shafin Jahan.
On October 30, a documentary will be released by film maker Gopal Menon at a special screening in Kozhikode, when the Supreme Court will hear a habeas corpus petition filed by her husband Shafin Jahan. The video and the documentary, both made from different points of view, jostle to further shape public opinion on Hadiya.
But, as police guard access to her home and attempts by women's activists and journalists to meet her are thwarted, how much do these videos contribute to the spectacle her life has become?
As she remains confined to her parent's home, the media debates around her life and her choices have swung wildly from the accusation that her decision to convert to Islam and later marry Shafin Jahan was an example of 'love jihad' (the media term coined to describe young Hindu women who were allegedly lured into a relationship with Muslim men and converted to Islam) to the charge that Hadiya's conversion was a veiled attempt by extremist Islamic groups to lure young people in Kerala to join the Islamic State.
Like a ping pong ball, her life is being lobbed between courts. On one side is the Kerala High Court which annulled her marriage in May this year calling it a 'sham' marriage. (Hadiya's father had approached the court alleging that there were efforts to take her to Syria to join an Islamic extremist outfit).
On the other side is the Supreme Court which heard a petition from her husband challenging the annulment and ordered an investigation by the National Investigation Agency (NIA) to determine the charge of radicalization.
In the midst of this, the Kerala Government submitted a police report rejecting the idea that Hadiya's case was part of a pattern of religious conversions. On October 9, after a rather stormy hearing in which the judges, led by Chief Justice of India Dipak Misra, questioned the authority of the Kerala High Court to annul Hadiya's marriage, the case was adjourned to October 30.
Amidst intense media coverage, a video released by Rahul Easwar, a social activist close to Hindu groups, shows her asking for help to get out and saying she feared for her life. She says her father kicks and hits her when she walks. The video ends abruptly mid-way through her sentence "if my head or any part of my body hits somewhere and I die…"
Easwar's video was taken on August 17. At a press conference in Ernakulum yesterday, it remained unclear why he waited so long to release it, particularly as, on the face of it, the latest clip seems to what part of the same video that Easwar had released earlier in which Hadiya is heard asking 'is this how my life should be?'
According to reports, Easwar was quoted as saying that he was holding on to the footage because it contained communal content. As a Hindu social activist, he had gained the father's confidence and managed to enter her home and record a video of her clearly speaking of a threat to her life. But Hadiya's father had accused him of a breach of trust, he said, and for this reason he did not disclose the entire video.
For his part, Menon told the Hoot that his documentary would trace the life of the young woman and delve into the manner in which the entire issue of her life was being communalized.
"My documentary will result in a paradigm shift in the discourse. So far, it is being discussed as the broad human rights issue of Hadiya. But I will show the intersectionality of issues - women, religion, the OBC community she comes from, etc.," he said, adding that he relied on a scientific investigation into the truth of her conversion and marriage.
Menon said that he wanted the film to 'come out fast' because he feared for Hadiya's life. He referred to the audio clip that Easwar had earlier put out of a conversation between the young woman and her mother that indicated a threat to the life of one of the persons who had helped her.
Menon, who has urged Easwar to make the rest of his video public, is worried about reports that Hadiya might be sedated and that, if she were produced before the court in a state where her mental condition was precarious (due to the sedation), her conversion could be annulled.
According to Menon, a team of doctors needs to monitor Hadiya's health because she eats only once a day and was tortured. He feels she should be kept in a safe place, perhaps a women's hostel.
If Menon is unconscious of the irony of taking decisions about the life of the young woman, he is not the only one, as prescriptions abound in the media over what should be done with Hadiya.
Partisan media
The videos and documentary apart, the news media coverage of Hadiya's case is riven by conflicting narratives. They ranged from 'love jihad' and forced conversions to the spread of Islamic radicalism in Kerala society and the influence of banned organisations such as the Students Islamic Movement of India and the Popular Front of India.
The term 'love jihad' dominated reports and headlines, though. As The Hindu reported, Justice Chandrachud said in a hearing on August 10: "Who said 'love jihad'? We are not concerned with catchphrases. We have to look into the facts of the case and not concern ourselves with catchphrases. If the NIA says there is no issue, then it is alright. But we have to see whether there is an issue of national security involved."
Despite this, successive media outlets continued to use the term. On August 17, the Times of India headlined the term in its report 'Supreme Court asks NIA to probe Kerala 'love jihad' case'. Till as late as yesterday, NDTV's report of Easwar's video had this headline: 'Am going to die, Woman In Kerala 'Love Jihad' Case Says On Camera'. So did the Indian Express, which said: 'Kerala 'love-jihad case': Hadiya pleads in new video – 'Please get me out, I will get killed soon'.
Sections also referred to her as Hadiya-Akhila, drawing attention to her conversion and casting doubts on it. The media also continuously referred to her conversion and marriage in almost the same breath, despite the fact that the conversion to Islam took place almost two years before her marriage in December 2016.
In a report saturated with wild conjecture, this Times Now programme spoke of 'love jihad and forcible conversions'. It quoted from secret reports made by the NIA and the Kerala Police, revealing a 'plot by the Islamists to hunt, convert and exploit Hindu girls'. The report added that the investigative agencies have 'found that Islamist organisations have formed 'Dawa Squads' to forcibly convert Hindu girls of a particular disposition in Kerala into Islam'.
Some lone, sane voices
A few reports tried to bring in another discourse into the debate, that of giving Hadiya the status of an adult capable of determining her own existence, pursuing her search for another religion, struggling to practise her new faith in the face of her parents' opposition, and her decision to get married as a way out of her father's control.
Some media reports also recorded the testimonies of her friends and others who helped her, even cautioning, as in this opinion piece, of the dangers of 'infantalising' Hadiya. In this report, there was some reference to the political tensions caused by the attempts of the Bharatiya Janata Party and the RSS to expand their presence in a CPM-led Kerala, even as the Social Democratic Party of India extended its own sphere of influence.
In a valuable report, academic J. Devika pointed out the social ferment in Kerala society since the 1990s, as Muslim youth increasingly sought education and social mobility into the Kerala middle class and educated Hindu women found themselves increasingly fettered by tradition, excessive dowry demands and the expectations of their families to conform to social norms.
But in the prevailing clamour, these voices were muted or silenced. With much of the discourse also playing out on social media, activists who held the position that Hadiya had a right to determine her own future were trolled or defamed either as supporters of Islamists or as naïve people who did not acknowledge the implications of the spread of radical Islam.
As the state continues to craft its own narrative with its NIA probes and national security concerns, it is clear that the simple right of a 25-year-old woman to freely speak out and be heard has become too dangerous for a democracy.