How the Spy Chronicles took shape
Reflections on working with Dulat and Durrani and what it took to make their experiences readable and gripping
ADITYA SINHA reveals all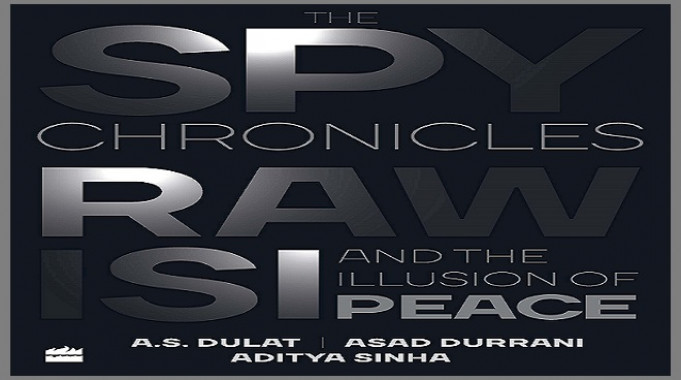 The Spy Chronicles, RAW, ISI and the Illusion of Peace by A S Dulat, Assad Durani and Aditya Sinha is published by Harper Collins India.
Writing was supposed to be glamorous, but in fact it is at the bottom of the totem of any collaboration, whether a film or book.
For instance, when The Accidental Prime Minister, a film based on the memoir by Sanjaya Baru about former Prime Minister Manmohan Singh's first term, is released on December 21, few of you will know I was a co-writer. I won't blame you - if it hadn't been for my co-writer Mayank Tewari, I would not have known that Bhavani Iyer was the writer of the recent film Raazi. Her name is absent from any publicity.
With The Accidental Prime Minister, the filmmakers were stuck for a year on how to adapt the book till a friend pulled me onboard in December. Shooting was to begin in February; the actors, art director, the DoP, and the director himself were waiting for a script before they could move. The screenplay was delivered on time, and none of the publicity trickling out mentions my role.
But it isn't the first time I've had to remain in the background. One of 2015's big bestsellers was Kashmir: The Vajpayee Years (HarperCollins India) by former Research and Analysis Wing (RAW) Secretary Amarjit Singh Dulat and myself. It is essentially a memoir of one of the most engaged civil servants in Kashmir.
From 2012, Dulat had tried to get his project started but was getting nowhere; a prominent publisher asked him for a synopsis and he sent her something so dreary and bureaucratic that she assumed it would be another turgid and self-serving retired-official-memoir that India has been plagued with for decades.
Finally in 2014, I reluctantly came on board. We would meet at his place every two days or so and we would talk and I recorded the discussions for the raw material of the book. I walked out of that project after a month or so because Dulat was being cagey, but to his credit he relented and promised to be candid.
When the book was published, I met Dr Farooq Abdullah on whom I wrote a biography back in 1996. He was effusive in his praise for how well-written it was. "The flow is so good, I finished it in two sittings," he said. I said I would be happy to co-write a memoir with him. At first he was enthusiastic, but he soon got distracted by other matters.
The general consensus seemed to echo his opinion about the readability of the book - no small thing when you consider the other books by former RAW officers that have come out since, which are drier than the Thar desert: the equivalent of a CIA "black site" interrogation. However, nobody seemed to think the writer was anything much more than a stenographer, and this is particularly true of the media, of which I was an active part since 1987.
The book's readability and my ability to draw out Dulat impressed General Asad Durrani, a former director-general of the Pakistan army's Inter-Services Intelligence (ISI). He knew Dulat from several Track 2 gatherings (the unofficial meetings of Indians and Pakistanis aimed at providing breakthroughs for official bilateral dialogue) and the two of them, at the urging of academics at the University of Ottawa, had co-written two essays.
One was published simultaneously in the Hindu and Dawn, and one is on the university's website; both are terribly difficult to read. The language is stodgy, self-important and deadens the senses. Durrani would have written them, and Dulat would have asked him to add particular points that he wanted to make; Dulat is reluctant to write even an email. The idea of a book had been floated about, Dulat being its enthusiastic champion and Kashmir: The Vajpayee Years convinced Durrani to jump into the project.
Dulat roped me in. Frankly it was a difficult project to resist: two former spy chiefs from arguably the world's most hostile neighbours. But the two men wanted something where they would exchange emails and write another academic cure for insomnia. That sounded less than appealing and when I bounced the idea off a prominent publisher, she suggested I do it in an interview format. It was a great idea. It would be spontaneous and fun to read. To their credit, the spymasters agreed, though meeting might be a problem, given that India and Pakistan are stingy with each other with regard to visas.
The solution was to meet on the sidelines of a Track 2 "intel dialogue" of former intelligence officials from India and Pakistan, held by the University of Ottowa. Peter Jones, the project director of the Ottawa Dialogue agreed to sponsor my flight and hotel stay along with the participants. We met for the first time in May, 2016 in Istanbul. I would land up the afternoon their Track 2 meet concluded, with Dulat and Durrani staying for an extra two nig hts or so.
We felt it was better if our meetings were low-key because we did not want our respective governments to be prying into what we were up to (although Dulat and I took it for granted that our National Security Advisor Ajit Doval kept a tab on us through one or other participant.)
I met Durrani for the first time and, though he was wary, he accepted me, probably because Dulat showed great trust in me. However, he never really warmed to me and that might have been because of his general disdain for journalists, especially Pakistani ones. I suspect that, being a military man accustomed to discipline (and the Pakistan army has run the country without accountability), he was not too enamoured of the reckless and undisciplined conduct of journalists (it is built into a job where you interact with all levels of society).
We conducted sessions that I led off with a question. I tried to steer the conversation in directions that interested me or towards the points they mentioned offhand which roused my curiosity. I encouraged them to talk about their specific concerns. I recorded it all and transcribed the interviews. After the break of about six months, we resumed in January in Bangkok. Two months later, at our own expense, we met in Kathmandu.
Finally I felt we had enough material to complete a book. If we kept waiting to catch up with events, we would never finish because there is no end to events, even if there is no resolution. We met one last time at the end of October 2017 in Bangkok again and then I got to work. Out of 1.7 lakh words, I shaped a book that did not follow a chronology like Kashmir.... but instead was divided into subjects (spycraft, Kashmir, Afghanistan, Trump, etc) and on December 20 submitted a manuscript of 83,000 words.
The two former spy chiefs got the shock of their lives when they saw what they had said, in black and white. A bit of editing happened, to put it mildly. HarperCollins India decided on a title: The Spy Chronicles: RAW, ISI and the Illusion of Peace. Durrani continually reintroduced grammar and language errors that I had edited out. His memoir, Pakistan Adrift, is due out soon and I want people to read it, even if doing so is the same as swallowing a bottle of Valium. It makes for a contrast with the readability and fast pace of The Spy Chronicles.
The book is out, it is flying off the shelves, there is lots of buzz, and social media both in India and Pakistan is filled with the usual cacophony. I realise that all of this is because of Dulat and Durrani, and the courageous project they undertook; nobody will buy the book because of me. However, it is also true that the book is the way it is, because of me.
Aditya Sinha is a writer and journalist based in Gurgaon.