ICE has melted: IPL rights and the media economy
The expanded profile of bidders this year suggests that IPL rights now attract players from various segments of the ICE business.
VIBODH PARTHASARATHI on the emergent media economy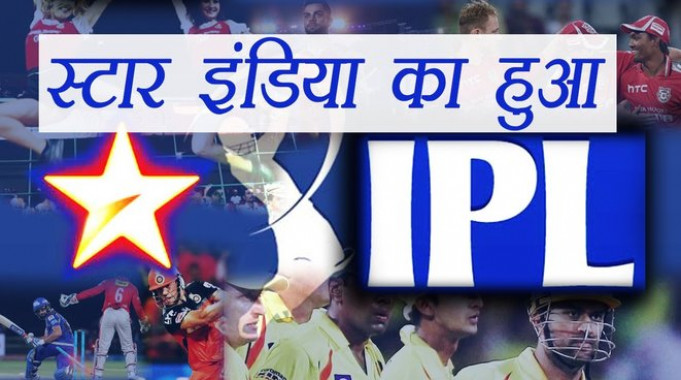 The spectacle called IPL exemplifies the coming together of the information, communication, and entertainment sectors - often referred to as ICE. The way IPL rights went this year is the latest and perhaps most clear indication of the rise of India's media economy. This is evident if we go beyond analysing the winning number and the thoughts of the winner, to look at emerging actors and trends.
Moving the focus from 'how much' and 'who' to 'who all' tells us much more about the IPL as an exemplar of the emergent media economy.
Profile of actors/players
Twenty-four entities bought the tender document for the IPL rights, of which 13 ended up bidding in the auction. These were a pleasant mix of sports and non-sports broadcasters, distributors of satellite TV, telcos from India and abroad, social media, advertising majors, internet majors, and media/sports rights owners.
It means this time competition for IPL rights saw numerous entities that in 2008 either did not exist competitively (Yupp, Jio, Twitter), or did not bother to participate despite being significant actors in their particular ICE sectors (like British Telecom, Airtel, Yahoo).
Furthermore, this expanded profile of bidders suggests IPL rights attracted entities other than broadcasters, from various segments of the ICE business. Lastly, in terms of ownership, the majority of applicants and bidders for India's biggest sports spectacle were either leading global players or Indian entities with dominant foreign holding.
Thatglobal ICE players are attracted to India is no longer a surprise. This is due to bubbling media markets in India and equally to media products traditionally consumed within India finding growing revenues outside India.
This twin dynamics demonstrates the heightened interaction of domestic ICE businesses with those in foreign markets. Such cross-border integration is most amplified in the markets for audiences, products, and capital, while continuing to be less so in markets for media labour.
Most significantly, the IPL auction saw players other than broadcastersconcertedly pursuing what is still largely perceived as a television spectacle. No doubt the profile of bidding broadcasters itself expanded this time with traditional rivals, Sony and Star India, competing with new players like Discovery and Sky, neither of whom was experienced in sports TV in India.
Besides these media content players, the auction enticed players from the media carriage sector, like Airtel, and those ostensibly only in the carriage sector, like Jio. This is not quite unexpected since both telcos have interests in the broadcasting business through their group-companies, Airtel Digital and Network-18.
What evoked decibels of chatter was Internet giants Facebook, Amazon, Yahoo, and Twitter purchasing the bid document. The only serious contender, this time, was Facebook which in many ways has traversed the boundaries of content and carriage marking the ICE business.
That this advocate of protecting intermediary liabilities on the Internet - which puts it in the traditional category of carriage firms - ventured into rights for media content is another indication of the emergence of a large and complex media economy. We can well imagine Facebook's India staff explaining to their American bosses the argument, and desires, for the rights of an English sport that India has wholly adopted, with its usual cacophony.
The winner
Eventually Star India, a leading broadcaster of India and the Indian affiliate of a major global conglomerate, won the rights with a bid of over Rs.160 billion. It beat competitors with much larger market capitalisation, whether they were group-companies of domestic conglomerates or global giants.
The accumulation of rights across platforms and territories by a player who is active across both of them, and for a property whose value hitherto has not been realised across platforms and jurisdictions, is indeed significant.
The IPL pie was cut into seven slices of rights this time, instead of the two slices in 2008, Indian and foreign rights. The former, actually pertaining to the subcontinent, was subdivided into TV rights and digital rights, reflecting the principal platforms of live sports (of the media economy).
Foreign rights were unbundled into rights for five global territories. Such an unbundling of rights in territorial and platform terms indicates the growing granularity in the business of reaching out to different types of audiences.
Players with competence in a particular territory or/and platform could bid for that slice; or, if confident, bid for the entire bundle. Auctioneers would pick the best bidder in each of these seven slices of rights only if the sum of their bids was more than that for the full pie. But this did not happen.
Star India's bid for the whole pie was more than the sum of the highest bids for each of the seven slices. What is more, it did not have the highest bid in any of these slices where there was competitive bidding.
Shifting the focus away from where Star India got these resources to how it will recover, and exceed, what it spent on buying the PIL rights takes us to the nature of the Indian media economy.
Star India could simply unbundle these rights into separate ones for existing/new territories and platforms. In one country/territory it could sell to different entities the rights for telecom, Video-on-Demand (VOD) subscriptions, ad revenues from free sites, broadcast, cable, and satellite TV.
Even in India, it could parcel out its online and telecom rights to leaders on these platforms who they competed against in the auctions. Star India's bid for digital rights in the subcontinent was 30% that of the highest bidder's, Facebook. While tariffs for online content are not regulated in India, those for TV channels are.
If the ongoing legal battle between a group of broadcasters, including Star India, and the regulator over the latter capping the price of TV channels is won by the former, it will get more IPL revenues from broadcasting than calibrated earlier.
Star India is bound to leverage IPL to help its VOD service to expand globally. This will be particularly so in cricket playing countries, since currently it does not offer products on this platform in any of these, apart from India.
Following IPL auctions, the way this broadcaster is likely to perform on TV and a host of other platforms will make redundant distinctions between 'old' and 'new' media. It will prevent any degree of porosity between territories and legal jurisdictions. Above all, it blurs differences between media platforms. Any dispute that may emerge is likely to involve various ministries, tribunals, and government departments dealing across ICE.
Star India will have to harmonise and synergise across platforms, whether owned by them or their prospective partners. It will have to remould and mutate content in multiple ways in response to the needs of different platforms and different places. The BCCI asked TV rights bidders to telecast the feed on at least three languages, which is not mandatory for internet rights - which lays bare the primarily English-speaking demography of online publics.
Different language feeds attract different advertisers and in turn spawn different audiences. The mutability of content depends and draws on the technical opportunities offered by various platforms; this spectacle, together with the time and place of watching, and paying to watch, will spawn a variety of audiences.
In doing so, it will transit from being a company in the TV business to one operating in the media economy.
Vibodh Parthasarathi teaches and researches media policy.