Its now Money Today
In the past five years TV Today has seen a sharp acceleration in revenue growth and profit margins.
The Hoot's ANALYST AT LARGE traces its rising fortunes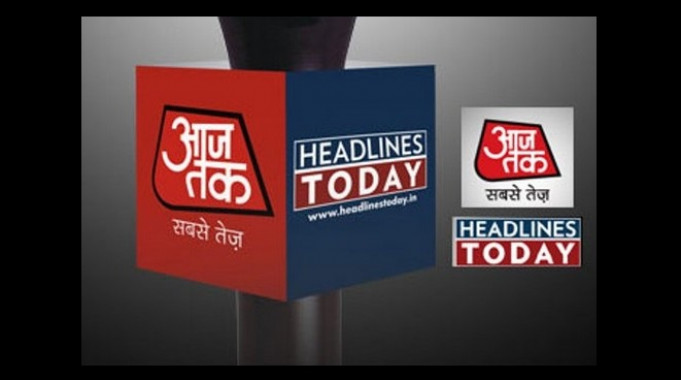 The financials of TV Today Network tell the story of how digitization and an expanding viewership base have contributed to rising fortunes for leading broadcast television players in India.
Literally the first news broadcaster in India to tap the public markets back in December 2003, initial investors in the TV Today Network IPO must have been a disappointed lot as, for the first ten years, as the stock spent much of its time in purgatory.
But after hovering around its IPO price (Rs 95) until mid-2013, it has had a meteoric rise since, climbing without a pause from Rs 70 in mid-2013 to Rs 449 now. The stock's turnaround has been driven by the dramatic improvement in the company's financials. While the company has been the market leader in Hindi news broadcasting for the last 16 years, it has been able to fully monetise this position only in the last five years, leading to a sharp acceleration in revenue growth, profit margins and of course, stock market fancy.
Ownership
TV Today Network Limited has had a far less chequered history than some of its peers in the print and television media business. Promoted by Aroon Purie, it has retained a laser focus on television broadcasting as its mainstay business from its inception nearly two decades ago.
The company's parent, Living Media India, has been in television content since 1994. Those were the times when the public broadcaster Doordarshan used to set aside programming slots for special news shows produced by some of the popular news anchors of today. The Roys of NDTV started out with a contract to produce 'The World This Week' on Doordarshan in 1988, and added on 'Tonight' in 1995.
By then, Living Media had its foot in the door by producing Aaj Tak as a 20-minute Hindi news bulletin aired on the famous Doordarshan Metro. By 1996, Aaj Tak started hosting special election programmes such as Aap Ki Sarkar. In 1997, Business Aaj Tak was launched and live-relayed the 1997 Union Budget from Parliament.
But it was not until 2000 when Aaj Tak was launched as a 24-hour news channel for Hindi viewers that it became the flagship business over the next 17 years. Living Media's TV Today Division was transferred to TV Today Network as a going concern, through a business transfer agreement. In 2003, TV Today branched out into English news with the rollout of 'Headlines Today' amid much fanfare.
By the time it decided to raise capital through its IPO in 2004, TV Today Network had a firm foothold on both the Hindi and English news space. The IPO was over-subscribed in a little over two hours and the company raised Rs 138 crore to upgrade existing news channels and create infrastructure to exploit subscription revenues (pay channels).
Post-IPO, the company added to its television menu by launching Tez and Dilli Aaj Tak. In 2015, the company rebranded its Headlines Today channel as India Today, splurging Rs 15.6 crore on the rebranding exercise.
Later forays into print media, FM radio and digital media notwithstanding, it is the television business that has powered and continues to power both TV Today Network's growth and profitability. Today, the company operates four news channels and three FM radio stations, and owns the niche daily newspaper Mail Today.
According to the latest stock exchange filings (September 30 2017), the promoter group owned 57.4 per cent of the equity in TV Today Network while public shareholders held the residual 42.6 per cent. The bulk of promoter shares (56.9 per cent) are held by Living Media India Ltd which publishes India Today magazine, with a fractional 0.002 per cent held by World Media Private Ltd.
Aroon Poorie, in his individual capacity, owns 2.9 lakh shares (0.49 per cent) while his daughter Koel Poorie holds a token 1315 shares (0.002 per cent). The listed company features sizeable institutional holdings, with Indian mutual funds (9.8 per cent) and foreign institutional investors (10.9 per cent) such as Virginia Tech Foundation, Steinberg India Emerging Opportunities Fund and Kotak Mahindra International also on board as shareholders.
The television business is TV Today Network's mainstay and brings in 93 per cent of its consolidated revenues and all of its profits. The company runs four channels – Aaj Tak, India Today, Tez and Dilli Aaj Tak. The flagship Aaj Tak has managed to retain its leadership position as the most-viewed Hindi news channel for 16 years running.
The company's FY17 annual report stated that it was the most-viewed Hindi news channel under the new audience measure system flagged off by BARC, with the channel vaulting past an average weekly viewership of a 100 million that fiscal. BARC's latest weekly data (January 13 – January 19), does show Aaj Tak ruling the roost in the Hindi news genre, with 10.9 crore impressions, beating Zee News (10.3 crore) and India TV (8.7 crore).
India Today TV (Headlines Today in an earlier avatar), has had to contend with more competition in the English news space with Republic and Times Now slugging it out for TRPs. The company claimed in its FY17 annual report that it had moved into the second spot. But the latest weekly data from BARC (January 13 – January 19) puts India Today Television in the third spot with 2.7 lakh impressions, behind Republic TV (7.3 lakh) and Times Now (5.5 lakh). No reliable data about viewership of Tez and Dilli Aaj Tak could be immediately accessed.
The group relies on a bevy of top journalists to sustain these viewership ratings. Rajdeep Sardesai is presently consulting editor with the group and anchors a prime time show on India Today TV. Rahul Kanwal, India Today TV managing editor, and others like Gaurav Sawant, Padmaja Joshi, Anjana Om Kashyap. Shiv Aroor, Preeti Choudhry, Avantika Singh and Ankit Tyagi are well-known names too. Koel Purie also has her own 'On the Couch With Koel' interview-based show. Punya Prasun Bajpai is the well-known face of Aaj Tak while Rohit Sardana and Shweta Singh are also popular.
TV Today's investments in talent reflect in the steady climb in the company's employee costs in the last five years from Rs 93 crore to Rs 157 crore on a consolidated basis. Employee costs now account for a fourth of the topline.
Financials
TV Today Network's financials until 2013 presented an uninspiring picture, with sluggish revenue growth and erratic profitability. The company's consolidated revenues grew from Rs 251 crore in FY08 to about Rs 320 crore in FY13, a 5 per cent annual growth rate. Operating profits (earnings before interest, depreciation and tax) actually fell from about Rs 83 crore to Rs 44 crore, as rising costs overtook slow-growing revenues in this period. With operating profit margins shrinking from over 30 per cent to about 11 per cent, net profits stagnated at Rs 11-12 crore in the three years to FY13.
But FY13 marked a dramatic turning point in the company's financials. Between FY13 and FY17, its consolidated revenues suddenly took wing, nearly doubling from Rs 320 crore to Rs 630 crore. With production and other costs remaining in check despite rising revenues, its operating profit margins expanded from 13 per cent to over 30 per cent. As the bountiful cash flows helped the company pay down all its long-term debt and move to a zero long-term debt, net profits in the last five years have zoomed from Rs 12 crore to Rs 99 crore (FY17).
The company's consolidated balance sheet as on March 31 2017 showed total borrowings (mainly short term) of just Rs 13 crore against a net worth of Rs 570 crore. Of the total assets of Rs 748 crore, nearly a third was parked in cash and bank balances of Rs 263 crore. While borrowings have fallen sharply, accompanied by stable fixed assets, the company's net worth has doubled as swelling profits have gone straight into the coffers as retained earnings.
What brought about this sudden reversal in the company's fortunes? Well, TV Today's financial turnaround has coincided with the digitization of the Indian television space. It was in 2011 that the Indian government, through the new Cable TV Networks Amendment Act, mandated a wholesale shift for television carriers across India from analog cable TV systems to digital addressable systems. The transition was to take place in four phases from October 2012 to December 2014.
The rationale for this shift was that the archaic analog cable TV system which dominated Indian broadcasting, was riddled with small cable operators who routinely under-reported their viewership base, collected subscriptions in cash and shared very little data on viewership patterns.
In this milieu, it was inevitably broadcasters who got the short end of the stick. While they paid high carriage costs to cable operators for relaying their content, their subscription revenues were minuscule. News channels in particular, were hard-hit by higher carriage fees and a low revenue share.
Digitization was expected to upend this equation by enforcing more realistic reporting of TV viewership and paving the way for independent audience measurement, thus putting the bargaining power in the hands of the content providers vis a vis the carriers.
The actual progress of digitization in India has been far slower than the regulators originally envisaged. Though Phase 4 of the transition (Rural India) was expected to be completed by the delayed deadline of March 2017, recent industry estimates suggest that about a fourth of total television households are yet to make the transition. Subscription revenues from digitization have thus not kept up with the initial high expectations.
But digitization has still delivered big payoffs to television content providers through a quantum improvement in viewership ratings, which has led to a surge in their advertising revenues.
Ad revenues in the media gravitate disproportionately towards the market leader and TV Today as market leader in the Hindi news space has raked in ad revenue. Reductions in carriage fees over the years with the availability of bandwidth, accompanied by healthy growth in ad revenues, is essentially what has powered TV Today's finances in the last five years.
However, after smooth sailing in the last five years, TV Today has witnessed a speedbump over the last couple of years. FY17 proved a difficult year with demonetisation slowing ad revenues and the slow pace of Phase 4 digitization leading to sluggish subscription growth as well.
The company closed the year with a 5 per cent rise in consolidated revenues and a flat operating profit. Exceptional items helped net profits report a 60 per cent bump-up. The first six months of FY18 have seen a mild pickup with revenues growing by 10 per cent and net profits by 8 per cent, on a standalone basis (consolidated not available).
In its FY17 annual report, however, the company remained optimistic that the industry would climb over the recent hump to get back to double-digit growth. The company hopes that the wider rural audience post-digitization and better audience measurement will bump up ad revenues in the long run.
While the company's balance sheet as well as profitability parameters present a picture of health, what mars the picture somewhat is its tendency to periodically infuse cash into loss-making non-television businesses and enter into related party deals with the parent.
Print
In 2012, despite its success as a television broadcaster, TV Today charted an unexpected foray into the print media by subscribing to new shares and buying out part of the existing shareholders in group venture Mail Today Newspapers Private Ltd, shelling out Rs 45.5 crore.
Mail Today was loss-making at the time of this acquisition and the company expected to achieve break even soon. Mail Today was started as a joint venture between Living Media India and UK-based Daily Mail.
A 2015 stock exchange disclosure later stated that the parent Living Media had 'indemnified' TV Today from any loss in value of this investment if and when it was sold. By March 2016, TV Today admitted that Mail Today's valuation had suffered a decline. But it reiterated that the paper's network of journalists offered strategic value and duly mopped up the remaining stake in Mail Today from the parent, for zero consideration, making Mail Today its 100 per cent subsidiary. It took a Rs 5.4 crore write off on the investment.
In terms of competitive positioning, Mail Today is not incredibly unique. It targets the middle-class reader and is Delhi's only mainline tabloid newspaper. While official circulation figures are not available, market sources peg its circulation at over 2.2 lakh, significantly below the readership garnered by market leaders such as Times of India, The Hindustan Times, The Indian Express, or The Hindu.
Segmental results from TV Today Network show that the newspaper generated revenues of about Rs 36 crore in FY17 but notched up losses of Rs 2.8 crore. But the company has continued to support its subsidiary. Recently, in November 2017, TV Today Network received board approval for pumping over Rs 30 crore into Mail Today, with the intention of helping the latter pay down its debt.
Radio
While TV Today's television business has gone from strength to strength over the years, its radio foray has barely limped along. The radio venture has had a chequered history. Initially known as Meow, it changed its name to Oye and has recently been rechristened to Ishq FM hoping for listenership and revenue traction. Like all other FM stations, the Ishq brand targets the 25-34 year old millennial population.
Segmental results reveal that the radio business which notched up Rs 10 crore revenues in FY13, saw this improve marginally to Rs 15 crore in FY14 and FY15 before slumping back to Rs 9-10 crore over FY16 and FY17. The losses from this business, before interest, have consistently overtaken the topline, ranging between Rs 9.3 crore and Rs 17.6 crore in the last five years. The business has also entailed high capital investments from time to time towards regulatory payouts on licences.
Given the bruising competition and low ad revenues, it has been speculated for a while that TV Today would exit this business. In February 2015, in fact, it did secure Board approval for the sale of its seven FM radio stations to Bennett and Coleman's Entertainment Network India Limited. The sale was expected to fetch Rs 48.5 crore.
But the Ministry of Information and Broadcasting threw a spanner in the works, holding back approvals for the three metro stations and demanding a migration fee of Rs 71 crore for their migration from Phase II to Phase III of the licensing policy. TV Today sought relief from the Delhi High Court and sold four stations at Jodhpur, Amritsar, Patiala and Shimla, to ENIL in September that year as a slump sale for Rs 4 crore. But the three other stations at Mumbai, Delhi and Chennai were retained.
In 2017, it decided to drop the decision to sell these stations, withdrew the Court case and paid up the Rs 71 crore migration fee with Rs 13.7 crore as interest, with an intent to continue with the business.
Digital
In April 2014, TV Today acquired the digital rights of its news channels from its parent Living Media India for a hefty Rs 38.7 crore payout. This is being amortised over 10 years in the P&L account. Recently, in November, its Board approved the acquisition of the entire digital media business from the parent for a consideration of nearly Rs 20 crore.
The company hopes that fast-paced growth from the digital business will make it the 'growth engine' of the future. However, accompanying disclosures suggest that revenues for the digital business have scaled up from Rs 37.7 crore in FY15 to Rs 44.7 crore in FY17 at a moderate 9 per cent. Their profitability profile is unavailable.
The company may also license Intellectual Property Rights from the parent, for which it may pay an as-yet-undisclosed royalty. While these are related party transactions under company law, the company claims they would be on an arm's length basis and that necessary approvals would be secured.