Karnataka media needs lessons in sensitization
From fallacious reporting to threats, some sections of Karnataka media have made lives of two young women miserable
Pushpa Achanta explains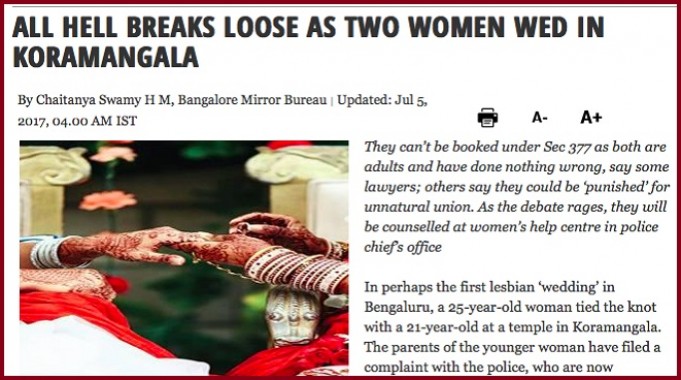 In May 2017, a young woman in Bengaluru, 21, left her home to live with her relative or friend, a lady aged 25. This is because the younger woman was facing domestic violence from her father despite having complained to the police twice. However, the parents of the younger woman filed a complaint of a "missing person" soon after their daughter left home. As the two women were adults, the police could not do anything. Instead, Vanitha Sahayavani, a helpline for women located in the office of the Commissioner of Police, Bengaluru "counselled" the two women about fallout of their actions. That the parents were pressurizing the younger woman to leave the older one is unsurprising, as many parents like controlling the lives of their adult progeny too. And the patriarchal mindset of the police and other personnel drove them to counsel the women to preserve the family as a 'unit'.
However, Bangalore Mirror reported a different version of the above story. In an article titled dubiously 'All hell breaks loose as two young women wed in Koramangala', the publication stated that the women had gotten married at a temple in Koramangala, a locality in south-eastern Bangalore. Further, the story said that the older woman was in love with the younger one for some time although the latter did not reciprocate. The article also mentioned that the older woman "modernized" the younger woman who hails from an orthodox family, with expensive gifts and 'Western' clothes.
The Domino Effect
The purpose of Bangalore Mirror's story is unknown though it attracted much attention and enticed Public TV, a Kannada news channel to broadcast a report about the two women falling in love with each other, the older woman wearing trousers and shirts 'to look like a man', the women living together after marriage. Further, the channel posted blurred photos of the young women on its Facebook page, Twitter feed and website. The social media content was shared widely, enhancing the damage.
A press conference announcement from civil society organizations available on orinam.net stated that Public TV did not stop there. Its reporter contacted one of the two women and asked her to appear on a show of theirs. When the young lady refused to do so, stating that she wanted to keep her life private, she was threatened with "wait and see". The Public TV staff member continued to harass the young lady with a demand for her to appear on one of the channel's shows. When one of the women questioned Public TV about its inaccurate and biased reporting, the channel said that it could do so as Bangalore Mirror already had.
How does Public TV or its viewers benefit from airing the news story other than the possibility of its popularity ratings increasing? Increased ratings owing to fabricated or exaggerated information indicate that many people watch and enjoy such sensational and incorrect news. That could also encourage Public TV and other news channels to repeat similar stories. Even if these women or other persons are in a romantic or marital relationship (homosexual or otherwise), no media house can justify, interfere or comment upon anyone's personal lives. At most, news publications or channels can depict the personal lives of people, positively, if it serves public interest but only with their prior consent.
Questionable reporting and response
Firstpost featured a useful summary of what varied news publications wrote regarding these young women. Yet, disappointingly, this summary states, "The former Zefo employee was in a relationship with another woman" in the first paragraph. These words are unwarranted because the young women and their supporters (like the Peoples' Union of Civil Liberties and other human rights defenders and civil society organizations) have contested these claims and expressed their unwillingness to discuss their personal lives with the news media. And the International Business Times uses a representative image of two dolls in wedding gowns, in its report unnecessarily.
As per The News Minute, Huffington Post India and Bangalore Mirror, although the Public TV images of the women were blurred, gozefo.com (the e-commerce portal of Zefo, a startup facilitating buying and selling of used furniture, electrical appliances et al, online), the younger woman's employer identified her. The company apparently contacted her about her continuing her employment and suggested that she discuss the matter with her parents. By 5.30 pm on the same day, the woman was informed that her employment had been terminated. It is unlikely that the lady got adequate prior notice about the termination or any compensation. The news report also mentions that Zefo stated that it "received disturbing news about the termination of an employee, was committed to creating an inclusive workplace, had zero tolerance for discrimination of any kind and would do all it could to set things right".
The action of the employer is unacceptable and unjust as it violates the basic human rights to life and livelihood and India's constitutional right to equality (Article 15) and right to non-discrimination (Article 14). Hearteningly, News9, Huffington Post India and The News Minute questioned media reports, familial pressure, the unsolicited and regressive counselling by the police and helpline personnel and the condemnable and unlawful action of Zefo.
According to human rights lawyers in Bengaluru, "No law in India recognizes or delegitimizes same sex marriages. While the regressive IPC Section 377 criminalizes "sex against the order of nature", it must be proved. News channels and publications can be prosecuted for defamation". Additionally, the Press Council of India recognizes the right to privacy of an individual. Importantly, while Article 19(2) of the Indian Constitution guarantees the Right to Freedom of Speech and Expression, that does not imply that such expression can cause harm.
Romal Laisram, founder, Queer Arts Movement India, added, "We prefer the media reaching out to LGBTIQA+ persons or networks in India when there is a story concerning the community so that facts are represented correctly. We deeply appreciate some media houses who contacted us for this story and heeded our advice and hope more follow this example".
In this context, it is crucial to note that women and gender non-conforming (LGBTIQAP+) persons are always at great risk especially when aspects or incidents in their lives are falsified or exaggerated. This also increases their vulnerability as demonstrated by the incarceration and extreme social backlash that transgender persons faced after TV9 Kannada's program Operation Anandi that portrayed transgender persons in a derogatory manner, was aired in September-October 2016. Hence, if the news media wants to retain credibility and respect, it must be sensitive particularly to the realities of disadvantaged and marginalized persons.