NIA picks up young Kashmiri photo journalist
Kamran Yousuf has been in the National Investigation Agency's custody for a week without any charges being brought against him.
MOAZUM MOHAMMAD asks why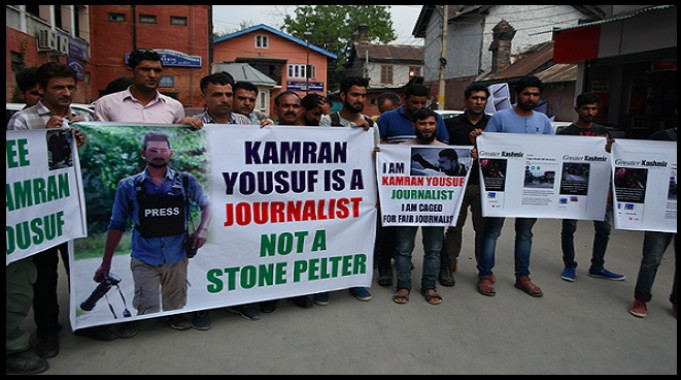 Pix: Muzamil Mattoo
Srinagar: On September 5, the National Investigation Agency (NIA) arrested photojournalist Kamran Yousuf from southern Kashmir's Pulwama district. After a week, except for vague charges of his involvement in stone pelting, the agency has not spelled out the charges against or what evidence it has for booking him.
NIA spokesperson Alok Mittal told the Hoot that Yousuf was arrested on charges of stone pelting. "We have registered a case," he said and asked me to text questions for a detailed explanation. But, till the time of writing, Mittal had not responded to these questions.
The Jammu & Kashmir police, which handed Yousuf over to the NIA, which fights terrorism, also refused to provide any information about the exact charges against him. Pulwama police chief Mohammad Aslam Chowdhary asked me to talk to his subordinate, who in turn asked me to get in touch with Pulwama police station for the case details without divulging anything substantial. Police officials at the station avoided comment on the issue.
Yousuf's maternal uncle Irshad Ahmad Ganai said no prior notice or arrest warrant was served and they are unaware of his whereabouts. He also denied that Yousuf had any case registered with the police or that he was facing trial anywhere in the region.
The 20-year-old photojournalist lived in Pulwama's Tahab village and was raised by his mother after she got divorced when Yousuf was two. "Someone told us that Kamran was arrested by police on the evening of September 5. Next morning, we visited the police station only to be told that he has been arrested by NIA and shifted to Delhi," said Ganai. "We do not know what NIA is. We are in shock. We know nothing about his whereabouts. My nephew would go cover each event - be it PDP, BJP event or encounter or protests".
On September 12, the Committee to Protect Journalists demanded Yousuf's immediate release because he was being held without charge. "The Indian authorities must stop trying to crush the independent press in the Jammu & Kashmir region. The authorities should immediately release Kamran Yousuf," said the Committee's Deputy Executive Director Robert Mahoney from New York.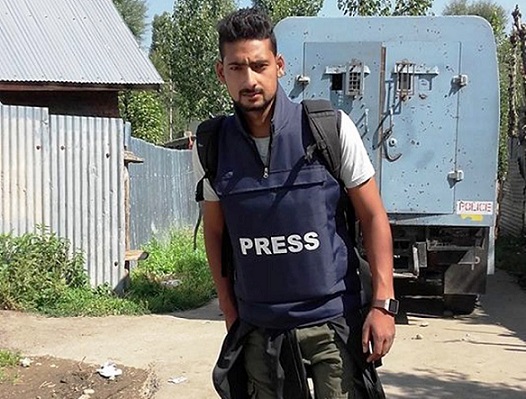 Kamran Yousuf
Journalists in Kashmir too have no idea why he is being held and what the possible charges might be. Senior journalist Parvez Bukhari who works with Agence France Presse in Srinagar pointed out since the evidence against him has not been made public, it amounts to an attack on the freedom of the press.
"Unless they (NIA) make the evidence against the arrested photojournalist public, it is another attack to obstruct the freedom of press, especially photojournalists," he said.
On Facebook, the deputy editor of the Indian Express Muzamil Jaleel wrote: "We need to stand up for Kamran and if nothing more, we can at least demand to know what is the evidence against him. Taking pictures, shooting videos, being at the spot, are all legitimate journalistic activities. This is no crime," he wrote.
Kashmir-based correspondent for Outlook Naseer Ganai also insisted that the NIA should inform journalists about the charges against Yousuf whom he called a 'daring and energetic' freelance photojournalist who did not mind travelling all night to reach the spot where something was happening.
"He would file two video stories a day and was a dedicated team member," said a journalist with whom Yousuf worked at Punjab-based Gulistan TV Network. Yousuf also contributed photos to multiple news organisations such as Greater Kashmir, Gulistan, and Munsiff TV.
Shabir Hussain Buchh, editor of Kashmir Newsline, a monthly magazine published from Srinagar, said the young man was framed because he was "denting the hunky dory image that some politicians from his area were trying to portray".
He added: "What I could grasp from the ground is that some quarters who were not happy with the way Kamran was working and putting out the news and pictures from south Kashmir are behind his arrest. It was hitting their interests in New Delhi and they had to do something about it. It just underlines how helpless journalists are in Kashmir. This is reprehensible. What's more reprehensible is the organisations that he had been working for disowning him".
Buchh was referring to Greater Kashmir which came in for sharp criticism, especially because it carried no story on him (implying the organisation had disowned him) apart from a single-column PTI story on September 6 with the headline "NIA arrests 2 'for stone pelting'".
This dismayed many in the fraternity but Greater Kashmir editor-in-chief Fayaz Ahmad Kaloo said that Yousuf was not on the payroll. "I would have owned him if he had worked with us. He was not a staffer and did not carry our I-card. He would send photos to all news organisations in 2016 and his photos were used. I would not have unnecessarily made it an issue," he told the Hoot.
His uncle confirmed that Yousuf was not an employee of Greater Kashmir but said 'he was eagerly waiting to be hired as a staffer'.
Moazum Mohammad works with Kashmir Reader. He can be mailed at moazumbhat@gmail.com.