Ploughing their own furrow...
.....Kashmiri women reporting on issues unrelated to the conflict and a farmer's daughter on local radio.
JYOTI PUNWANI on some bold women journalists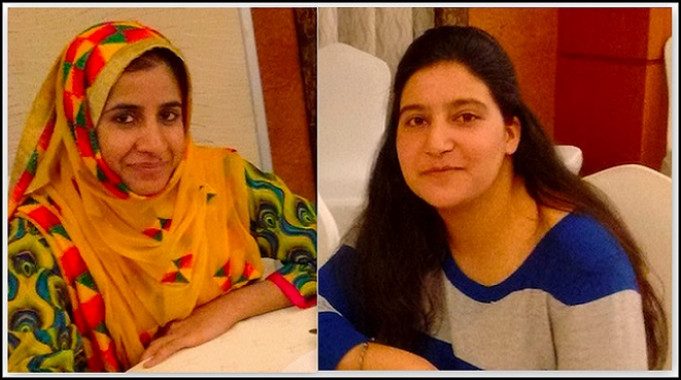 Pix: Baseera Rafiqi (left) and Raihana Maqbool
HERE'S LOOKING AT US
Jyoti Punwani

You grow up seeing your house raided by security forces while you are made to stand outside. During one such raid, your mother's jewellery is taken away, but your father dare not protest. Another time, your mother disappears for a week after everyone is herded together during a raid, and you assume she has died.
Such childhood memories are the kind that are never forgotten. Do they affect whatever you do?
Talking to three young women journalists showed that their commitment to their profession has enabled them to go beyond their traumatic memories and do their jobs in the best traditions of their profession. This, despite working in environments not conducive to journalism.
While scenes of Indian soldiers surrounding their homes are still etched in the minds of Kashmiri journalists Raihana Maqbool (27) and Baseera Rafiqi (28), their stories have little to do with the brutality of the Indian army in Kashmir. And that's a conscious choice they've made.
Raihana's first story, written as a journalism student, was about a far-flung village in Bandipora district which lacked electricity and other basic facilities. After she graduated in 2012, the editor of Srinagar daily Kashmir Images gave her a choice of beats. She chose health, specially women's health, for two reasons: the variety of stories she could get from a single visit to a maternity hospital, and the willingness of women patients to talk to another woman.
This choice led Raihana to the discovery that bride-burning, a topic that made national headlines throughout the '70s and '80s but died down after that, was widespread in the Valley. The two women's police stations in Srinagar see up to 20 cases a day, and all over the state, the number can double.
In 2015, Raihana became one of two Indian journalists (out of 150 who applied), to get a job with the Global Press Journal, brought out by the Global Press Institute from Washington. She was asked to write on anything she found interesting, on condition that it had not featured in the international media. That automatically ruled out stories about the Kashmir conflict.
The Kashmir stories you don't read about
After bride-burning, Raihana discovered bride-trafficking. Poor Kashmiri males who cannot afford to pay the expected mehr to their brides (the minimum expected is Rs 20,000 says Raihana), or who, for other reasons, cannot find brides, have started marrying Bengali women. Most such women are trafficked into the Valley on the promise of work, and often, their parents don't even know when they are married off.
Raihaina and Baseera (the latter is a freelancer and they often do stories together) met four such women. One of them had tried to run away soon after marriage, but failed to do so because she had no money. The daughter of one of them disclosed that she was taunted in school as an illegitimate hybrid.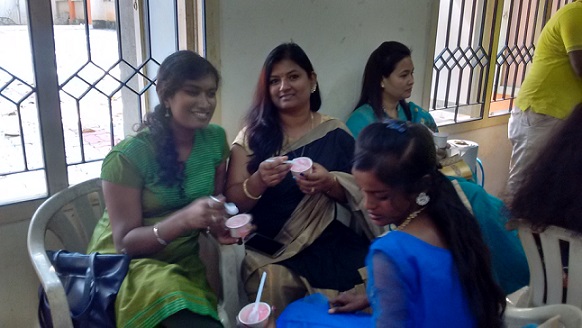 Nagamani (second from left) and her colleagues at the community radio
Baseera started off as an intern with the Indian Express and was assigned the agriculture beat because, she assumes, ``they saw me as a girl and a novice.'' One year of reporting on agriculture made her start questioning what she was doing, more so because it was obvious that the only stories to get prominence in the Indian Express were political. Her report on an acid victim was carried only in the Chandigarh edition and even there, it had been cut to 250 words.
Her internship over, Baseera got a few offers from national dailies, because her byline had appeared in one. But neither the women's beat nor the salary offered to her, appealed to her. She approached news portals but they only wanted conflict stories.
Both Raihana and Baseera have covered the continuing conflict in their state and have also exposed fake encounters. Raihana has had the frustrating experience of having her photographs of a clash between security forces and protesters deleted by the former even after she showed her Press ID and curfew pass. But they say, there's more to the Kashmir conflict than violent clashes. After the militant Burhan Wani was killed in 2016 and schools were shut for almost eight months, they wrote stories about girls who had opened schools in their homes and teachers who had started running community schools. ``That's also part of the conflict, isn't it?'' they ask.
``We want to show the world there's more to Kashmir than conflict,'' says Raihana. Baseera adds:`We report on issues that don't make headlines.''
Accusations of disloyalty
This quest for recording the unrecorded sometimes makes them unpopular in their own society. As a Fellow with the global NGO Save The Children, Baseera's reports on child labour and child sexual abuse provoked questions on Facebook about whether it was necessary for a Muslim to expose such goings-on in a Muslim society.
Readers were specially angry about her story on a girl's sexual abuse by a peer (spiritual leader). Raihana faced similar questions after her report that trafficked brides are sometimes forced into prostitution. But such criticism hasn't made them give up. ``Many Kashmiris are in denial. Our stories are thoroughly fact-checked, and we feel these aspects of our society must also be written about,'' says Raihana.
Why don't they just take the easy way out and stick to conflict stories?
Answers Raihana, ``Conflict is important, but everyone is anyway writing about army atrocities and azadi.''
But there's a more compelling reason that makes these two young women persist with their choice of stories.
`` World War II accounts tell you stories of people who tried to survive despite the Holocaust. Our next generation must know that Kashmiris were suffering while struggling for azadi but they were also surviving. We want to record this history,'' says Baseera.
The two point to pellet victims who've lost their eyes but are still trying to appear for the Kashmir Services; female entrepreneurs struggling against the odds; girls winning medals in cricket and karate. ``These are everyday heroes and heroines whose stories must be recorded too. NDTV and Aaj Tak aren't going to do so,'' they say.
Mainstream media's ignorance
In fact, according to them, national TV channels cannot be relied upon to broadcast Kashmir's reality. ``We can't watch some of these channels. They are just propaganda,'' says Raihana. She cites the TV reporter who passed off Srinagar's Haj House as a mosque. Clad in a pheran, he whispered dramatically into the camera that any moment, terrorists would emerge from these ``mosques'' behind him and shoot him. It is this kind of reporting, they say, that moulds the thinking of Indians towards Kashmiris.
Apart from hilarious questions such as ``How come you are so white? Does it snow in Kashmir throughout the year?'', both journalists recall being asked questions that show a surprising degree of ignorance about Kashmir. Raihana was asked in Delhi by other journalists how she managed to be let out of the house and how she had finished college. ``We have a fine education system, female literacy is very high in Kashmir,'' says Raihana indignantly.
Baseera's Bihari roommate at a Bengaluru programme asked her how she coped with the Taliban. ``I had to inform her there was no Taliban in Kashmir. After I spent the entire day explaining the Kashmir situation to her, she asked me: `Why don't you stand up for the national anthem?' It's no use, Indians are just not ready to listen."
Journalism isn't seen as a respectable profession in Kashmir for men, even less so for women. Both women have been told that they won't be able to find husbands if they continue in journalism. Luckily, their families are supportive. Baseera's father or brother even accompanied her on a few occasions during the post-Burhan Wani turmoil when she had to complete her assignments for Save The Children.
***
This columnist met the Kashmiri journalists at the 13th annual conference of the Network for Women in Media, India (NWMI) held in Chennai last week. Among the 100-odd participants from across the country was 36-year-old trainee radio programmer V. Nagamani from Karnataka who introduced herself during the first session as ``a farmer's daughter''.
If Raihana and Baseera's childhood memories are those of brutal state intervention in their lives, Nagamani remembers a more personal brutality - that of her father towards her mother. Ironically, her father was something of a farmers' leader in the area where she grew up. But he paid little attention to his family. When her mother asked for food for their four children, she was beaten.
Nagamani was the eldest child. She remembers going hungry, and being offered food by a sensitive neighbour. She cannot forget the days she spent weaving garlands at Rs 5 per kg and stitching blouses at Rs 8 per blouse, to help her mother.
One day, unable to watch her mother being assaulted yet again, Nagamani caught hold of her father's collar and asked him why he was doing this. When he told her to mind her own business, the 16-year-old slapped him twice and then ran off to her married sister's home.
Finding her voice
Today, Nagamani's father is proud of his rebel daughter. Her voice can be heard twice a week on the Sarathi Jhalak Rural Community Radio broadcast at 90.4 FM. The radio station, founded by veteran journalist D. S. Shamanthaka, went on air in August 2012. Located about 70 kms from Bengaluru, it reaches 200 villages. Run mostly by rural women, it managed to set up a Listeners' Club within a year.
Nagamani knew little about radio till her 13-year-old daughter asked her permission to go to the nearby radio station to do a programme with her classmate. When Nagamani expressed appreciation of her daughter's programme, her twin daughters urged her to come there too.
Nagamani remembers her nervousness when she was first asked to talk on air. ``I was married at 19. Before marriage, my father didn't allow me out of the house, and after marriage, I had no inclination to go out. I was fond of farming, so my three children and my 1.5 acre farm kept me busy.''
Today, Nagamani can't imagine staying home. After her training is over, she plans to join the radio station full time. Apart from doing regular programmes on cookery and festivals, Nagamani also goes news gathering and visits government agencies to ask them to resolve rural issues.
The training - and her family's encouragement (``my daughters are my inspiration, but even my mother-in-law appreciates what I do'') - has made Nagamani more confident. She was surprised when a woman who was being stalked approached her, hoping that she had the clout to do something for her.
Despite her husband's advice not to get involved (he has otherwise been very encouraging), Nagamani asked the woman to approach the local Mahila Mandal. ``My daughters may tomorrow face the same situation,'' she says. She also did a programme about this woman, without naming her. ``I told listeners: don't stay quiet; get help from the Mahila mandal. Safety is your right.''
Despite her childhood experience, Nagamani has not yet done a programme on domestic violence. She plans to do so soon.
Women's participation in the media has long been an urban phenomenon in India. But the last 20 years have seen rural women, as well as women in danger-ridden conflict zones, not only become part of the media, but also prove themselves to be thorough professionals, despite the circumstances they face.
Jyoti Punwani is an independent journalist based in Mumbai