Prasar Bharati's autonomy: Is it only about Smriti Irani?
Journalists chasing a story seldom step back to look at the bigger picture. What price administrative autonomy when there is no political autonomy?
SEVANTI NINAN on Prasar Bharati's unremarkable record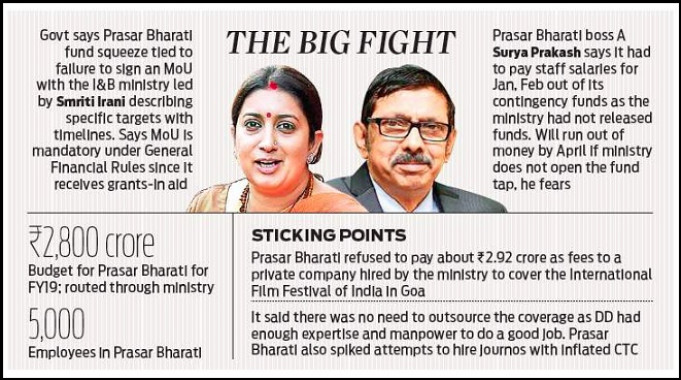 Journalists chasing the story of the moment seldom step back to look at the bigger picture. In all the gleeful reporting of the latest fracas between information and broadcasting minister Smriti Irani and the chairman of Prasar Bharati A Surya Prakash, and the latter's suddenly vocal protestations about the corporation's operational and financial autonomy, something rather vital is being missed out.
And that is overall autonomy from the ruling party, seeing that it is funded from public revenues. Has any political autonomy been in evidence since the current chairman of Prasar Bharati took charge? Is it even expected of the person in this job, seeing that Mr Prakash is forthright in his interview (Feb 4) in the Hindu about his ideological affinity to this government?
In the Act, passed in 1990, notified in 1997 and amended in 2011, the word autonomy does not occur anywhere, and is therefore not defined. You could argue that it is a matter of interpretation. It is widely assumed however that the Act conferred autonomy of decision making on the public broadcaster.
Prasar Bharati's current crisis, being energetically reported by The Wire has even earned Prakash and his colleagues on the Prasar Bharati Board a pat on the back from the Indian Express in an editorial. "This determination to hold the perimeter appears unusual, and heartening, at a time when, in different degrees and locales, the autonomy of institutions is perceived to be besieged or eroded."
Recent confrontations
Among recent confrontations between the ministry and the board, the public broadcaster has turned down a resolution moved by the ministry of information and broadcasting (I&B) to appoint a serving IAS officer to its board, blocked a move to fill two key editorial posts with journalists whose salaries would have been much higher than PB could bear, and rejected the ministry's demand that Doordarshan pay a private company Rs 2.92 crore for an assignment that it says was unnecessarily outsourced.
In retaliation, apparently, Irani blocked salary funds of Doordarshan and AIR, in December. The Union government earmarked around Rs 2,800 crores in budget 2018-19 towards Prasar Bharati for the salaries of its approximately 5,000 employees. Surya Prakash has been recently vocal about these issues, going on record with his differences with the Ministry for the first time. He has been quoted stressing the sanctity of an Act passed by Parliament which confers functional autonomy.
But his own status as Chairman in a part-time role has changed in practice, with his having assumed a full time daily role at the Corporation. While his status is still that of a Part-time Member of the Board, in June 2015 a notification was issued regarding his entitlements, so that he could receive a daily allowance subject to an overall monthly ceiling. This was retrospectively done to be applicable from the day Prakash was appointed Chairman – 29 October 2014. What this does in effect is to facilitate a daily role for him in the Corporation.
Is autonomy not put in jeopardy when a full time professional CEO heading Doordarshan and All India Radio has a full time (in practice) professional Chairman of the Board as his boss, who is a political appointee?
Political appointees
And as happens with every government, not just this one, appointees to the Prasar Bharati board include those who are clearly associated with the BJP or the earlier BJP government.
The current leadership of the corporation has problems with the ministry but not with the party and the RSS which has received unprecedented space on the public broadcaster since the BJP government took over, from even before Surya Prakash became chairman.
If the objection is to a ministerial appointee on the board but not to political ones with an idealogical association with the ruling party, it does seem like the concern about autonomy is partial. How come the media is not pointing this out?
Irani is not the first minister of this government to seek operational clout over Prasar Bharati's media units. When Ravi Shankar Prasad was MIB The Ministry issued an order appointing an information service official of additional secretary rank official as the Director General News in Doordarshan. It also gave her additional charge in the ministry as an officer on special duty and said she would report "to the ministry for all purposes".
This was gleefully reported in the press. Subsequently the ministry backed off after the CEO of Prasar Bharati took to tweeting about it and the chairman had a meeting with the ministry. It then asked her to report to Prasar Bharati for "all operational purposes" and to the MIB as the OSD.
The difference could be that this minister is not inclined to back off.
Shrieking about autonomy is a smokescreen for a far deeper crisis--the sheer irrelevance of this public broadcaster for the people of this country. Because the government's funding for Prasar Bharati goes into salaries, not programming. Surely the moot point is not the financial security of 5000 employees paid for by the tax payer, but what indispensable public purpose is served by the institution which eats up these Rs 2800 crore. In a country with access to some 800 other TV channels.
The more relevant questions to be asked about employees and staffing are then not being asked. The smallest percentage of PB's workforce are in programming, the largest in engineering despite technological changes. There is a strong lobby there. As a result this broadcaster neither sets standards of excellence with its programming, not meets huge, and genuine, information needs that people at the bottom of the income pyramid have. Our research shows that.
The Modi government came in on a promise of performance and delivery of development goals. Not long after it came in the Prime Minister decided he would use the public service broadcaster to serve his purpose, privileging access to Prasar Bharati over private sector media. The first part of that purpose is the promotion of his image and government. The second part comprises the ideology-led objectives of the party which runs this government.
Doordarshan's fulfilling of its development mandate is partly through promotion of the NDA government's programmes. In November 2016 it began a daily Swachh Bharat news capsule on DD News.
But India's low income audiences have a wide spectrum of information needs which Doordarshan and All India Radio were originally set up to address. PM Modi decided early in his tenure that the public broadcaster should run a farm news channel, which was duly launched on the government's first anniversary May 26, 2015, and named DD Kisan. It was an initiative taken in recognition of widespread farm distress.
It was, however, a satellite channel in Hindi, in a country where farmers have localized information needs relating to region and climate. Two and a half years later BARC audience research figures show that the weekly viewership of this channel is less than a crore farmers (80 lakh plus in February) in a country with 11.8 crore cultivators). That too with no competition, it is the only channel in this genre that BARC measures. Will there be an audit to see how much of a dent it has made in rural distress?
Viewership for most DD channels is poor, including the regional ones. Except for DD Urdu not a single channel figures on top of its genre. There is little autonomy on display in its newscasts, DD News' bland English News anchors with good accents can be counted upon to ask the most innocuous questions and indeed get suitably colourless panels to debate contentious issues. Does the political opposition get anywhere near equal time on this autonomous broadcaster? It does not. But DD and AIR have energetically promoted Mann ki Baat, the PM's outreach to the people.
For what they are best at, then, Doordarshan and AIR do not need any more autonomy.
This article has been amemded to accomodate the clarification issued by the Prasar Bharati Chairperson regarding his full-time status.
Sevanti Ninan edits the Hoot