Press freedom in China: A decade of decline
Detention and imprisonment is a means to silence those working in the unregulated media sector.
A report by the International Federation of Journalists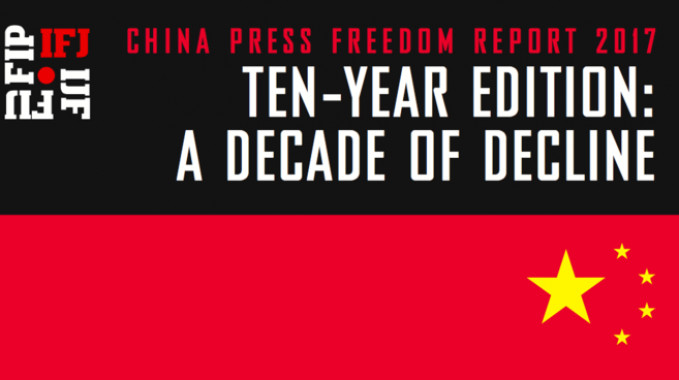 Extracted from The China Press Freedom Report for 2017
CHAPTER 4:
INSIDE THE MINDS OF CHINA'S JAILERS
JAILED MEDIA WORKERS
Imprisonment is the most extreme punishment used by China's central authorities to deter people from doing media work, such as reporting news and publishing commentary. Over the decade from 2008 to 2017, the IFJ's monitoring project identified 75 cases in which media workers were detained or jailed. The table on pages 28-31 reveals several informative patterns and trends. It reveals that the majority of victims are working in the informal media sector, and employed journalists who are targeted tend to be charged with crimes involving money.
Our records also clearly show that the heaviest penalties are imposed on writers and publishers working in sensitive border regions. Hong Kong media workers are likely to be charged with "illegally operating a business in the Mainland". Many detentions occur at politically sensitive times, such as major meetings of government and Communist Party bodies, and the anniversaries of key political and social events such as 1989's Tiananmen Square massacre. Citizen journalists who publish sensitive information on the internet and social media are liable to be charged with "leaking state secrets" or "picking quarrels and stirring up trouble".
The majority of victims are not staff journalists. Instead, individuals with fewer protections and more exposure are those largely targeted including bloggers, website operators, social media users, academics, publishers, book store owners and others documenting incidents and disseminating information to the public. Detention and imprisonment is a means to silence those working in the unregulated media sector. Meanwhile, the authorities have other ways to shut staff journalists down, including suspension, sacking, withdrawing press accreditation, and preventing them from travelling to report on events to sensitive areas.
It is clear from the figures that the harshest penalties are imposed on people who publicise abuses in China's unstable border regions, particularly Tibet, Inner Mongolia and Xinjiang, where tensions and violence between Muslim Uighurs and the Chinese central authorities have escalated in recent years. Three people are known to be in jail for life, all of them in relation to events in Xinjiang. They are Gulmire Imin, a blogger, jailed in 2009 for "separatism", "leaking state secrets" and "organising an illegal demonstration"; Memetjan Abdulla, a journalist and blogger, jailed in 2010 for "instigating ethnic rioting"; and Ilham Tohti, a blogger and founder of the website Uighurbiz, jailed in 2014 for "separatism". Seven of Tohti's colleagues on Uighurbiz were detained at the same time on charges of "separatism". It is not known if they have been tried and sentenced, because they remain in and are completely unable to communicate with the outside world.
When professional journalists are detained or jailed, it is often on charges involving money, such as fraud, extortion, criminal defamation, accepting bribes while covering events, and damaging a business's reputation. In 2015, Wang Xiaolu, a reporter with respected business magazine Caijing, was detained after he reported that the authorities were considering ending intervention in the stock market, triggering a sell-off. Wang made what appeared to be a forced confession on state television station CCTV before he went to trial and apologised for causing the country and shareholders great losses.
In January 2016, three journalists working for state-run newspapers in Wuwei, Gansu province, were charged with "extortion". The reporters – Zhang Yongsheng of Lanzhou Morning Post, Luo Huansu of Lanzhou Evening News and Zhang Zhenguo of Western Business News - were detained for three weeks and released without going to trial. Mainland media strongly criticised the detentions, saying the three were targeted because they had written critical investigative reports over several years.
Although there are no cases on record of Hong Kong news reporters being jailed in the Mainland, several Hong Kong publishers have been charged with "illegally operating a business in the Mainland". In several cases, the victims were operating a publishing business in Hong Kong Special Administrative Region and distributing the publications in the Mainland. Some individuals were detained in the Shenzhen Special Economic Zone or in Guangdong province, just over the border in the Mainland, when visiting family or friends. In October 2013, Yao Wentian, a Hong Kong publisher, was arrested in Shenzhen when he was preparing to release a book that was critical of China's President Xi Jinping. Yao was sentenced to 10 years' jail for "smuggling ordinary goods". The goods were bottles of industrial chemicals.
In May 2014, Wang Jianmin, the publisher of two Hong Kong magazines, was arrested in Shenzhen and charged with "illegally operating a business in the Mainland", "bid-rigging" and "corruption", and sentenced to five years and three months' jail. A journalist and an editor for the magazines, as well as Wang's wife, were also convicted of "illegally operating a business in the Mainland" and eventually released on probation or after serving their terms.
In the notorious Causeway Bay Bookstore case (see Chapter 1), five shareholders and employees of the bookstore and a related company, Mighty Current Publishing, were detained in late 2015. Shareholder Gui Minhai was picked up by Chinese security officers in Thailand and escorted back to China. Gui later said he had returned voluntarily to help investigations into a 2003 traffic incident. He was held in custody for two years, released in October 2017 and arrested again in January 2018 on unknown charges. His four colleagues initially said they were assisting the police with the inquiry into the traffic accident, but were later charged and released on bail. The exact nature of the charges is unknown, but media reports have suggested the men were charged with "illegally operating a business in the Mainland".
The annual meeting of China's parliament, the National People's Congress, and the meeting of the National Congress of the Communist Party of China, which is held once every five years, are dangerous times for journalists. The anniversary of the 1989 Tiananmen Square massacre each June is a high alert period. Gao Yu, an independent journalist,was detained in April 2014 in the lead-up to the 25th anniversary of the Tiananmen Square massacre and jailed for five years on charges of "leaking state secrets to overseas media" (see Chapter 1).
Any association with controversial figures can have dangerous consequences. In August 2017, writer Wu Mingliang and printing company owner Peng Heping were charged with "operating an illegal business" and detained for about one month. Wu and Peng had helped to publish the poetry of the 2009 Nobel Peace Prize laureate Liu Xiaobo. Liu himself was sentenced to 11 years' jail in 2009 for "inciting subversion" and died in custody in July 2017.
The Chinese authorities grasp the growing strength that digital media outlets have in China today, perhaps even surpassing traditional mass media, such as newspapers and television. Huang Qi, the founder of independent human rights website 64 Tianwang, was charged in November 2016 with "illegally leaking state secrets to overseas contacts". He remains in custody, his sentence unknown. Two other people associated with the site have also been arrested. Yang Xiuqiong is in custody on similar charges, with her legal status unknown, while Wang Jing was jailed in April 2016 for four years and 10 months for "provoking trouble".
The rise of citizen journalism is also resulting in arrests and crackdowns of activists and ordinary people contributing to public discourse or debate. In August 2017, blogger Lu Yuyu was sentenced to four years' jail on charges of "picking quarrels and stirring up trouble". Lu had collated a series of reports on protests around China from the mainstream media and republished them on social media sites under the tag "Not News". Lu's romantic and professional partner, Li Dingyu, was also detained with Lu in June 2016 and released after a trial in April 2017. No verdict was announced.
The IFJ's monitoring of those jailed in China for media work tells
a deplorable story of repression, leaving China with the dubious title as the world's biggest jailer of journalists. As well as the high-profile cases of imprisonment, there are many cases of individuals who are held in administrative detention on accusations such as "spreading rumours", sometimes just because of a single critical remark on social media. With an appalling contempt for international standards, the Chinese authorities also routinely target family members of media workers who are seen as a threat to the country's status quo, such as the three siblings of Zhang Ping who were detained by police in March 2016 after Zhang wrote critical articles from Germany, where he is employed by Deutsche Welle.
Many of the people whose cases are documented here remain in custody on flimsy charges and after questionable court processes. In many cases their fates remain unknown, as they have no way to communicate with the world outside their prisons. The IFJ urges the international community not to forget these individuals, whose "crimes" were nothing more than documenting and disseminating information about what is really happening to people in the People's Republic of China.