Pune girl livens up Republic Day
The girl got the Keystone Cops treatment, going from suicide bomber to aspiring pharmacist in 11 riveting days.
GEETA SESHU is amused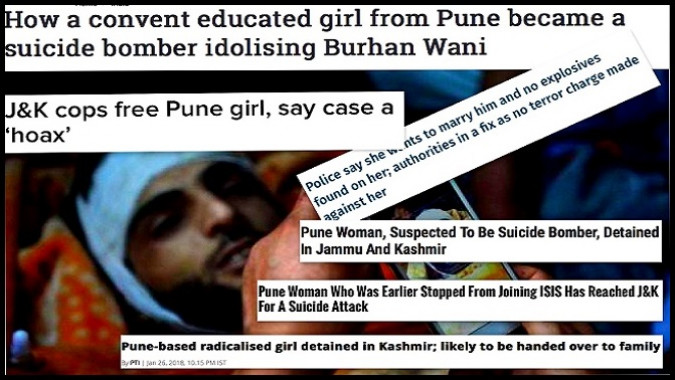 For several years now, it's been a standard story. In the run-up to the annual Republic Day parade, news reports abound of security arrangements being tightened and police being put on high alert and suspected militants sneaking across the border.
But this time, the police actually caught a 'live' person - a woman suicide bomber to boot. And every media house went berserk.
DNA told us 'How a convent educated girl from Pune became a suicide bomber idolising BurhanWani', with graphic details of how she 'got radicalised'. "No one influenced her but she herself chose the wrong path and developed radical thinking. She started idolising terrorists like Zakir Musa and Burhan Wani. She wanted to marry a Kashmiri man and in July last month (sic), she had travelled to Kashmir. That time she was minor and security agencies sent her back to Pune," a senior officer told DNA on condition of anonymity.
That was on January 26, 2018, with a nice picture of Burhan Wani. A day earlier, a graphic-comic book illustration of gun-toting fidayeen accompanied an authoritative article: Pune based woman stopped from joining ISIS in 2015 planning suicide attack in Kashmir. The report carried an identification: 'The agencies got the input that one Sadia Anwar Shaikh, resident of Yerwada in Pune has already entered into the Kashmir valley and is planning a suicide attack on or around Republic Day. Following the input, all the agencies in the country are on alert'.
All other news reports followed suit. On January 26, India Today gave us this report: 'Jammu and Kashmir police arrest 18-year-old Pune girl suspected to be suicide bomber' and also gave a detailed account of her background: that she came from an affluent family and 'was influenced by a Kashmiri youth who hoisted an Islamic State (IS) flag in the valley. She went off the radar post her marriage only to be back on the surveillance of the Jammu and Kashmir Police that picked up intelligence on her'.
Economic Times gave us a PTI news agency report to tell us on the same day that the 'Pune-based radicalised girl detained in Kashmir; likely to be handed over to family' and said 'the school dropout turned out to be having radical thoughts who had fallen prey to false propaganda on social networking site about alleged suffering of the Kashmiri people at the hands of security forces.'
What boggled the mind was this part of the report: Shaikh had been questioned by the Pune Anti-Terrorism Squad (ATS) in 2015 when it came to their notice that she had been radicalised after coming in contact with ISIS supporters abroad. She was planning to travel to Syria, the ATS had then claimed. The woman, a Class 11 student at a Pune college, was subsequently sent for a de-radicalisation programme by the ATS.
The programme didn't seem to be too successful if the young woman was turning up in the Kashmir valley a couple of years later all set to blow herself up. But lets not quibble, or ask too many questions of this de-radicalisation programme. The Maharashtra ATS are already under so much pressure, poor sods, what with the botched murder probe of rationalist Narendra Dhabolkar.
And why on earth would such a young woman be handed back to her family. Is she a minor? Is she mentally challenged or unable to care for herself? The report said she was staying as a paying guest in Bijbehara and that there was no case pending against her in Jammu and Kashmir or in Maharashtra. So, technically, she could have continued staying on as a paying guest if she wished.
But we can't be too careful. It is Republic Day after all which tends to evoke all sorts of strange sentiments.
So the Indian Express decided to probe further and finally quoted a senior security officer, IG Khan, who said you can't be too careful, you know: "We are questioning her. I can't say with authenticity that she is in any way involved with militancy. We had received an input from a sister agency and acted on that. We couldn't take chances with such inputs. She was picked up from south Kashmir last night… I think she is not mentally stable."
The Indian Express report on January 27 said: 'Counselled once, Pune girl held in Kashmir Valley after cops get Republic Day attack alert'. Oh dear, counselling again! But now it gets really interesting. The girl and her mother were staying in the area for at least 15 days and wandering about everywhere in auto-rickshaws, meeting up with a bunch of friends the girl had made on social media.
There are more 'details' of the radicalization (by online propaganda operatives through email and social media platforms such as Facebook, Twitter, WhatsApp and Telegram). They forgot Signal…but no quibbling, remember? And yet more details on the de-radicalisation emerged: 'Investigators handed the girl back to her family, with advice that she needed "strong counselling" by Islamic scholars. Known to be a "bright student", the girl has been staying with her mother and other family members in Pune.''
But it gets curiouser……
A day later, the Hindu tells us that the entire issue was over a man! That the 'Pune woman came to Kashmir in search of a man' and now, the security forces (still anonymous) are worried they have no case: "She was with the man [she wanted to marry] when she was detained. She had no explosives on her. We are in a fix as no terror charge is made as of now". Unlike the Indian Express report, which said the girl worked in a call centre and didn't even take leave or inform her employers when she hooked off to the badlands of J&K, the Hindu report said she was a student in a Pune convent!
But hadn't India Today already told us she was married in 2017? Its report had had so many 'believable' details like these: the girl was radicalised in just three months, wore only burkhas, and had trashed her western outfits. Surely this report is most authentic? Surely, information from this security agency – which even told us what the girl wore, is telling us the truth? Just a little more probing and we could have found out about what she ate, the movies she watched, the books she read, and the toothpaste she used.
Then India Today contradicted its own report the very next day, as this Srinagar datelined report cautioned: 'An Intel error? Suspected to be a suicide bomber, Pune girl is free to go'. It quoted a senior officer saying: "She seems to be a strange person with dubious links. She has definitely been in touch with some anti-national elements on the internet, but she has done nothing so far. ''
Finally, some media folk have the good sense to contact her family. On January 29, three full days after Republic Day, the Hindustan Times reports: Family of Pune girl, suspected to be 'suicide bomber', allege 'goof-up' by J&K police.
It transpires that the girl is a major and turned 18 last November; that she was a convent educated girl who became a 'hard-liner' in 2015; and yes, there was a 'de-radicalisation' programme with a maulvi; but no further details were given as to what this programme entailed, where it was conducted, or whether it was under the supervision of the state security agencies.
The family is also quoted as saying the investigating agencies have made their lives miserable.
Now, 11 days later, we get this: J&K cops free Pune girl, say case a 'hoax'. Calling the detention a "clear case of misinterpreting an intelligence input by central security agencies", police dismissed the case against her as a "hoax".
Oh, and it seems she never went to the Kashmir Valley to marry anyone. This report tells us she went to secure admission in a pharmacy course.
Phew. Good to know the Indian Republic is safe in the hands of our capable agencies – and media.