Rajinikanth steps into TN's reel- to-real life politics
The film star's promise of a new ''spiritual politics' may sit uneasily in a state where rationalism and atheism have held sway for 50 years.
BP SANJAY explains how cinema translates into politics in Tamilnadu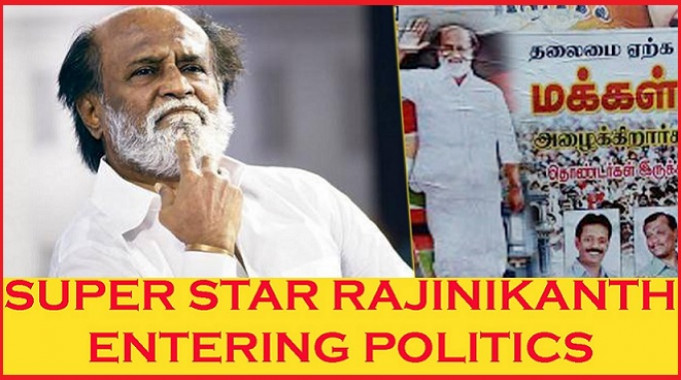 Tamil film star Rajinikanth's entry into politics was expected. With plenty of coverage on the last day of 2017, the news will continue to command attention in 2018.
While the R.K. Nagar bypoll results to some extent established the claimed inheritance of the late CM, Dr. Jayalalithaa (JJ), Kamal Haasan's announcement of his intent to cleanse politics, and the negligible success of another hero Vijaykanth, have preceded the announcement by Rajini.
He has spoken of the need for a new ''spiritual politics' but if the BJP harbours any hope that the spiritual overtones of Rajinikanth's announcement will provide them with the electoral base they crave in Tamil Nadu by allying with him, this would be wishful thinking at this stage because of the state's distinctive political ethos.
Politics in Tamil Nadu has been nurtured and constructed through theatre and cinema. The dominant ideology here has been against the upper castes and their disproportionate control over resources and access to education and employment. The dominant principle of the two main parties has been rationalism and atheism.
Through well-crafted dialogues, screenplays and mascots such as MGR and his heroines, all the promises, hopes, and aspirations that featured in theatre and cinema were translated by politicians into pro-poor initiatives in the form of electricity connections, Pongal gift hampers, free televisions, cable access, and free bicycles, saris, and laptops.
The populism in Tamil politics
These reel- to-real life benefits were palpable to the electorate. They became a feature of elections and of the two main Dravidian parties, the DMK and the AIADMK. Despite widespread corruption and other problems, Tamil Nadu has managed to do well economically and boast a relatively high per capita income. The state's creed of rationalism and welfare for the lower castes have been described as the ''dynamics of endogenous growth theory''.
Policy analysis, including endorsements by the World Bank and judicial pronouncements to consider extension of what are dubbed as populist measures, do accept the political will of powerful chief ministers who enjoyed comfortable legislative majority.
The competitive freebie culture of TN politics is not without its detractors. "The freebie culture in Tamil Nadu that has become the mainstay of Dravidian politics is pushing the state downhill on the fiscal front. Even as Tamil Nadu increases its social sector spend to Rs 78,100 crore, its outstanding liabilities have touched Rs 2.56 lakh crore as per the data with the Reserve Bank of India.
"In addition, the state's social sector expenditure is nearly double that of its capex (capital expenditure) at Rs 33,800 crore in 2016-17. From the 2006 elections to 2011 and to 2016, both AIADMK & DMK have been competing with each other to offer colour TVs, mixies, cash doles, gas stoves, free land, rice at Rs 2/kg or free cycles, sarees, dhotis - the list is endless,' said S. Gurumurthy, political commentator and editor of Thuglak.
The curse of the freebie culture started in 2006 when Karunanidhi announced free colour TV sets and rice. AIADMK leader J. Jayalalithaa followed suit. In a competitive spirit, she announced a slew of freebies in 2011 and came to power. The same culture continued in 2016, bleeding the state of its resources. ''Tamil Nadu is a highly productive, competitive state and it is a crying shame we are in this situation'', said Gurumurthy.
His films give no clue of a new political idiom
Will the entry of an icon like Rajini into the state's politics make any difference? Does a post-Karunanidhi-MGR-Jayalalithaa brand of reel imagery require a changeover? Does a new entrant like Rajini fit the bill? Will his emphasis on religion and spirituality strike a chord in a state where the Dravidian movement has been founded on the principles of rationalism and atheism? Can he have an impact in a state where no political leader has openly supported spirituality (which is why the BJP has failed to get traction here)?
Rajini may have to go beyond slick dialogues and stylish mannerisms and work on a more practical approach. This may well be what he and his partners are planning. His films, despite their one-liners, have not yet given Tamil voters sufficient political food for thought.
His Filmography indicates a tally of around 180 films. If you analyse his transition from films to politics, there is no suggestion of the emergence of a new political idiom. His criticism of Jayalalithaa's arrogance in one or two films is more in the ''taming of the shrew' mould than any attempt to offer a new paradigm.
It's true that subverting the powerful is a theme that runs through many of Rajini's films. The usual glee that a helpless viewer has when the powerful are vanquished or brought to their knees gets the whistles in cinemas. How this sort of collective 'catharsis' provided by his films will play out in real life once Rajini is a full time politician remains to be seen.
He has an uphill task. His strategists and his fans need to convert what they do well - meticulous preparation for his film releases – into work at the grassroots that will pay political dividends.
It will be a huge and daunting challenge for him to take on the political establishment's determination to hang on to the ''social contract' it has developed with voters over 50 years through offering them welfare schemes and freebies. The state's law and order machinery may also find it hard to adjust to his new ideas of spiritualism and religion.
It is too soon to say how Rajini will fare yet there is no doubting the fact that his entry into politics poses the biggest challenge in a long time to Dravidian ideology.
BP Sanjay teaches communication at the Univeristy of Hyderabad.