Reporting Communal Issues – Part II
Hadiya's conversion and marriage suffered the biased, hate-filled, anti-Muslim treatment that is now routine for some TV channels.
JYOTI PUNWANI reports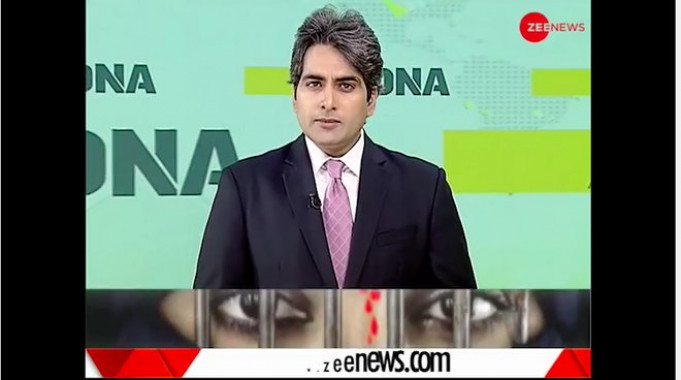 On Zee News the programme featured intermittent graphics showed a veiled face, with a streaming red bindi, as if the bindi was streaked with blood.
Any professional reportage of Hadiya's story would mean talking to all the players involved. Till March 8, when the Supreme Court upheld her marriage and her freedom, the big handicap in covering Hadiya's story was her inaccessibility. After the Kerala High Court annulled her marriage and sent her home in May 2017, her father didn't allow the media to meet his daughter. And after that, her college didn't.
However, the press managed to get a comprehensive story by talking to her parents as well as her friends who had witnessed her journey to Islam. This Indian Express story for instance, provided a comprehensive picture of the entire complex affair.
TV channels however, were an entirely different matter. To many of them, Hadiya's inaccessibility mattered little, for they parroted the version of her father and the NIA, which ran contrary to Hadiya's own version. (The NIA had been asked by the Supreme Court to investigate if her marriage fell into a pattern of forced conversions.)
It's almost as if they agreed with Hadiya's father's lawyer, who, when asked about Hadiya appearing in the Supreme Court, replied: ``Don't give much importance to what Hadiya says until she comes out of this mental kidnapping. Her testimony should not have much relevance. We know what she's going to say. She's highly indoctrinated and brainwashed.''
This columnist watched four of the most popular channels: Times Now, India Today, Zee News and ABP News. All of them repeatedly telecast this reply, but not one of their anchors challenged it. Incidentally, former Union Minister Kapil Sibal, the lawyer for Hadiya's husband, Shefin Jehan, was ignored by these channels.
Doubting a genuine marriage
At the heart of the Hadiya story lies her conversion to Islam. Hadiya has maintained all the time that it was voluntary, as was her marriage months later to Jehan. The Supreme Court accepted her claim, but her father and the NIA seem to have a problem doing so. So do some of our TV channels.
Hence, while reporting this momentous decision, Times Now made sure to add that the Supreme Court had allowed the NIA to continue with its investigation. The headlines read: ``Interim relief but no clean chit; Marriage reinstated but husband still under lens.''
It was only when their Supreme Court reporter came on the line that viewers came to know that the apex court had declared her marriage out of bounds for the NIA.
These channels echoed the RSS/BJP theory of conversion, viz, conversion to Islam or Christianity results in changing the convert's loyalty to the country.
In fact, one programme on conversions on Zee News had this strapline: ``Bharat ko Pakistan bananewaley logon ko benakab karne wala DNA test.'' (DNA test to expose those turning Bharat to Pakistan.) A voice spoke of the danger to ``desh ki ekta aur akhandta'' (the country's unity and integrity) if one ignored conversions for ``votebank'' purposes.
These channels also equated conversion with radicalization. This could be because the hardline Popular Front of India in Kerala was being blamed for conversions. But shouldn't the anchors have pointed out that conversion was a fundamental right?
In a myriad different ways, some obvious, some not so obvious, these four channels put across the RSS/BJP viewpoint, which has now become the NIA viewpoint. It has become obvious over the last three years that the NIA does not function like a professional agency. It just goes along with what the party in power at the Centre wants.
So, under the UPA, it found Hindus responsible for the Malegaon, Ajmer, Hyderabad blasts. Now, under the NDA, all these cases are being subverted and the accused are getting discharged. The NIA's focus now is on Hindus-as-victims. Though the Kerala police referred 89 (the figure keeps changing even in the press) cases of alleged forced conversions to the NIA, the latter decided to first investigate only those where Hindu women had been converted!
Obsessed with``Love Jehad''
The very first giveaway of these channels' thinking was their description of Hadiya's case as ``The love jehad'' case.
The Kerala High Court which annulled Hadiya's marriage remarked that her conversion to Islam wasn't for love/marriage.The court had seen many such cases, said the judge, and had respected those decisions and not interfered in the marriage. This one, where a young girl felt drawn towards an `alien' religion, was different.
Considering that the Kerala High Court judgment was used as a basis for a lot of assumptions made about Hadiya by these channels, it's odd that theycouldn't get this basic fact right. Or was their misreporting deliberate?
By labeling Hadiya's case as one of `love jehad' (ABP News called it``love jehad ka sabse bada mukadma'' the biggest love jehad trial), these channels presented the RSS- created myth of ``love jehad'' as an established phenomenon, and by doing so, fed into anti-Muslim fears and stereotypes.
Times Now's Rahul Shivshankar concluded a programme with these words: ``For four years I've been bringing to the notice of our viewers in story after story, that India today stands on the dangerous edge of a precipice. Be careful viewers, don't get sucked into their ideology.''
Two Zee News programmes also played into Hindus' fears.
The first started with editor-in-chief Sudhir Chowdhury warning viewers: (Yeh) vishleshan apko chinta mein daal sakta hai, lekin ghabraiye nahin, hamara maksad aap ko pareshan karna nahin, saavdhaan karna hai. (This is not meant to alarm you but to alert you) and ended it with a call to all intellectuals, journalists, and leaders to come together, else ``Keral ki galiyon mein kaisi tasveerein dikhaee degi, iski aap kalpana bhi nahi.n kar sakte. Aap apne bacchon se iske baarey mein khulkar baat karein. Aur savdhaan rahein. Kyonki love jehad ke naam par dharm parivartan karne wala syndicate Keral mein nahin,aap ke aas pados mein bhi sakriya ho sakta hai. Isliye aap ko savdhaan karna hum apni zimmedari samajte hain.''
(Unimaginable scenes will be seen on Kerala's streets. Be alert, because the syndicate carrying out conversions in the name of love jehad may well become active in your neighbourhood too. It is our responsibility to warn you. Discuss this with your children too.)
In these programmes, Zee News presented the testimony of two girls as evidence of ``love jehad aur conversion ke baad emotional hacking''. (emotional hacking after love jehad and conversion). One girl was Athira, who spoke about being misled by friends into converting to Islam. ``Luckily, I escaped,'' she said. She did not once mention the term `love jehad'.
Another unnamed girl spoke about the ``love jehad'' technique adopted by Muslims. First they flirt with you, ``as in films'', then they propose, and eventually, ``feeling sympathy, you accept.'' What happens thereafter was the important question that remained unasked. A girl who agrees to marry someone out of sympathy can hardly be described as having been coerced.
Though this girl talked about ``money jehad'' and mentioned the figure of Rs 7 lakh, the anchor ignored it and only asked her about ``love jehad''.
In the same programme, the diary of a girl who had converted was read out. ``I feel I am dead'' was one entry. The programme linked this poignant sentence with her conversion, but on what basis? Another entry read: `` I am totally lost in my own world of fantasy and I don't know when I will come back to reality. Ooff! That person completely influenced my life.'' This could be any infatuated girl. What's the link with forced conversion?
The girl no longer lived with her parents. The diary was all that was left behind with her forlorn father. The loneliness of the father, his obvious inability to understand what had happened to his daughter, was the story here, but Zee wasn't interested in that.
Starting off from this basic premise, that all conversions of Hindu girls to Islam, and all marriages between Hindu girls and Muslim men, were cases of ``love jehad'', these channels distorted every aspect of Hadiya's conversion, using lies, half-truths and insinuations.
To give just one example: As reported in the Indian Express article (above), and also recounted by her father in an interview to Rediff.com, in 2010, Akhila moved out of her Homeopathy College Hostel and rented a flat with five other girls. Two were Muslim sisters, the other three were Hindu. It was after observing the two sisters practicing their religion that Hadiya got interested in Islam.
However, ABP News, Zee News and India Today reported only that Hadiya moved in with two Muslim girl, not mentioning the three Hindu room mates. ABP News accused the two girls of leading Hadiya astray and gradually luring her to Islam.
``Operation Conversion Factory''
Popular Front of India leader Sainaba and its institute Sathya Sarini played a big role in Hadiya's life, but after her formal conversion. For these channels, these three - PFI, Sainaba and Sathya Sarini - were the villains of the story. However, it must be said that India Today carried a long interview with Sainaba where she recounted how she met Hadiya and how she arranged her marriage.
The PFI, an amalgamation of many hardline Islamist groups, of which at least one was earlier linked to the now-banned SIMI, runs Sathya Sarini, an educational institute which conducts a two month residential course on Islamic studies.
There is no ambiguity in Sathya Sarani's website about its ultimate goal. Under the sub-head ``Action Plan'', the first entry is: ``Propagation of Islam among non-Muslims.'' The website also says the institute provides a ``safe facility for those who want to study Islam''.
Obviously, only those interested in Islam would take admission in Sathya Sarani, as did Hadiya after she converted.
A day after its full-length interview with Sainaba, India Today did a sting on Sathya Sarini, calling it ``Operation Conversion Factory''. Sainaba, described as the ``conversion lynchpin'' by the channel, told the undercover reporter that those who sign up for the two month course leave only after accepting Islam. This was touted by the channel as evidence that the inmates are kept inside forcibly till they convert.
Sainaba has since said that her one-and-a-half-hour long conversation with the India Today reporter had been edited ``for fabricating evidences against PFI."
On its part, the channel could present no one who claimed to have been forcibly confined in Sathya Sarani, let alone forcibly converted. While the anchor said that ``scores of men and women are churned out'' of this ``conversion factory'', the visuals showed empty classrooms and only a few men around.
The reporter managed to talk to a few converts there, who seemed quite at ease telling him when they had converted and what their names were before conversion. The institute's activities were described as a ``well-oiled racket for conversions'', but the sting could not prove that these were forced. Whatever was telecast was in sync with the information available on Sathya Sarini's website.
Interestingly, even the NIA's report to the Centre on the PFI has spoken of 10 cases of conversion ``facilitated'' by the PFI.
As Maulana Maqsood ul Hasan Qasmi pointed out to the India Today anchor, all that its sting got was an admission by PFI founder member Ahmed Shareef that foreign donations collected for the outfit had been routed via hawala.
Quoting facts and figures, the maulana pointed out that the Hindu Yuva Vahini and the Bajrang Dal often boasted about the number of non-Hindus they had converted.``Would you like to apply the same parameters to them as to this outfit?" he asked.
India Today went to town about another revelation made in the sting by Ahmed Shareef. Interestingly, Shareef made this revelation in the most nonchalant way. Asked by the IT reporter whether it wasn't true that it was the PFI's hidden aim to establish an Islamic State in India, Shareef, who was drinking tea, eating a snack and surfing his mobile all at the same time, barely looked up as he nodded. He laughed as he added: ``First India, then the entire world… that's the goal for all Muslims.''
Shareef's nonchalance can be understood by those familiar with the many different beliefs among Muslims. A section of them, mainly followers of the ideologue Maulana Maududi, believe it to be the religious duty of every Muslim to work towards establishing Islamic rule in the world. SIMI believed this and was quite upfront about it.
Obviously, few Indian Muslims believe in this and, of those who do, few actually act on this belief. As Maulana Qasmi put it: ``Though I do not want it in my country, what is wrong with longing for an Islamic state through a peaceful and democratic process? RSS also longs for a Hindu Rashtra.''
Of course, the anchor ignored the last bit and kept saying: ``Give me an innocent interpretation of his (Shareef's) statement.''
The telecast of this sting was curiously timed. Just a day earlier, the SC had ordered that Hadiya appear before it. After the sting, India Today Managing Editor Rahul Kanwal announced with an air of importance that NIA officers would be coming to the India Today office, and that the PFI may be banned and both Sainaba and Shareef arrested. Two days later, Union minister Ravi Shankar Prasad showered praises on India Today for its sting.
Well, it's been almost five months and neither has the PFI been banned, nor has the ``conversion queen'' or Shareef been arrested.
Just a few weeks before the sting, three women had filed police complaints about being forcibly detained and assaulted at a ``reconversion'' centre called Sivasakti Yogavidya Kendram in Kerala. One woman even complained that she had to marry a Hindu to get out of the place. But not a word of this was breathed during the Sathya Sarani sting, or any time during the Hadiya debate by these four channels.
Nor did they mention that conversions to all faiths have been going on in Kerala for decades. Doing so would have spoilt their hysterical narrative of ``Islamic terror and love jehad''.
Kerala is 'Devil's own country'
The coverage of Hadiya by these four channels gave Kerala a bad name. Zee News even asked ``Kya Keral Devil's own country ban gaya hai?' showing a visual of two bearded Muslim men. Zee sent its reporter to areas in Kerala where, said the reporter, ``jihadi activities'' were maximum.
Here's how they described this journalistic feat, which they said, no one else had dared: ``As soon as we reached Sathya Sarani, we were surrounded. And you know nowadays Kerala is badnaam for such things. From there you can't do fearless reporting. There's every chance that you may lose your life. Risking their lives, our team brought you this eye-opener.''
All these channels showed Kerala to be in the grip of ISIS-supporting Muslim groups such as the PFI, who ``hunted'' young vulnerable Hindu girls, and who were indulged by the ruling CPI(M) for vote bank purposes. It was left to Hindu activist Rahul Easwaran to point out on different channels that Kerala had many Muslim groups with whom Hindus worked in harmony. It was only the PFI which was the problem.
Times Now went after Kerala's CPI()M government with missionary zeal. ``How shamelessly you are defending the interests of hatemongers!'' Rahul Shivshankar told CPI(M) MLA A. M. Shamseer: ``You have an MLA who is giving these people who want to convert, a complete licence. Can you believe it!'' he ranted.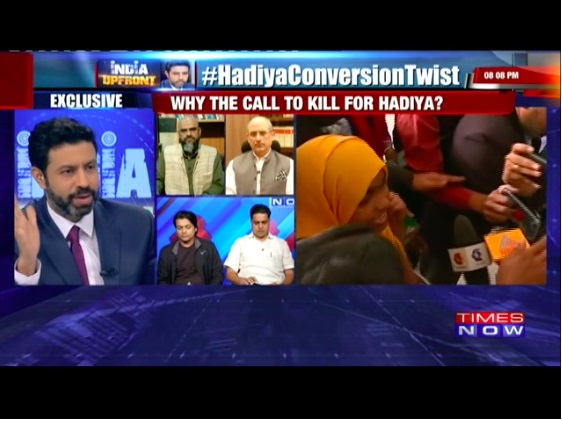 Rahul Shivshankar on Times Now
This was on a 45-minute programme based on abusive Facebook posts and threats by PFI member K. C. Nazeer and his supporters to P. Narayanan, the lawyer who had represented the Kerala government in the High Court. The lawyer had supported the stand taken by Hadiya's father.
The programme was titled: ``Why the call to kill for Hadiya'', and headlines across the screen during the programme read: ``Muslim radicals ready to kill for Hadiya.''
One day before the programme was aired, the Kerala police had ordered a probe into the threat. The lawyer's security had been increased earlier, after his letter to the police.
Despite this, Shivshankar asked, ``Why is the Kerala government allowing anti-Hindu hate to peak?"and rued the ``significant attempt at maligning the Hindu community since 2009'', by using the words ``Hindu terror''.
Significantly, just a day before this programme was telecast, the Supreme Court had set Hadiya free from her parents' custody and allowed her to resume her education. That momentous development had prompted this headline by Times Now: ``Love' above `law'? SC reveals its mind - sends Hadiya back to college.''
The next day, Shivshankar described the FB threat to the Kerala government pleader in these words: ``(It) shows how the state and the courts are being systematically intimidated to ensure that Hadiya is free to join those who converted her.'' What was the message that Times Now was trying to send about the Supreme Court's decision?
In November 2016, a Keralite Hindu who converted to Islam was killed, and 16 RSS men were arrested for his murder. One of them was later killed. In a 45-minute programme about an FB death threat to a Hindu lawyer by some Muslims, surely this case should have found mention, if only to show the violent politics of religion in Kerala?
Another incident was used by Times Now to accuse the CPI(M) government of ``appeasement''. ``Are the Communists also communalists?'' Rahul Shivshankar asked CPI(M) spokesman Suneet Chopra. ``Muslims make up 25% of the vote in Kerala, is that why you won't take action against them? I'm asking you a simple question: Are you afraid of going after people who you extract votes from?"
These questions, which criminalized an entire community, were asked during a programme based on a video clip showing Shefin Jehan leading a group of men into a hospital, and smashing his fist into a glass door, breaking it.
Shivshankar was aghast that Jehan had not even been named in the FIR – which had been filed against ``unknown persons''. More proof of the police's soft corner for such criminals, he said. ``Had an RSS/BJP member done this, how long would you have taken to arrest him?" he asked Chopra. ``How many times have you locked up BJP activists for vandalising CPM offices in your state?" he asked.
But in the course of the programme itself, the reason for Jehan's name not figuring in the FIR became clear. The doctor who had filed the complaint told Shivshankar that she didn't know who the man breaking the glass door was at the time he did it; now that she had seen him on TV often, she recognized him as Jehan. A simple explanation.
Similarly, the police inspector interviewed by Shivshankar on the show reeled out three cases against Jehan. Hardly a sign of indulgence towards this man with ``such violent tendencies''.
This wasn't the only time Times Now stuck to an agenda, even after the persons interviewed on the programme blew that agenda to bits. During its interview with Athira, the other Hindu girl from Kerala whose conversion to Islam had made headlines, the commentary mentioned forced conversion. Athira herself said that she had been given books and videos on Islam to watch at home. Some coercion! Athira later returned to Hinduism.
Inflammatory headlines
Throughout this coverage of Hadiya, viewers read inflammatory headlines and heard provocative statements from anchors, panelists and interviewees. Hadiya's mother for instance, said ``These Muslims…this is a religion associated with terrorism.''
A sampling of the headlines and statements:
Kya Hindu ladki ko saazishan Muslim banaya gaya? (Was a Hindu girl made a Muslim through a conspiracy?)
Par beti ko Hindu se Musalman bankar parivar nahin dekh sakta (But the family cannot see their daughter change from a Hindu to a Muslim)
Kya vivah ke naam par gair Muslim ladkiyon ko brainwash kiya ja raha hai?-(Are non-Muslim girls being brainwashed in the name of marriage?)
#Hindu girls hunted
Dawa squads hunt Hindu daughters
They convert Hindu girls and ship them as slaves to ISIS.
Who funded Hindu Hunt?
The statistics of Islamist deceit
Free run for Kerala's love jihadi, Shafin Jehan
When Hindus are being converted against their will…
Where visuals were concerned, Zee News was the worst offender. One of its graphics showed a veiled face, with a streaming red bindi, as if the bindi was streaked with blood. Another showed Jehan with the caption: `love jehad aur dharm parivartan ka zeher''.
In the two programmes referred to above, Zee repeatedly used shots of bearded Muslims and burqa-clad girls, both separately and together, of children going to their madarsa, of a big mosque. In the background, a voice spoke of ``Keral ka kaala sach'';``jehad ka syndicate''; ISIS; Sathya Sarani. Zee even used random shots of young couples taken from the back. Sometimes, the man had his arm round a girl wearing a burqa.
Shambhu Lal Regar, who hacked and set on fire a Muslim labourer in Rajsamand last year, was said to have been inspired by ``love jehad'' videos. Definitely anyone watching these two episodes of Zee News would have come away with a deep resentment against, and fear of, Muslims. Some of the headlines cited above and Zee's visuals constitute a violation of the law against promoting communal enmity.
Now Hadiya is free. But this didn't excite either Zee News or Times Now as much as a subsequent development: the NIA's third report submitted to the Supreme Court. Now, the ``premier investigative agency'' has blamed PFI for using ```hypnosis'' for conversion.
Well, the PFI must know some unique hypnotism techniques because, despite having been kept away from the organization for long, the first thing Hadiya did after getting her freedom was to visit PFI leaders to thank them. When other Muslim organisations had refused to help her, only the PFI had come forward, she told the media.
Times Now, who never believed she had converted voluntarily, couldn't accept the fact that she could have chosen to identify with the PFI. She was a ``pawn'' they said, and poured wrath on this ``hate group'' for `parading'' her like a ``trophy''.
The coverage of the Ankit Saxena murder and the Hadiya case leads to the question: What is the role of the anchor in debates? If one goes by the Zee News, Times Now and ABP News anchors, their role seems to be to agree with the BJP/RSS/Hindutva panelists, interrupt the Muslim/AAP/CPI(M) panelists, and allow the latter to be humiliated by the former.
Times Now anchor Rahul Shivshankar actually hollered at a Muslim panellist who said Muslims were unsafe under BJP rule: `You are speaking your mind today, you are safe, you are a minority, why are you creating this? If that is the love you have for your land… you are spewing venom against the State and the government of the day and nobody's saying anything to you. Why are you maligning the Hindu community, show me one death threat you have got.''
Indeed, with Shivshankar around, why is a BJP panelist even necessary on the show?
In both the Saxena and the Hadiya debates, panelists beseeched the anchors of Zee, ABP News and Times Now not to communalise the issue. Don't destroy Kerala's communal harmony by creating unnecessary news, we are begging you, said MLA Shamseer to Shivshankar.
There was one more commonality in the coverage of Saxena-Hadiya: both cases were used to target the BJP's political opponents. When Saxena was the story, Times Now and Zee News focused on Arvind Kejriwal and his ``Muslim appeasement''. When Hadiya was the story, they focused on the CPI(M)'s ``indulgence of Muslim terror''.
Said Shivshankar: `Had this individual (Shafin Jehan) been an RSS/BJP worker or anyone from another community, that person would've been thrown into jail, no questions asked.'' This was the reverse of what Zee News and ABP News said about Kejriwal: ``Had Ankit been Akhlaq'', Kejriwal would have behaved differently.''
It's bad enough for the media to toe the government line. When the government line involves demonizing a minority to score over political rivals, those affected should take legal recourse against sections of the media who do this. It works.
Jyoti Punwani is an independent journalist based in Mumbai.