Ritu Sarin: one of a kind
She's a solid, old school, investigative reporter, the kind they don't make any more. Sarin's award is well-deserved
SEEMA SIROHI on why she is special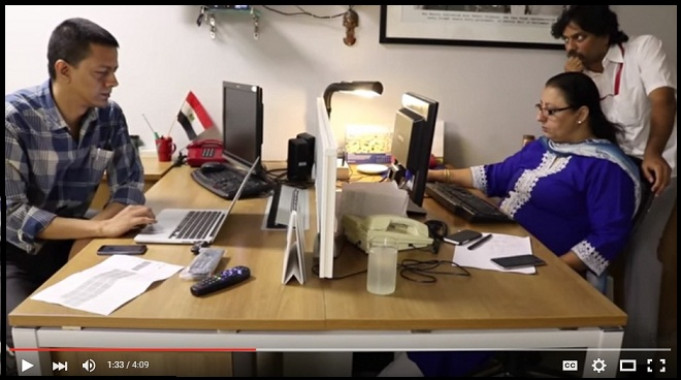 Ritu Sarin of the Indian Express, winner of the International Press Institute's Award for Excellence in Journalism for 2017, is arguably one of India's top investigative journalists. A force of nature, she is both formidable and fearless in the pursuit of truth.
Throughout her career Sarin has kept her head low and sights high while diligently pursuing leads, dissecting mountains of evidence and exposing wrong doing, irrespective of who is in power. She is neither fazed by authority nor intimidated by high office.
In other words, she is old school, a bit Woodward and Bernstein and the kind they don't make many of any more, especially in this atomised digital age of ours where the big picture is fragmented into a thousand pieces and the centre often does not hold.
Ritu Sarin and daughter with the IPI award
Pix Seema Sirohi
But Sarin painstakingly connects the dots to find out "whodunit". Over the years, she has unearthed offshore accounts in tax havens popular with the rich and powerful, nailed big guns like Amitabh Bachchan and DLF owner K.P. Singh in the "Panama Papers" and reveaed a security breach in the finance minister's office.
Her work is especially important in today's climate when many in the media have become "guard dogs" instead of "watch dogs" in the words of former chief justice R.M. Lodha who presented Sarin with the award on Friday. Her work proves that the media need not bend, nor crawl in the face of government intimidation.
Sarin's keen nose for news is recognized worldwide. In 1999, she was invited to become a member of the International Consortium of Investigative Journalists (ICIJ), a global network of more than 300 journalists in 70 countries. They collaborate across borders and time zones to chase stories that may otherwise get lost, thanks to the financial wizardry of unscrupulous bankers and the machinations of corrupt politicians.
She led the Indian Express investigative team as they dived into millions of documents to uncover a series of scams related to bank accounts and off shore companies held by Indians, including the complete data on HSBC account holders (2015), the Panama Papers (2016) and the Paradise Papers (2017). So incontrovertible was the evidence that the Indian government opened its own investigation after each expose and recovered significant amounts of undeclared wealth.
Sarin was recently selected to be a founder member of Watchdog Asia, a new group of investigative reporters from across the continent who will collaborate on projects. Her name has become synonymous with investigative reporting.
Veteran journalist Kuldip Nayar said he has always found Sarin to be "an enterprising reporter" who can go beyond her beat to produce exclusives and that "her editors respect her as do her readers."
What's remarkable is that despite the many feathers in her cap – she has won every major journalism award in India -- Sarin has her feet firmly on the ground. She does not stroll into rooms waiting to be recognized or swagger into Page 3 parties to rub shoulders with the new elite.
In the era of celebrity television anchors, she remains purposefully low-key and maintains a safe distance from the circle of power. She will not be found relentlessly promoting herself on Twitter or Facebook. She has made a personal choice to avoid social media platforms.
We started our journalism careers together in the early 1980s in a little-known magazine called The Delhi Recorder where editorial guidance was rare and the mandate confused. We survived, learnt some trade and quickly moved on. Sarin went to Sunday, one of the best magazines of the day, and soon started coming into her own.
She moved to The Pioneer and finally in 1996, she joined The Indian Express where she is the paper's executive editor (News and Investigations). In over 35 years, she has moved only four times, a rarity when many top journalists flit from place to place just to get higher salaries.
Behind Sarin's tough exterior is a kind, gentle soul and a well of forbearance. She has continued bravely through personal tragedies (the untimely death of her husband Rakesh Sahai in 2016 was a huge blow) and remains a rock for many of her friends. She will always find time to spend an afternoon with you, even make chapatis herself for extra flavor.
Not only is she a special journalist, she is a special person.