Rs 500 bribes at NHAI event
Media kits at Nitin Gadkari function had Rs 500 tucked inside.
SARADA LAHANGIR reports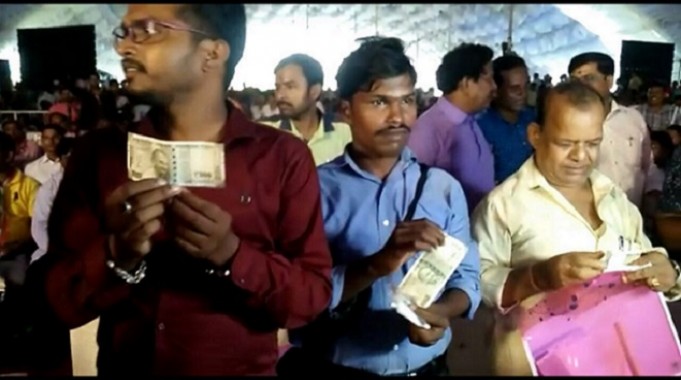 Journalists display the money they received

Envelopes containing Rs 500 were distributed at an event attended by Union Transport Minister Nitin Gadkari at Angul in Odisha on Friday. When reporters opened the envelopes given to them by an employee of the National Highways Authority of India (NHAI), they were taken aback.
"We were shocked when we saw a Rs 500 note inside. Many of us lost our temper and started shouting but ministry officials said they were ignorant about this. But how it is possible? We went to file an FIR against the bribe. The police has filed a station diary and are investigating the matter," said journalist Diptanshu Sekhar Dash.
The NHAI official present on the occasion Shivendra Singh Pathihar said: "We had been asked to provide a booklet in the folder leaf. We have not checked it out, what is in there. We just assumed there will be some leaflets and an information kit but really we were not aware that Rs 500 was in there,' he said.

Gadkari, along with Union Petroleum Minister, Dharmendra Pradhan, was attending the inaugural ceremony for a stretch of highway in Angul. The event was organised as a bhumi poojan of the four national highway projects (Angul-Sambalpur, Tileibani-Sambalpur, Balasore-Jharpokharia and Baharagora-Singhara stretches). After the event, Gadkari did not meet the journalists. "We requested the BJP local leader to meet Gadkari and bring this to his notice but the state BJP president Basant Panda, told us that he had left from the other side of the gate," said a TV journalist.
Ruling party Biju Janata Dal minister and vice president, Surya Narayan Patro, said: "The National Highways Authority is an organisation of the Central Government. Somebody must have asked them to distribute money. It is very unfortunate the BJP tried all means to bribe journalists, the forth pillar of democracy. As the media persons were kept waiting for long, for hospitality's sake, food arrangement could have been made. But offering money is beyond my imagination."
But the BJP's Odisha spokesperson, Sajjan Sharma, called it a ''conspiracy'' against the BJP. ''As the NHAI was solely organizing this function it is their responsibility to look into the matter. Why unnecessarily blame the BJP?'