Sexual harassment in newsrooms still a challenge
It's still there. And it's still very difficult for women to get effective remedies. Stronger mechanisms are needed.
GEETA SESHU reports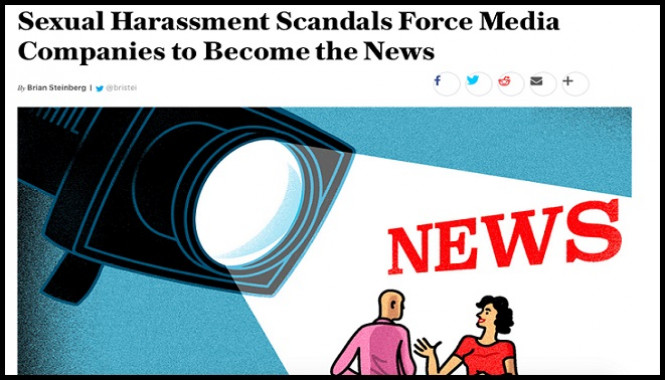 After endless dilatory tactics by the accused and his lawyers, the trial against Tehelka founder-editor Tarun Tejpal for rape and sexual harassment will finally begin in the second week of March, more than four years after the complaint was lodged in November 2013 and five months after the chargesheet was filed in September last year.
On May 15, 2015, the Supreme Court had given the trial court a year's time to complete the trial and, in another order in December last year, directed the Bombay High Court, which had earlier ordered the trial court not to examine the witnesses, to decide on Tejpal's petition challenging framing of charges against him within three months.
Despite the strong directives by the highest court of the land, the uphill battle merely to get a sexual harassment case on course in such a high profile case is a clear illustration of how difficult it is to get those processes of justice working. And if this is the case with criminal justice mechanisms administered by the state, how does 'due process' work in private companies that only seem to be notionally governed by the law of the land?
All of last year, the Internet exploded with lists and the #metoo campaign on sexual harassment in Hollywood and closer home, with the publication and the fallout of law student Raya Sarkar's list of sexual predators in Indian academia. Women journalists, who also reported on the lists and their fallouts, joked about the need for a similar list on sexual harassment in the Indian media.
For many, sexual harassment lists may have replaced what Moira Donegan, creator of the 'Shitty Media Men' list, calls the whisper networks - the informal alliances that pass on warnings about serial assaulters to women colleagues and friends. These networks, Donegan felt, were accessible only to a few women, usually privileged by race and class. Her anonymous, crowd-sourced Google spreadsheet was meant to be private but accessible to all. It went viral in just a few hours and went offline in 12 hours, forced by the apprehension that it would be outed by Buzzfeed.
As Donegan writes:
'I had imagined a document that would assemble the collective, unspoken knowledge of sexual misconduct that was shared by the women in my circles: What I got instead was a much broader reckoning with abuses of power that spanned an industry. By the time I had to take the document down, more than 70 men had been named on the version that I was managing……..Some have expressed doubts about the veracity of the claims in the document, but it's impossible to deny the extent and severity of the sexual-harassment problem in the media if you believe even a quarter of the claims that were made on the spreadsheet'.
The claims were obviously believed, since the Shitty Media Men list did result in the resignations or terminations of contracts of quite a few prominent editors and senior correspondents from New Republic, Buzzfeed, the New Yorker and the Paris Review, though it is unclear whether these actions were a result of formal complaints.
In India, while there is no hard data on sexual harassment in the media, there are enough instances on Facebook or in closed groups like the Network of Women in Media, India (NWMI), apart from the complaints lodged in a few media houses, to acknowledge that it is prevalent and that, like workplaces elsewhere, redressal mechanisms need to be put in place and strengthened.
Making newsrooms gender-friendly
At a panel discussion on sexual harassment in the 13th annual meeting of the NWMI in Chennai in January this year, participants spoke of the need to make the newsroom more gender-friendly. Workplace sexual harassment was a major issue, yes, but even if women had not experienced direct sexual harassment, there were many instances of insensitive and discriminatory workspaces.
Padma, a journalist with Nava Telangana newspaper, spoke forcefully of how men treat feisty women journalists as the'enemy'. The harassment the women faced was not always directly sexual overtures, she said, but the kind of problems they encountered at work.
For instance, women are literally dumped with an inordinate amount of work just towards the end of their shift. As a result, they get delayed and, to top it all, their office does not provide any transport to go home at night. If they protest, they are told they are complaining and are not fit to work as journalists.
Men in the newsroom do other things, she said. Some stare openly and constantly at their women colleagues, others occupy the narrow aisle between desks or block the passage, making it difficult for their woman colleagues to walk by without brushing past them. Or male colleagues flirt, making suggestive remarks, complimenting them on their looks or saying the woman colleague was missed on her day off.
It is difficult to make formal complaints in such instances and managements ask for proof but its tough to prove that such behaviour makes them uneasy and uncomfortable, Padma added.
Jayanti Buruda from Malkangiri, Orissa, who was the first woman from her adivasi Koya community to become a journalist, found it an uphill task to establish herself. She was excited about training as a journalist but was exposed to insidious harassment and the underlying message that she should make friends with male colleagues to get ahead. Even now (she works in Kalinga TV), she struggles to work and be taken seriously. She is sometimes robbed of her byline as male colleagues blithely take credit for her work.
The misogyny underlying the reaction of men to their women colleagues features in 'Zile ke hulchul', the survey conducted by the Khabar Lahariya team in 2014. Comprising interviews of 20 district level women journalists from Uttar Pradesh, Madhya Pradesh, Rajasthan and Bihar, the survey report points out:
The harassment was seen as a part of the job; part of the way women journalists were viewed in towns and cities – mobile, forward, worldly-wise. It took the form of innuendo or direct sexual banter, assault, or in discriminatory practices, like dropping stories, or not giving space to women to share their stories and views in edit meetings. By and large, this harassment went without complaint or redressal, for fear of losing face or their jobs. However, perhaps more often than their big city counterparts, these lone reporters had made decisions about what kind of workplaces they would tolerate, and had made their stands patently clear, both within and outside their offices. They had gained considerable respect because of this.
It becomes an uphill task to get male colleagues and seniors and HR departments of companies to even understand, let alone respond, to the reality of sexism. The law mandates Internal Complaints Committees (ICC) and even lays down provisions for regular sensitization and awareness programmes. But even asking for these is fraught with danger, as this account so graphically describes:
Word spread that I had written a mail about sexual harassment and I noticed that a few of my male colleagues stopped talking to me. These colleagues who wrote about important stuff like crime and security, and photographers I had worked with for over four years, never asked me why I had written that mail.
The writer, disheartened by her efforts to bring up and deal with 'the culture of misogyny and casual sexism', ended up quitting the magazine when she was isolated as a trouble-maker.
As Kirti Jayakumar, lawyer and founder of the Red Elephant Foundation and a co-panelist in the NWMI meeting, said, "There are micro-aggressions that feed into a sense of power. Sexual harassment works right against a woman's personal agency".
The dirty secret
Ironically, while the media in India has reported on sexual harassment cases - from the Rupan Deol Bajaj incident to the Vishakha judgement and to the passage of the Sexual Harassment of Women at Workplace (Prevention, Prohibition and Redressal) Act, 2013, it has hardly ever turned the spotlight inwards.
To some extent, that has changed in the 10 years that elapsed between senior reporter Rina Mukherjee's complaint against the then Statesman news coordinator Ishan Joshi (a battle that finally resulted in the setting aside of her illegal termination in 2014) and the November 2013 complaint of rape by a junior staffer against Tehelka's editor-in-chief Tarun Tejpal. In the wake of the Tejpal case, some media houses informally disclosed that ICCs had been set up in their companies but this is unverified. Besides, there is no data on their efficacy, the number of complaints that have been lodged or whether these were satisfactorily dealt with.
Addressing sexual harassment complaints in media houses, therefore, is still a challenge. Women journalists who do file complaints find themselves out of their jobs or find that their charges are not upheld and the 'accused' is back at his job! Thats just what happened in the case of a complaint, lodged in 2013, against a senior editor at Sun TV. He was arrested and released on bail. While the complainant lost her job, the accused was rehabilitated three years later.
The defamation tool
And then, there is always the threat of defamation. The blitz of publicity that the arrest of investor Mahesh Murthy got on February 9 this year, following a complaint of stalking and molestation, was an ironic reflection of the media silence on sexual harassment. Murthy, a prominent investor, funds two news sites. Veiled threats of defamation kept the mainstream media from writing about complaints against Mahesh Murthy but news sites like these plunged in.
R. K. Pachauri was another accused who used defamation as a weapon to silence the media. In February 2015, a woman employee of the prestigious Tata Energy and Resources Institute filed an FIR against Pachauri, then Director General, for sexually harassing her. Other women were emboldened to speak out and Pachauri resigned.
However, in April 2016, Pachauri filed a suit for injunction and defamation against media houses, one of the women who spoke out, and against her lawyer, Vrinda Grover. On February 13 this year, a Delhi trial court rejected Pachauri's plea for a gag order on media coverage.
In another case, at India TV, the complainant even desperately staged a suicide bid but the issue she raised never saw the light of day and she ended up facing a defamation notice.
The interminable justice delivery process is demoralizing and depressing. Technicalities are often used to delay the process. In the Rupesh Samant case, for instance, four FIRs based on police complaints of sexual harassment of six women journalists were filed in 2015 against the former Goa Bureau Chief of PTI.
Initially, PTI took no action since the complainants were from HCN Channel, which shared office space with PTI in Goa. Samant was arrested after 39 days in hiding and a charge sheet filed a year later, after which a trial commenced and is yet to conclude.
Determining the workspace – as both the office, the field as well as after-office parties is also essential. In a case at a news website, an after-hours farewell party ended with a male photographer making an inappropriate suggestion to a woman colleague to sit on his lap on the ride home! The website took strong note of the complaint filed by the woman journalist, suspended the male journalist and instituted an inquiry.
The law aids in these veiled threats. In another case, before Bennett Coleman and Co Ltd, the journalist's complaint against the Navbharat Times editor was not upheld. The journalist, whose services were terminated after her complaint, was told the company would not press charges of a 'false complaint' as provided for by law.
The law…and its flaws
The Sexual Harassment act itself urgently needs review. Four years after its passage, there are now enough indications of the flaws inherent in the act, whether it is the poor procedures laid down, no check on biased ICCs and no clear forum designated for appeal.
In the special EPW Engage feature on 'Power and Relationships in Academia', lawyer-researcher Monica Sakhrani writes (Sexual Harassment: The Conundrum of Law, Due Process, and Justice) that there are no procedures for enquiries, the 'reverse victimization' in clauses to penalize false complaints, act against women, and that the law, which 'aims to provide a safe working environment for women puts the onus on the woman to prove that she does not have a safe workplace environment and does not make it the legal responsibility of the employer'.
In this scenario, is it any surprise that name and shame lists and whisper networks will keep circulating and take on new forms on social media? But will non-legal strategies work?
At the NWMI meeting, another panelist, the senior lawyer Sudha Ramalingam, said she believed they can. Sharing her experience of a case of sexual harassment in an FM radio company, she said a few women employees approached her to complain about a senior male colleague. He was also a friend of the company's CEO, so there was an apprehension he would be protected.
None of the women employees wanted to risk giving a complaint in writing. Ramalingam managed to get a recording of some rather revealing conversations made by the male colleague. She contacted the CEO with the information and said that some action needed to be taken otherwise the complaints would be made public. Within 24 hours, the man was sacked.
"At times, we need to fight very silently. We need to devise our own methodology to deal with these harassers. There are instances that one may get remedies other than those provided by the Sexual Harassment Act, Ramalingam said, adding that she would welcome anyone who is willing to fight.
According to her, a woman was more empowered to fight if she also secured the support of her husband, her family and definitely her union too. But campaigns to sensitize everyone at the workplace were also essential, besides getting the media to report on the issue and seek institutional accountability too.
In an effort to collate information on the issue, the NWMI has decided to conduct a survey of media organisations. The survey will also seek to determine the policies of the organization, its training programmes for employees and awareness campaigns (as mandated by law), whether ICCs have been set up, and the nature of their composition.
The NWMI also plans to draft a model policy for organisations as well as put together a training manual that media organisations can use. Workshops for its members on workplace sexual harassment are also on the anvil.
While these initiatives get underway to press media houses to uphold zero tolerance of sexual harassment and abide by the law, a sustained campaign against misogyny will also be needed to establish the gender-sensitive and inclusive workplaces that young women like Jayanti and Padma hope for.