Sridevi: plumbing new depths
With reporters lying in bath tubs to report on Sridevi, is news TV dead? If so, can someone order an 'autospy' please?
PADMAJA SHAW on the excesses of Telugu news channels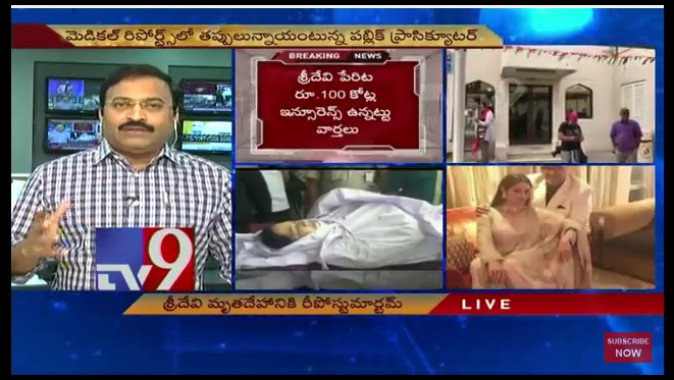 Telugu channels have had a hectic month. It is more realistic actually to say that they have had a hectic 365 days 24x7. Only the intensity grew this month, starting with the LGBTQ issue and the Telangana Anti-Corruption Bureau official Sunita Reddy's life (which deserves an entire write up on its own) through to the death of Sridevi.
Let us just look at these past few weeks. TV9 dealt with LGBTQ-shaming in December 2017. The programme was ostensibly to find out the causes for the increase in the number of 'gay' people. The main burden of the programme was that passive people are being lured into accepting 'gay-ness' and that 'they' are in need of treatment to help them work out their psychological confusion.
On 28 December, a large group of LGBTQ activists held silent demonstrations in front of TV9 studios in various locations and also attempted to meet the staff and present their point-of-view to educate the channel staff .
''Educate'' appears to be the operative clause here. The channel is a repeat offender in matters LGBTQ. In an earlier instance, for intruding into a closed group and exposing several LGBTQ persons through a sting which used vicious negative portrayal, they were hauled up before the National Broadcast Standards Authority, fined Rs 1,00,000 and made to apologise. Instead of fixing their act, they have now walked out of the News Broadcasters' Association.
Unencumbered by any code of conduct now, TV9, which continues to lead the TRPs among Telugu news channels, has found a subject after its own erratic heart in the death of Sridevi.
Once again the channel, despite all the resources and global reach that it boasts about, picked up an unverified tweet from the Times of India and ran with it. In the process, the anchors Rajnikant and Devi, left no mistake unmade. They kept repeatedly speculating on suicide, financial troubles, and psychological problems.
Can someone commit suicide in a bathtub? Boney Kapoor was interrogated by Dubai police for 18 hours. Alcohol was consumed. Was Sridevi troubled psychologically and did this lead to her suicide (suicide being the line they decided to take, unlike Republic TV which ran with the murder angle)? Nothing was left untouched. They claimed that many people were being interrogated and that call data was being looked at in the same breath as reporting that that the Dubai government had not confirmed anything.
When cause of death changed from a heart attack to bathtub drowning, they began to question the death certificate given by the Dubai authorities. The worst part of the reports were the graphic illustrations that reconstructed the last moments of Sridevi's life, including an illustration of her in the bathtub as Boney Kapoor looks on.
Anchor Rajnikant had his own contribution to make, first broadcasting all the rumours floating around (Rs 100 crore insurance, property disputes, marital squabbles and what have you) and then explaining that the Dubai authorities were going to do an "autospy" (ignorance about autopsy as a routine police procedure!) using "an advanced new high technology to decipher the real cause of death."
Under the Youtube footage of this particular 'episode' of ridiculousness (see at 2.24 seconds), the comments take the channel to task about its ignorance as well as its insensitivity. This obviously is not what the viewers were looking for. They also try to educate the anchor that it is autopsy that he has mistaken for 'autospy', the new high-tech detection mechanism for cause of death!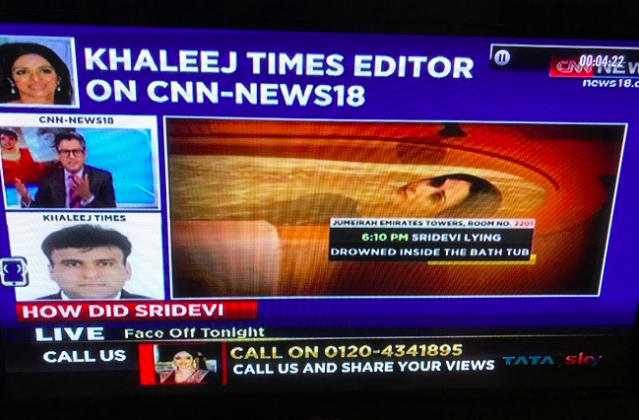 Any death in a place like a hotel, other than a hospital, will be properly inquired into to establish the cause of death. Generally, post-mortems are also done and viscera samples are taken for forensic investigation. It is also routine to question the people present – near and dear, the hotel staff and friends – about the sequence of events.
The media, of all the institutions, must surely know this? If those around are asked questions, would that be tantamount to considering them to be suspects?
To begin with, the heart attack story was floated by the Times of India group, which all the media ran with, without any independent verification. Then the media began to question the 'change' to accidental death due to drowning mentioned in the official death certificate. As far as the official information goes, was there any other version put out by them?
Rajnikant also repeatedly lamented that Sridevi was in the mortuary like an 'anaath' (orphan) while 1.2 crore people awaited her return to India. He also worried about whether Boney Kapoor would be allowed to leave Dubai. All sitting in a studio in Hyderabad and picking up gossip from Mumbai film circles, just a day or two after the death.
No family that suffers such a sudden bereavement would want such insensitive intrusion, even if there was something to suspect. The media are not the law enforcement authority. They are there to tell us information without spin and allow other institutions to work in peace. The Khaleej Times, in fact, did a nano edit on its front page advising the Indian media to have patience.
While TV9 was engaged in its ridiculous battle to retain its TRP supremacy, other Telugu channels dived in deeper with one reporter from Mahaa TV reporting the story while lounging in the bath tub. He was featured on the BBC for sheer foolishness, to illustrate Barkha Dutt's outraged reaction to Indian news televisions' rapid decline and death.
But of course, the Hindi language media like Aaj Tak also kept the Telugu media company with their own versions of imaginative sets, reporters in bathtubs etc. Last I fearfully checked, 'The AG' on Republic TV was still in denial, egging on his compliant panel to tear apart the official version and to prove that it could well be murder.
One would like leave the detective work to trained people and instead watch news about women bank employees, their working conditions and the unemployed youth and their struggle to get jobs on Ravish Kumar's Prime Time show on NDTV India.
With so many hilarious "studio-bound investigators" among our journalists, we can come back to this once the mayhem settles when, it is hoped, real journalists will give us well-researched information and facts. We can wait.