The Doklam standoff seen through cartoons
Indian cartoons poked as much fun at us as at China and questioned our foreign policy. But China's cartoons were consistently sneering of India and loyal to the state
ANKITA PANDEY reports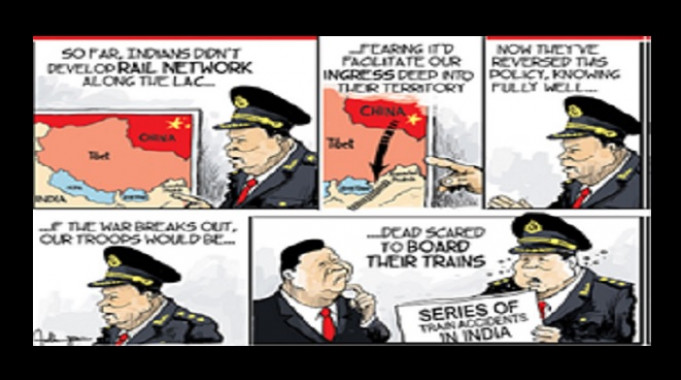 TOI, August 23, 2017.
India and China have resolved their long standoff along Bhutan's border with China. The state controlled media of China provided unusually voluminous but hostile coverage. It repeatedly reminded India of 1962, called for teaching India a lesson, called the Indian foreign minister a liar and carried amplified reports on "live" Chines fire drills "near" the site of the standoff.
India's mainstream media also gave a lot of space to the standoff, but it was relatively restrained. However, the cartoon corners of Dainik Jagran, The Times of India, The Indian Express and India Today published between June 16 and August 29 reflected the range of Indian responses to the crisis covering domestic preparedness and politics, Chinese foreign policy, and economic interdependence, and included responses that were not explicit in the opinion and editorial space. The cartoons in China's Global Times focused on India's foreign policy, its weak economy, and its self-image.
In contrast to cartoons in Global Times that focused only on India, Indian cartoons questioned the country's preparedness. The first cartoon of Dainik Jagran presented India's water-logged streets as a means of defusing Chinese bombs (July 25), while Times of India (TOI) showed Chinese soldiers unwilling to cross the border and board accident prone Indian trains (August 23). After the end of the crisis, the Indian Express showed Indian forces headed to Haryana from Doklam (August 29).
| | |
| --- | --- |
| | |
| Dainik Jagran, July 25 | Indian Express, August 29 |
Indian newspapers targeted both the ruling party and the opposition. An Indian Express cartoon wondered if 1962 reminded the BJP of the last time when a national party was in power in Tamil Nadu (August 12).India Today similarly showed the government at war with the opposition and Xi Jinping as a nuisance in between (August 4). Another India Today cartoon showed China blaming Modi for using Doklam to divert attention from his domestic problems and the opposition accusing Modi for using domestic issues to divert attention from Doklam.
| | | |
| --- | --- | --- |
| | | |
| India Today, August 4 | Indian Express, August 12 | India Today, Aug 14 |
The flip-flop of the Congress on Rahul Gandhi's meeting with the Chinese envoy and Congress's questioning of defence preparedness was ridiculed in TOI (July 10) and India Today (July 13 and 26).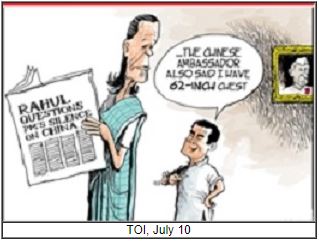 Dainik Jagran (August 12 and 21), India Today (July 11), and TOI (July 27, August 12 and 29) mocked Chinese threats. Dainik Jagran showed a Chinese gun equipped with a loudspeaker, while TOI showed the Indian Prime Minister and Finance Minister frightened by a poster of Chinese martial arts film. India Today showed a Chinese soldier holding a small cage looking around for India of 1962 and a tiger standing across the border, while a TOI cartoon (August 29) had Xi Jinping telling his tailor to stitch him a 62 inch size shirt.
| | |
| --- | --- |
| | |
| TOI, August 13 | TOI, August 29 |
Dainik Jagran supported India's quiet response (August 14). It showed a big Chinese soldier unable to move the foot of an Indian soldier, who is called Angad (August 19). (On July 20, India Today published a cover showing a map of China in the shape of a large red chicken with a smaller map of Pakistan, fashioned as a green chick.) In another Dainik Jagran cartoon, the Chinese army shares its embarrassment with their president after Indians call them Chheen ('grab') instead of Cheen ('China').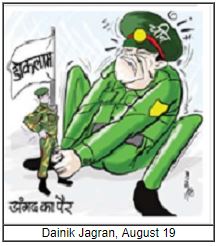 TOI highlighted the aggressive nature of Chinese foreign policy. One of its cartoons portrayed Xi Jinping standing with China's only allies, the North Korean dictator and a Pakistani general (July 8). Others showed China committed to Punch-sheel (July 14) and searching for things "to get fired up about" (August 6).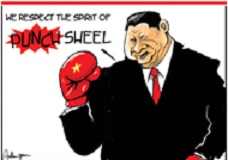 TOI, July 14
Global Times focused on India's growing relations with the US and published two cartoons claiming that India is wrong to expect help from the United States which has different priorities. It published its first cartoon on the issue on June 25 that informed readers that "Trump and Modi have different priorities." On July 27, it again highlighted "New Delhi's delusion" and said "It is unrealistic for India to rely on the US to counter China." Global Times cartoons also commented on India's self-image. On July 7 its cartoon commented upon "India's pursuit of regional hegemony" followed by another cartoon on August 13 that drew attention to "The elephant in the room" and carried a long note: "The Indian media pressures Bhutan and Nepal to take a stance favouring India for the border standoff between China and India in the Doklam area."
In contrast to the Chinese focus on Indo-US relations, Indian cartoons focused on Indo-Israeli relations because the Prime Minister visited Israel during the stand-off. An Indian Express cartoon (July 6), warned against an obsession with a few international relationships. It showed India building a relationship with Israel, while China poured water from above. But, India Today's cartoon showed a worried Chinese President spying upon Modi and Netanyahu as they take a stroll on a beach (July 8).
Several Indian cartoons highlighted economic factors. TOI showed a woman praying for resolution of the crisis, using imported Chinese items (August 6). India Today's cartoon stressed that a conflict would derail both economies (July 24). The Indian Express showed a person asking if China and Pakistan were behind the rising prices of onions and tomatoes (August 5). TOI cartoons also supported the widespread belief that Chinese goods are of poor quality (July 23) and that we need to say 'Bye Chinese' and 'Buy Indian' (July 24).
But TOI did not always show China in a poor light. One of its cartoons depicted a Chinese restaurant in India as an acceptable "intrusion" (August 13). Unlike Indian cartoons that showed awareness of both their countries' economic weaknesses and their interdependence, Global Times focused only on the weakness of the Indian economy. It published a cartoon on July 20 titled "Thwarted power play," which reminded the world that India's economy is on shaky ground.
| | |
| --- | --- |
| | |
| TOI, July 23 | TOI, July 24 |
Indian cartoons mocked their own side before ridiculing China. Indian Express cartoons questioned the government. Dainik Jagran highlighted infrastructure problems in one cartoon, but it mostly supported the government's handling of the crisis. While India Today was critical of the Congress and broadly supported the government's stand, it also showed the government busy attacking the opposition rather than China.
TOI alone explored the issue from several perspectives. While the Indian media ridiculed Chinese threats, TOI suggested that the two economics cannot be delinked so easily. Also, while it approved of the government's approach to the standoff, it believed that the ruling party's focus on domestic politics distracts it from larger problems.
In contrast, Global Times' cartoons focused exclusively on India and did not highlight the interdependence of the two countries.
Ankita Pandey is an independent researcher based in Bengaluru.