The rise and rise of Jagran Prakashan
The company that publishes Dainik Jagran goes from strength to strength ten years after its 2006 IPO.
The Hoot's ANALYST* dissects its financials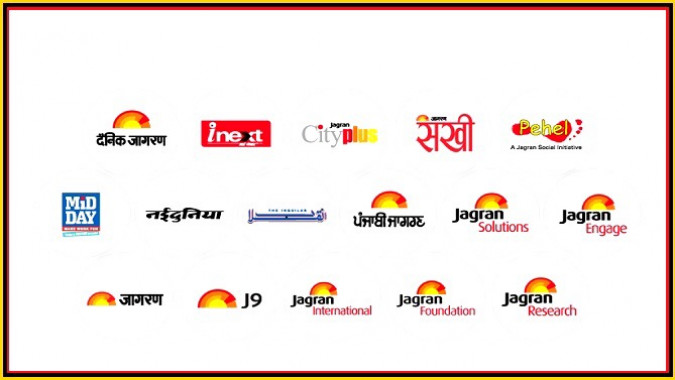 When Jagran Prakashan, publishers of Dainik Jagran, came out with an Initial Public Offer of shares to the general public, back in 2006, they cautioned the investors that their business is subject to intense competitive pressure. Not just from other Hindi language newspapers but from publications in other languages as well, especially the English language.
They also pointed to the fact that advertising revenue, which is a key driver of profits for the print media industry, is also liable to flow into other media platforms such as television, radio and now, more recently, online media in an increasing measure.
It went on to list a number of other risk factors that could adversely affect an investor's exposure to the stock of Jagran Prakashan. Absent in that long list of 'risk factors', however, was the 'risk' of the print media itself becoming obsolete and thus competed out of the market place.
The company's promoters perhaps took the view that whatever may be the uncertainties affecting their own future there was no 'risk' of the print industry itself becoming irrelevant.
It is ten years since the company's IPO sailed through with substantial support from the investing public. But as one looks at the global print media landscape, the future of the print media itself has become something of a question mark. It is a moot point if the market regulator today would allow an IPO or a 'follow on' public issue of capital from a company in the print media without a disclaimer about the future of the print industry itself.
Certainly there is no dearth of expert opinion which forecasts a future world where 'print' will be as dead as the 'Dodo'.We are informed that readers are not willing to pay for news. Or at least resistant to the idea of paying more than what they have been accustomed to doing until now. Advertisers are increasingly shifting their patronage to television and more recently to digital media (Star Sports just hiked its bid for the telecast of IPL cricket matches by 50% over the previous contract, at Rs 16,347 crore). But the editorial costs of producing news are relentlessly rising to the point that profits are proving to be rarer than the proverbial 'hen's teeth'.
Healthy bottomlines and happy shareholders
But Jagran Prakashan seems to be defying that conventional wisdom. A look at their financial numbers suggests that they will be around for a long time. Just last month (August 8, 2017), the company reported a consolidated net profit of roughly Rs 86 crore for the quarter ending June 30, 2017.
How large that figure is can be seen from the fact that this was on a paid up capital base of the company of a little over Rs 60 crore. In other words, it is generating returns roughly one and half times the money invested by shareholders as equity capital, and that too, once every three months.
How does one then reconcile this collective industry wisdom about the future of the print media and the robust financial performance of Jagran Prakshan?Perhaps it could be that whatever the future holds for the print media as a whole, for now at least, there are profits to be had by some.
In the years since Jagran Prakashan went public back in 2006, the average small investor would have had no reason to complain about its performance. A sum of Rs 100 invested in the shares of the company back then, is now worth roughly Rs 328 at the current market price(September 8, 2017) - an appreciation in investment value of 3.28 times. Or in other words, a compounded annual return of 12%.
(Note: The initial Public Offer of shares in 2007 was priced at Rs 320 per share of a face value of Rs 10 per share. A bonus share of one for every five shares held and a stock split that translated 1.2 shares post bonus issue, into 6 shares each of which was worth roughly Rs 175. In other words Rs 320 invested then on a share has grown into Rs 1,050 in the space of a little over 10 years. Acompounded annual return of 12% per annum over a ten year period is on par with some of the bluest of blue chip stocks in the market.)
Of course stock prices do not always reflect business fundamentals. It is true that speculative pressures do impact stock prices from time to time and cause it to move away from their intrinsic worth. But in the long run (and 10 years is pretty long) it does revert to a price that is in line with the intrinsic profit potential of a company's business.
It is fair to say that the current stock price performance of Jagran Prakashanhas been buttressed by a certain degree of robust financial performance over the years. In 2006-07, the first full financial year of operations after the company's shares were listed, Jagran Prakashangenerated a net profit (after tax) of Rs 76.22 crore. In 2016-17, a full 10 years later, the company posted on a consolidated basis, a profit of Rs 347.61 crore - a near five-fold increase.
We need not go into whether share price growth is commensurate with the level of growth in profits or whether there is still some upside potential for the company's stock price and such other esoteric questions. We can leave it to the investment analysts and other members of the larger stock market community. But what should be of interest to us is to understand the operational factors and strategic choices that the company made that underlie the company's successful media operations.
Expanding advertising and circulation
How did they manage such a consistent profit growth in all these years? The first thing that strikes one is the consistent trend of growth in overall operational revenues (circulation and advertising revenues). Now why is this so important? It must be noted that in the short run profits can always be enhanced by cutting costs on some count or saving on expenses on some other count.
For sustained growth in profits there is no getting away from the fact that a business needs to reach its products to a larger and larger number of customers who can be persuaded to pay just that little bit more than what they did in the past.
In the context of newspapers, that means adding newer and newer readers who pay a reasonable proportion of the increasing costs that are incurred in bringing relevant news to their drawing rooms. And of course, persuading a growing community of advertisers that the network of readers that a newspaper has built up over the years, is worth reaching out to for their marketing messages is the other component (advertising revenues)of a newspaper's sustainable business model.
The publishers of Dainik Jagran appear to have successfully done so over the years. In 2006-07, the company posted aggregate revenue of Rs 622.94 crore. By 2016-17, this had grown to Rs 2,324.13 crore. The rate of growth has varied from one year to the next. But there has been consistent growth. In other words, the growth in profits has been built on solid growth in operating revenues.
The growth in operational revenues hascome not just from advertising but also from circulation numbers as well. Thus while advertising revenues have grown from Rs 388.21 crore in 2006-07 to Rs 1,686.60 crore in 2016-17, the revenue from circulation too has grown from Rs 167.83 crore to Rs 432.50 crore during this period.
The only note of concern, if at all, is the fact that the proportion of circulation revenue to advertising which has been around 30% in the last four years prior to 2016-17 had since slipped to 26% in the latest year. Indeed, the numbers were even higher in the years prior to 2010-11 with the circulation revenue going up to 36% in 2007-08. It touched a peak of 43% in 2006-07.
These numbers cannot, however, obscure the fact that Jagran Prakashan is far more reliant on advertising revenues as compared to the industry peers in the Hindi language media. According to a KPMG-FICCI survey of the media industry (KPMG India-FICCI Indian Media and Entertainment Industry Report 2017, Page 114) the Hindi language print industry generated Rs 6,300 crore by way of advertising revenues and Rs 3,580 crore in circulation revenue. The circulation revenue thus bore a healthy proportion of 57% of the advertising revenue.
The case for a larger reliance on circulation revenue can never be overstated. By its nature, circulation revenue tends to be sticky as readers are not inclined to shift their reading preferences the way they might do their preference for bath soaps. So revenue flows are more stable. On the other hand,advertising has been more prone to shift across publications or platforms as newspapers in the West found to their dismay when advertising revenues shifted to digital platforms with only a fraction of it going to content producers such as newspapers.
Thus circulation revenues tend to bring stability to cash flows and help build a brand equity for the product which could eventually pave the way for a subscription driven model on the digital platform as the New York Times has so successfully demonstrated in recent times.
In the first six months of 2017 the company publishing the NYT reported a net profit of $ 60 million. Not a great number in itself. But take away the $ 160 million in digital subscriptions earned during this period, the profits actually turn into a loss.
Moreover, there is also a larger strategic rationale to the protection of circulation revenues. It is what gives personality to a title and clothes its business as a viable newspaper operation. In the ultimate analysis, a business is defined not by the physical product that a customer sees. Rather it is defined by the character of its revenue flows.
As advertising revenues rise in greater proportion to circulation revenues the product slowly transforms itself from a newspaper to a platform for carrying marketing messages. At that point it becomes a commodity business from what was up until then a proprietary business.
Diversifying its presence
To its credit, Jagran Prakashan has sought to balance the risk of volatility in earnings from a higher reliance on advertising revenues with measures to boost circulation revenues. It has consistently expanded the geographical foot print of its operations. Thus while in 2006-07 it had only 29 printing centres by 2016-17 this number had gone up to 37 and the company is bringing out close to 400 editions/sub editions across different publications and from states as far apart as Punjab in the West and West Bengal in the East.
Such a diversified presence not only helps capture local news and therefore stay more relevant to its readers, it also givesitself the option to attract more local advertising. This is also reflected in the circulation numbers of its flagship product, Dainik Jagran in its principal market, Uttar Pradesh. The circulation has gone up from 25.82 lakh in the half year ending July-December 2011 to 39.21 lakh in the period July-December 2016. Having said that, it must be admitted that the company's newspaper operations remain vulnerable to increased competitive pressure.
For instance, in the six-year period under reference, Dainik Jagran's two principal rivals namely, Dainik Bhaskar and Amar Ujala have more than doubled their circulation. While Amar Ujala is trailing behind the leader by over 10 lakh, Dainik Bhaskar on the other hand, is within sniffing distance of Dainik Jagran. In the latest Audit Bureau of Circulation figures the former has registered a circulation of 38.13 lakh as against 39.21 lakh for Dainik Jagran.
From the foregoing discussion it is clear that the company's business strategy consisted principally of expanding the geographical reach of its flagship brand, Dainik Jagran, and thereby shoring up its top line over the years. This had a beneficial fallout on after-tax profits which had grown manifold since the company went public, as mentioned earlier.
Keeping a hawk's eye on costs
But the company has been able to keep a firm control on costs - principally wages and newsprint consumption. One could argue that when the operating revenues are growing at a healthy pace, costsalways seem to be under check. It is said of a national economy that when it is growing, then the living conditions of all its residents see an improvement - a rising tide lifts all boats.
Applying it to the context of an enterprise,one could say a rising top line makes all cost parameters look healthy. But there is evidence to suggest that Jagran Prakashan has made special efforts to keep costs under check.
Take newsprint consumption. It was Rs 275.36 crore in 2009-10 against a combined circulation and advertising revenues of Rs 852 crore that year, giving it cost ratio of 32% for newsprint consumption for that year. But by 2016-17 this has come down to 29% with operating revenues of Rs 2,119 crore and a newsprint consumption of Rs 624.40 crore.
This hasn't been achieved by short changing the reading public or jacking up the tariff disproportionately for advertisers. In 2009-10, the average page level for Dainik Jagran was maintained at 20 pages per daily edition. This had actually gone up to 23 pages by 2016-17. There is thus reason to believe that a conscious attempt has been made to balance the interests of readers and advertisers.
Wages is another area where the company hasn't allowed costs to rise unchecked. For instance, the median wage for the workforce of nearly 5,800 was maintained at Rs 13,294 per month in 2014-15. The workforce has remained pretty much at the same level in 2016-17 and wages for the median worker have gone up to Rs 16,191 a rise of a little over 20%. But gross revenues have risen by more than one-third signifying tighter control over wage costs.
No matter how well a business is doing at the present moment, the management will always be anxious about what else they need to do to keep the cash registers ringing in the future as well. Should they stick to doing what they do best or venture into something that they know little or nothing about but still ought to be doing it because that seems to be the most profitable thing to do at the moment?
Buying Naidunia/Navdunia
In the case of the media industry and especially the print media, the question often takes the form of whether they should expand into newer territories but otherwise stick to the language that they know best? Or do they stick to the territories that they are familiar with but launch something in a different language? Or better still, expand into a different medium such as broadcast?
Of course in the Indian context, if you are Bennett Coleman, you would do all of that. But that is a different story. Jagran Prakashan too must have debated the question over the years. Their response up until 2010-11 had been on more conservative lines - expand their footprint within their familiar backyard of Uttar Pradesh by launching newer editions of Dainik Jagran.
But 2011-12 changed all that. They made two strategic acquisitions.
The first one was acquiring control of a company which through its 100% subsidiary published two Hindi newspapers Naidunia from Indore and Navdunia from Bhopal. As the Board of Directors noted in their annual report for 2010-11, "We believe the acquisition will create significant value for shareholders".
The rationale for the acquisition was quite simple. If the company has to continue to post growth in operating revenues and net profit in the years to come, acquisition of third party titles (inorganic growth) has to be part of the corporate strategy,besides organic growth in the operations of Dainik Jagran. As the second largest newspaper in Madhya Pradesh and Chhattisgarh with a circulation of 400,000 copies and a readership of nearly two million, it was a desirable candidate for acquisition.
Moreover Jagran Prakshan had an internal constraint. As a part of an intra-family agreement, the promoters of Jagran Prakashan had given up a foray into the MP/Chhattisgarh market with Dainik Jagran (a different branch of the original founder-promoter published Dainik Jagranin MP/Chhattisgarh although with nowhere near the same degree of success as the promoters of Jagran Prakashan have been able to do in UP/Bihar and elsewhere). But MP/Chhattisgarh are too important a market to be ignored by the business calculations of the company. So acquisition was the only way to leverage the marketing and commercial infrastructure created by Jagran Prakashan to the benefit of shareholders of the company.
While that explains why Jagran Prakshan wanted to acquire Naidunia/Navdunia, it doesn't explain why the promoters of the latter publications sell out. That takes us back to the original theme about how difficult it is for the 'also rans' to make money in the media business.
Unlike in sports where the a sportsperson finishing third and fourth get recognised on the 'podium', the dynamics of the media business can sometimes be such that even the number 2 contender can end up with the tag of 'also ran'. That was the case with Naidunia/Navdunia.
These publications were limping along and reached a breaking point by 2011-12 when their operations resulted in a net loss of Rs 77.71 crore on a turnover of a little over Rs 100 crore when it was taken over by Jagran Prakashan. The acquisition cost Jagran Prakashan Rs 223.66 crore. Besides the purchase consideration for the shares of the holding company which controlled publications through a subsidiary, there was also an infusion of fresh cash into the equity capital of the subsidiary to keep the operations going.
The first year of operations of Naidunia/Navdunia post-acquisition by Jagran Prakashan (2012-13) saw losses being stemmed to a more manageable level at Rs 15.63 crore on a marginally higher turnover compared to the previous year. But in the following year (2013-14) the operations of Naidunia/Navdunia saw a dramatic turnaround with the company reporting a profit before tax of Rs 16.82 crore from these two publications.
There is no information on how these two publications fared in the subsequent three years (2014-15 to 2016-17) as the company chose not to reveal figures for them independent of the operations of Dainik Jagran. However, the overall tenor of the observations of the company with regard to the operations of these two publications in those years suggested that they are not a drain on operations.
There was some mention of growth in circulation and advertising revenues although at very modest single digit percentages. But no matter, the company has more than recovered its initial investment on the acquisition. It paid roughly Rs 200 crore to the original shareholders of Suvi Info Management, the parent company which owned the two newspapers, to take 100% control of the parent.
But when these newspapers were taken over by Jagran Prakashan, it issued 1.56 crore shares to Suvi Info Management which was a case of Jagran Prakashan issuing shares to itself as Suvi, after all, was 100% controlled by Jagran Prakashan. These shares were offloaded in the market in two tranches of 60 lakh shares and 96 lakh shares. The company made a net profit of Rs 196.44 crore on the stake sale. The net result of it was that the market entirely financed the acquisition of Naidunia/Navdunia publications albeit, at a miniscule expansion to the company's equity base.
Then, snapping up Midday
The year 2011-12 also saw another significant acquisition in the form of the purchase of 100% of the shares of Midday Infomedia, a company that published from Mumbai, Bengaluru and Delhi, an afternoon English tabloid, Midday, along with its sister publications - Midday in Gujarati and a Urdu newspaper, Inquilab.
As a strategic venture it wasn't an expensive acquisition. It cost Jagran Prakashan roughly Rs 180 crore and was paid for in the form of equity shares of the company (Note: The acquisition price was computed based on the market price of shares of Jagran Prakashan on the acquisition date of April 1, 2010).
Of course it had to pump in some additional funds to repay outstanding debt besides cash for working capital which would, however, come back to the parent company in due course. Midday, prior to its takeover, had been a reasonably profitable operation although it was in some financial distress on account of its foray into the Bengaluru and Delhi markets. It had reported an after tax profit of Rs 10 crore for the year 2009-10 on an operating revenue of Rs 100 crore. Subsequently, Jagran Prakashan closed the Bengaluru and Delhi operations of Midday.
Seven years down the road (2016-17), Midday meanders along with operating revenues of, and after tax profits of the same order as it was in 2009-10. But it would be wrong to conclude that the acquisition was a strategic folly merely because the numbers haven't grown in the years since its acquisition. Jagran Prakashan's consolidated operations have acquired the added comfort of a more diversified stream of cash flows.
From a business consisting only of running a Hindi newspaper with operations predominantly in UP, it is now a media venture with a presence in more than one language and importantly, in the English language newspaper space,although without the pedigree of a morning publication.
But what is more, it hadn't come at any great cash cost to the company with the acquisition having been paid for in equity. True, minority shareholders of Jagran Prakashan aren't going to be greatly enthused by the expansion of the equity base that came with the Middayacquisition. But the fact remains that the Jagran Prakashan stock hasn't done too badly since listing, as pointed out earlier.
So who is to say that none of that appreciation has come from the diversified nature of its cash flows? Moreover, seven years is too short a period to evaluate strategic corporate decisions. It may yet turn out to be a case of an inspired move on the part of the management. Another couple of years have to pass before any definitive conclusions can be drawn.
FM radio turns out to be a jackpot
The acquisition of Midday may or may not prove to be a great investment decision. But the company has hit pay dirt with its acquisition of a controlling stake in the FM radio business of Music Broadcast Limited(MBL), a company that operates 'Radio City' FM Radio Stations across more than 30 cities.
In June 2015, the company acquired approximately 4.03 crore shares representing ownership of a little over 70.5% of the paid up capital of MBL post its public issue in March 2017. The acquisition cost the company Rs 425 croreinclusive of goodwill to the erstwhile owners. MBL's shares are currently trading at Rs 376.50 per share (market price as of September 8, 2017).
Jagran Prakshan's ownership stake in MBL thus translates into a wealth in excess of Rs 1500 crore, an appreciation of 366 per cent on the original investment in the space of a little over two years. The operations of FM radio have been extremely profitable. For the quarter ending June 30, 2017 MBL reported a net profit of roughly Rs 10.84 crore which represents 13 per cent of Jagran Prakashan's consolidated net profits of that quarter.
This comes on top of the profits of the fiscal year 2016-17 which stood at Rs 37crore accounting for 11 per cent of Jagran Prakashan's consolidated profits of that year. The market belief in the future prospects of FM radio business is not misplaced.
What does all this tell us about Jagran Prakashan? From a partnership firm that started publishing a newspaper in the Hindi heartland of Uttar Pradesh way back in 1942, the company has come a long way. Its nine print offerings in five different languages are read by over 68 million people; it is subscribed to by over 53 million households and commercial establishments spread across 13 states. Without doubt, this is as massive operation. But there has been nothing flamboyant about any of its strategic choices.
The investment bets, be it geographical expansion of its flagship Dainik Jagran or other acquisitions in print and related space, such as they were, could be regarded as small in relation to the financial situation of the company at various points of time when these investments were made. One doesn't know if their editorial operations epitomise the principle of 'conservatism' but their business decisions over the years have truly been that.
* The author is former editor of the Hindu Business Line.