The sinning health minister of Assam
Himanta Biswa Sarma sinned against reason and compassion when he said cancer was divinely ordained. He won his 15 minutes of notoriety
TERESA REHMAN reports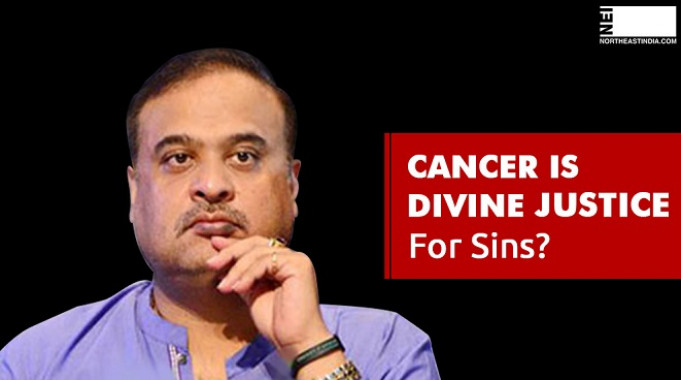 There is a divine mantra for politicians these days - if you want to grab primetime media headlines and trend on Twitter, say or do something outrageous. And then enjoy the drama and debates that follow.
Assam was recently in the news for a 'divine' reason. Health Minister Himanta Biswa Sarma stirred a hornet's nest by stating that deadly diseases and accidents are a result of 'divine justice' caused by one's sins. And the sinner could even be one's forefathers. This led to debates on television and even managed to grab international media headlines and a couple of Twitter battles with his former colleagues from the Congress party.

It also led to non-stop media coverage. The Times of India quoted Sarma: "God makes us suffer when we sin. Sometimes we come across young men getting inflicted with cancer or young men meeting with accidents. If you observe the background you will come to know that it's divine justice. Nothing else. We have to suffer that divine justice," Sarma said at a function organised for distribution of appointment letters to teachers here on Tuesday.
"In this lifetime or in our previous life, or perhaps my father or mother... perhaps that young man did not do but his father has done something wrong. It is mentioned even in Gita, Bible about the outcome of one's actions. No point in being sad... all will get the outcome of this life's actions in this life only. That divine justice always will be there. Nobody can escape the divine justice that will happen."

As his comments snowballed into a huge controversy, Sarma stuck to his stand. In fact, on being asked by a local television channel about his own father who died of cancer, Sarma admitted that it was because of 'his sins'. DailyO mocked him, "A new study has discovered a much-prevalent, but less talked about type of cancer - it's called stupidity. And our "astute" politicians seem to be the most-afflicted by it. The latest victim of this fatal malady is Assam health minister Himanta Biswa Sarma."

Indian Medical Association President, K. K. Agarwal, told the media that the health minister is the collective consciousness of a society that includes medical doctors. He said, "This kind of statement has no medical validation. The statement is unfortunate and he should withdraw it in the interest of society. He is not an expert on cancer."

This led to a 'political slugfest' and former Finance Minister P. Chidambaram tweeted, "Cancer is divine justice for sins' says Assam Minister Sharma. That is what switching parties does to a person."
Congress leader Kapil Sibal tweeted: "Himanta Biswa Sarma says that cancer is divine justice for sins committed. That such a person is minister is divine injustice."

And cancer survivors expressed their anguish and anger. Roopa Sharma, a cancer survivor wrote on Facebook: "He has insulted all the cancer victims who have fought bravely and lost their battles, all cancer survivors who are still fighting this disease, and their caregivers and families. I am a breast cancer survivor myself and I refuse to take this kind of insult. On behalf of all my fellow 'Pink Sisters' and to honour all the cancer patients, I say, "Shame on him"!

Later, Sarma issued a clarification. He alleged that a section of the media and few leaders in the Congress have been 'playing the story'. He wrote: "I lost my father, best friends and relatives to cancer. And everyone in Assam and outside know my passion to work on containing cancer through best possible cancer treatment facilities including free chemotherapy, financial scheme to help up to Rs two lakh to cancer patients, one state-of-the-art cancer hospital in Guwahati with PET CT, banning chewing tobacco and now starting a grid of hospital across Assam, are some of my humble contribution as health minister of Assam.


"Detachment from life, karmic action and rebirth are some of core principles of Hindu philosophy developed over last 5000 years. Western thought process can never dominate or dilute the spirit and eternal meaning of our philosophy. So many oncologists in TV studio are citing reason for cancer? But why it is happening to certain individuals and not to other in spite of living under same environment. Science has not been able to give answer to many of our perennial queries and therefore at our last moment, we are asked to pray GOD."

This whole 'divine' controversy downplays one important aspect of medical science in India - the stigma associated with certain diseases. A veteran psychiatrist in Assam once claimed that patients came to her at night, under the cover of darkness, because of the stigma associated with mental illnesses. Similarly, leprosy patients were treated as outcasts and shifted to a separate centre created for them.

Health activists in India have been waging a constant battle against social stigma associated with life-threatening and even curable diseases like tuberculosis and different kinds of disabilities. It's time policy makers and health activists try to address these pertinent issues and stop patient- shaming.