Times Now and Republic TV distort facts on Sharia courts
Both Rahul Shivshankar and Arnab Goswami went on a no-holds-barred attack on an institution whose legality was upheld by the Supreme Court.
SAURAV DATTA says there is no basis for the hysteria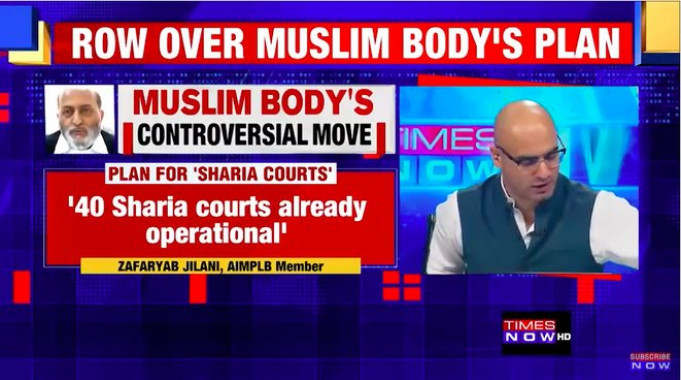 Whenever any issue regarding the rights of religious minorities like Muslims and Christians comes up, trust channels like TimesNow and Republic TV to create an atmosphere which is vitiated by extreme voices. They have no compunction in treating facts as fungible and believe in shouting down voices of calm and reason which try to put truth over conjured hysteria and rabid majoritarianism.
These two channels lived up to their reputation when on 9 July, their anchors Rahul Shivshankar and Arnab Goswami hosted debates – with the hashtags ShariatCourtShocker and NoShariat , respectively, on the All India Muslim Personal Law Board's (AIMPLB) recent decision to establish Sharia Courts or Darul Qazas in all districts of the country. Not only did Shivshankar and Goswami go all out in whipping up frenzied emotions, but also, and more shockingly, both indulged in distortion and brazen obfuscation of facts.
At the very outset, it is essential to understand what these Sharia Courts are, and dispel the prevailing notion (and fear) that they form a parallel legal system which is antithetical to the Constitution's principles and values. The AIMPLB has tweeted that it would only establish arbitration centres permitted under the Arbitration and Conciliation Act, to help society, and not parallel courts, and warned against canards being spread by some sections of the media.
One must know what is the Darul Qazas' provenance, and more importantly, their legal status and place in a scheme of things where the Constitution is the supreme law of the land. True, India is a secular country in which a secular legal system applies to all sections of the population; it is also true that at the same time, in so far as personal laws are concerned, it is the Constitution itself which gives religious minorities the right to follow the rules of their religion and the dispute resolution systems entailed by their religions' rules. This in no way takes away the power and jurisdiction of secular courts in both civil and criminal cases.
Informal, Non-Coercive Dispute Resolution Centres
Sharia Courts, or Darul Qazas were established and granted legal status by the Shariat Act of 1937, a law which has not been repealed yet. These are not "courts" in the strict sense of the term, but essentially arbitration and counselling centres where parties go to have their civil disputes resolved. Manned by male, and increasingly now, female clerics or qazis, these centres, of which 40 are now operational in Uttar Pradesh, do not have the power to issue legally binding and enforceable decisions. If both parties to a case or dispute consent to follow the orders, they do, else, they take their disputes to the secular courts. And they do not have the power to deal with criminal cases.
A 2014 study based on empirical evidence examined the functioning of these courts in India from 2009 to 2013, and showed that many Muslim men and women prefer to approach these because they cost little, and decisions are delivered without the delay which is commonplace in regular courts. More importantly, the study notes that:
"The sharia court ensures obedience through social pressure as they are devoid of any effective power to hand down retributive punishments. However, the verdict of the qazi is never obligatory and depends upon the mutual consent of the parties to abide by the verdict. However, empirical observations have shown that those Muslims who resolve to seek resolution to their disputes under the care and guidance of sharia courts respect and admit to its decisions. The qazi"s decision is considered authoritative not because it accords with specific legal rules and principles, rather it is the imperium tied to his institutional position within a sharia rule of law system that lends verdicts their authority."
However, these facts, all of which are in the open, did not dissuade Shivshankar and Goswami from unleashing a fusillade of comments calculated and calibrated to stoke anti-Muslim hysteria. Shivshankar compared the Darul Qazas to Khap Panchayats warned that unless prevented by all means, the establishment of these courts could lead to "a second Partition of India", while Goswami ranted against the AIMPLB's decision by calling it a "dangerous proposal which could lead to India becoming an Islamic State" and thundered that those supporting these courts are indulging in Muslim-appeasement and strengthening Islam and the Sharia's reputation as citadels of misogyny and obscurantism.
When some panelists in favour of the courts tried to point out how their decisions are complied with entirely voluntarily by parties and the fact that India's laws have not declared them illegal, Shivshankar egged on panelists such as BJP spokesperson GVL Narasimha Rao and Congress Party renegade Shahzad Poonawalla to allege that those supporting the courts are indulging in anti-constitutional and anti-India actions.
Constitutionally Valid
While Shivshankar deliberately decided to skirt the issue, Arnab questioned whether the Sharia Courts enjoy any legal sanctity, and emphatically declared that they did not. Not stopping there, he decided to surge ahead and selectively quote from a Supreme Court judgement to buttress his point, and when lawyer Mahmood Pracha tried to point out his errors, and say what the judgement really held, Goswami screamed at him, calling him a liar and triumphantly declaring that "Pracha has been exposed !"
What is the reality ?
In 2007, a Delhi-based lawyer Vishwa Lochan Madan filed a PIL in the Supreme Court seeking a ban on fatwas as well as the Darul Qazas. He was incensed by the frequency with which qazis were issuing fatwas, and accused these clerics of running a 'parallel judiciary' in the country.
In a sworn affidavit before the apex court, the AIMPLB stated that the Darul Qazas were not civil or criminal courts with the power to enforce their decrees, but only arbitration centres where parties went to resolve their private disputes, and that fatwas were merely opinions expressed by clerics- they were not religious edicts, and had no binding value.
In its 7 July 2014 judgement, the Supreme Court, while dismissing both the prayers made in Madan's PIL, agreed with the AIMPLB that a fatwa is merely an opinion and neither a fatwa nor a decision of the Darul Qaza can be enforced like a court's ruling .
This , according to the judges, is because neither a fatwa nor a decision of the Darul Qaza has any "sanction under our Constitutional scheme." However, the judges categorically upheld both the establishment and functioning of the Darul Qazas as well as the practice of issuing fatwas, adding that "this does not mean that existence of Darul-Qaza or for that matter, practice of issuing fatwas are themselves illegal. It is (an) informal justice delivery system with an objective of bringing about amicable settlement between the parties. It is within the discretion of the persons concerned either to accept, ignore or reject it."
Zafaryab Jilani, Secretary of the AIMPLB, has also clarified that the Darul Qazas are, and will function completely within the bounds of the Constitution and the law laid down by the apex court, and that they in no way constitute a parallel legal system as being alleged by various quarters.
But the likes of Shivshankar and Goswami have remained undaunted and gone ahead with their polarising agenda which they vociferously express in the most scabrous of rhetoric and with oodles of mendacity. Ironically, both of them ended their programmes by claiming that they stand for one India, a unified country, with a single legal system. So much for rhetoric claims of seeking to create an unified India, and then using all means to spread the poison of divisiveness and communal hatred.