Truth telling from the frontlines
"Velvet Revolution" is a 57-minute international documentary which profiles women journalists who have paid a high price for speaking truth to power.
NUPUR BASU on the making of the film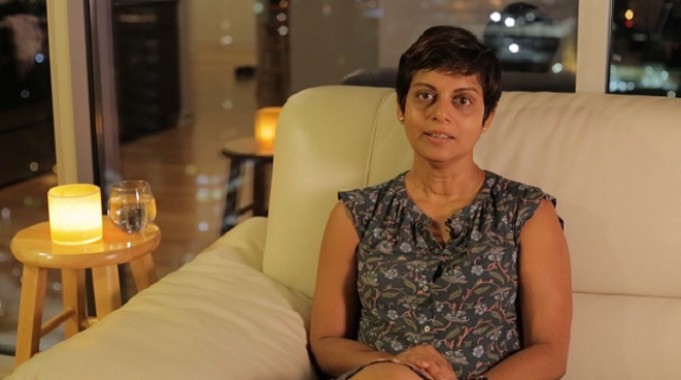 Bonya Ahmed in her home in the US.
When a young woman journalist in the post-film discussion of Velvet Revolution's world premiere screening in Delhi on March 3 observed: "Right now I feel like a million bucks as a woman journalist", everything we had wanted the documentary to communicate, was in a sense encapsulated in that one sentiment alone.
Almost on cue, came the next question at the post film Q and A.
Why wasn't there more solidarity expressed for these women journalists who struggle to bring us these stories from difficult terrains in the world? Why did Indian journalist Malini Subramaniam have to suffer the attacks on her in Bastar all by herself with only her school going daughter and husband? Why was there no outrage at a woman journalist being forced to move out of her house merely for reporting on the impoverished lives of tribals in Chattisgarh? Why did Syrian journalist, Zaina Erhaim, have to be forced out of her home country to live in exile in Turkey with her eight-month old daughter, Zara?
Velvet Revolution, which I anchored as Executive Producer along with other women directors from different parts of the world, raises pertinent questions and demands answers. It is a 57-minute documentary produced by the International Association of Women in Radio and Television (IAWRT) about women journalists speaking truth to power.
Nupur Basu
In this exciting collaborative documentary six women directors take their lens up-close to women making news. In a world torn apart by conflict and dictatorial regimes where journalists are constantly under threat of both state and non - state actors, what drives these women journalists to do their jobs?
"I did not want to be a war correspondent... but the war came to my door-step" says award winning Syrian journalist, Zaina Erhaim, now living in exile in southern Turkey.
"The President is wrong when he says that journalists are being killed because they are corrupt- who corrupts whom… who holds the power to corrupt?" asks Kimberlie Ngabit Quitasol, a young woman journalist from Philippines whose entire paper has been tagged by the ruling regime as pro-terror.
"I could not leave my co-warriors in the middle of the battlefield" says Bonya Ahmed, the wife of slain Bangladesh blogger, Avijit Roy and the Editor of Muktomona, in her first ever documentary interview in Velvet Revolution.
"For us the struggle to be a journalist begins at home" says Najiba Ayubi, an award winning Afghan journalist who has faced Taliban fire and started radio stations all over war - torn Afghanistan.
" We are made to stand outside the homes of the upper caste even though we are journalists and have gone to interview them" says one of the founders of Mahila Nadodaya (A New Dawn for Women) , a publication brought out exclusively by Dalit women. Fifteen years after it was started and run on a shoe string budget, its circulation is 40,000 and readership figures an astounding 200000.
The gender element in the Panama Papers investigation
Ritu Sarin , Editor , News and Investgations, The Indian Express, who headed the Panama Papers investigation in India and said she had no problem whatsoever assuming a leadership role over two other male colleagues in a data crunching story, which traditionally would have been given to a male journalist.
The Panama Papers investigation which blew the lid on offshore shell accounts of the rich and powerful, had 300 journalists from over 80 countries jointly worked on the biggest digital data dump that revealed dirty money of corrupt politicians and convicted criminals. Over a third of them were women journalists. A decade back such a scenario would have been impossible.
Marina Walker Guevra , Deputy Director, International Consortium of Investigative Journalists (ICIJ) interviewed on the film says: " In fact when ICIJ started 19 years ago it was predominantly male..I think that probably women were ..who knows ..maye 10 per cent of the network..and over the years that demographic has changed dramatically all over the world. It is just a reality that more and more women are leading investigative teams in countries around the world. Many of these women who worked in Panama Papers live in societies that are extremely repressive …and have spent months in a prison for reporting about the offshore wealth of their leaders."
Velvet Revolution profiles women journalists who have paid a high price for speaking truth to power.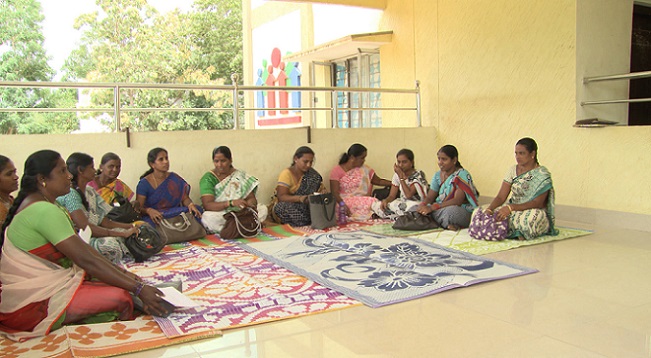 The dalit women journalists who run Navodaya are in an edit meeting in Chittoor, Andhra Pradesh.
Behind the scenes
But let's turn the clock back a little to June 2016 when I was selected as the Executive Producer for the IAWRT Long Documentary 2016 : Women Making News. The theme was an overarching one. After some deliberation and research I decided that the film should enter the "here and now" moment for women journalists across the globe and map the challenges that they face in doing their work today. I was also keen that the film should try and tell the stories of women journalists working across media – print, radio, television and digital.
To make this exciting collaborative film project a success I, in consultation with my Long Doc Committee, cast the net wide for directors. We invited proposals from Africa, Philippines, Nepal, Canada, Afghanistan, Norway, USA, Bangladesh, Sweden, India and various other countries where IAWRT chapters exists as the film call was open only to its members. This was the third collaborative long documentary that IAWRT was producing since 2014 – the previous two being on theme of women and climate change and reproductive rights.
I put out my call inviting four or five women directors to pitch riveting stories from their region, exploring what drives women journalists to do their jobs against heavy odds. We wanted them to take a hard look at the media situation in their region and send us strong protagonists who have pushed the boundaries.
The result was Velvet Revolution , an unique collaborative venture supported by IAWRT where I worked with four women directors Illang Illang Quijano from Philippines, Deepika Sharma from India, Pochi Tamba Nsoh and Sidonie Pongmoni from Cameroon and Eva Brownstein from the USA. Through their lens the documentary showcases the courage, determination and talent of some women journalists who are pitted against both state and non-state players that try to curb their press freedom.
Besides the four films on women journalists from Cameroon, India, Philippines and USA/Bangladesh, I personally interviewed four internationally known award winning journalists like the BBC's Chief International Correspondent Lyse Doucet, Zaina Erhaim, a journalist from Syria , Najiba Ayubi, internationally renowned woman journalist from Afghanistan and the women journalists who worked on Panama Papers investigation from India, Ritu Sarin and the Deputy Director of ICIJ , Marina Walker. This gave a global look and feel to the film.
My vision statement read :
In an extremely polarised world the daily struggle of women journalists is getting accentuated. There is gender conflict within newsrooms and in the world outside. Reporting in conflict zones has already claimed the lives of many women reporters and photographers in Afghanistan, Brazil, Pakistan, Syria and other hotspots around the world.
The execution in Raqqa of Ruqia Hassan by ISIS in January 2016 shocked the world. The fifth journalist to be killed by ISIS, this time the target was a woman citizen journalist who was openly critical of them.
Increasingly targeted by both state and non-state actors, women journalists are taking huge risks to bring news to their readers and viewers in mainstream and digital platforms. Sometimes the price they end up paying is just too high.
While both men and women journalists get killed in conflict situations and wars, there are increasing attacks on women journalists for chasing stories about corruption, poverty, mafia, politics and environmental destruction.
Conflict, gender and media have become a deadly cocktail claiming the lives of many a female working journalist. In fact the agencies looking at press freedom have noted that there has been an increase in the numbers of women journalists killed in recent years.
Muddying the pitch is also the mounting issue of censorship that is being sought to be imposed on the media by both state and non-state players in different scenarios. In 2015 UNESCO came out with a survey titled: "Building digital safety for journalism: a survey of selected issues". It revealed that women journalists were more likely to face negative and threatening responses online in comparison to their male colleagues as they were subject to 'double attacks' both as professionals and as women…
In searching for our protagonists and stories, we tried to keep all these aspects in mind so that we could bring a rounded story on women journalists to our viewers in a century truly dominated by the media.
We received around 18 proposals in all and finally chose the ones most suited to our focus- from Philippines, India and Cameroon. A fourth one needed to be done and we worked towards it.
Right from the start I was determined to get Bangladesh blogger Rafida Bonya Ahmed's extremely courageous and moving story on our film. On a visit to Bangladesh two years back Bonya was brutally attacked and her husband, Avijit Roy, was killed right in front of her eyes. She now lives in the USA with her daughter and edits Muktomona, the blog that her slain husband Roy edited.
I reached out to her in the US over e-mail, established trust and got her to come on board. We then commissioned a filmmaker from Canada, Eva Brownstein, an IAWRT member, to film her in the US. These are the advantages of a collaborative film project where you work on a low budget, cut down the carbon footprint and yet get a global story for your documentary.
Between the production and the post production there were several challenges but we managed to surmount those and get into the final cut.
The editing of Velvet Revolution was challenging as one had to the string the multiple narratives coming from different countries and differing regions. Award winning filmmakers Reena Mohan and Nirmal Chander edited the film and brought that wonderful rhythm and pace to it. The film took around eight months to make and again it was possible to bring a global narrative so quickly into place at such a short time because of the collaborative nature of the project and of course strict deadlines.
As a woman journalist for three and half decades in print and television , personally the crafting of this film has been a very meaningful journey. Making Velvet Revolution along with five sensitive and very committed women directors has enriched me as a journalist and documentary filmmaker .
Velvet Revolution is very relevant in our contemporary times given the increasing attacks on media the world over. I also hope that through the film we are able to build more solidarity among our own profession, a solidarity which has been fractured by unnecessary competition regarding circulation and TRPs. To stand by fellow journalists when they are attacked or intimidated is something journalists must seriously reflect on when those who attack the media are increasing in numbers every day. Also society must own and support journalists who do their job at great risk…without their support journalists cannot function independently.
For me, Phillipines journalist , Inday Espina Varona's statement in the film resonates all through Velvet Revolution : "Journalism is truth-telling. To pretend to be neutral and blind to what is happening around you. I think that is unnatural."
Nupur Basu is a senior journalist and documentary filmmaker and executive producer for 'Velvet Revolution'. Her other documentaries include – 'No Country for Young Girls',' Michael Jackson Comes to Manikganj' and ' Dry Days in Dobbagunta'.