Why more Dalits don't opt for journalism
Allegations of casteism arose when a Dalit journalist died of cancer. But is Dalit employment in media a more complex issue?
THE HOOT takes a look. (Photo of Nagaraju Koppula from Chittibabu Padavala~s Facebook wall.)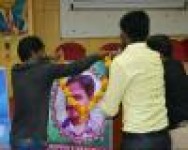 Much is constantly said about the absence of Dalits in the media. Casteism has been alleged after the death of the young Dalit journalist Nagaraju Koppula, from cancer. In addition to the low Dalit representation in the profession there is now the added allegation of below par salaries and no benefits for those Dalit journalists who do manage to get into the mainstream media.
Over the last fortnight, the story of Koppula's death has swirled around in the online universe while public protests and demonstrations have erupted offline. He was a young man in his twenties, employed by the New Indian Express (TNIE) in Hyderabad, waging an uphill battle to have his stories used by the paper for which he worked. Then he was stricken by cancer, allegedly got no financial support from the newspaper, and succumbed to the disease.
The campaign demanding justice for him gained momentum after a statement by the Delhi Union of Journalists (DUJ) alleging caste discrimination by the paper was frenetically forwarded online. The statement reflected the assertion made following his death by his friends, fellow journalists, and Dalit groups that he could have been saved if only his employer had done more.
The DUJ said that TNIE did not give him an appropriate raise on a par with what the "Savarna" journalists were getting and denied him sick leave and medical benefits. It accused the paper of "pushing him to his death" and demanded "that Dalit journalists, who are anyway so few in number, be protected against the casteist behaviour of superiors in media organisations." It also alleged that the paper had quietly removed his names from the rolls.
A group of Nagaraju's friends also sent an emotional article to The Hoot accusing the employer of insensitivity. A. K. Azad reported on the campaign called "Justice For Nagaraju" on Facebook, which was followed up by a 'Run for Nagaraju', lectures, public meetings, and a march in JNU in Delhi. Azad quoted an emotional friend, the researcher Chittibabu Padavala, as saying "He died of cancer, murdered by Manu".
Casteism is easier alleged than proven. Faced with open allegations of casteism from different quarters, TNIE responded with a legal notice to the DUJ which said that its statement had contained "unvarnished lies" and that the paper had an old tradition of being a champion of the underdog. The notice did not go into a rebuttal of the charges but directed the DUJ to disclose the source of its information and halt its defamation. Any journalist thereafter who asked the paper for its version of events, was forwarded the same legal notice.
Meanwhile the man at the centre of the allegations against the paper, TNIE resident editor G. S. Vasu, told The Hoot that there was no caste discrimination. And he told a delegation of the University of Hyderabad Contract Employees' Union, the Democratic Teachers' Network and Telangana Students' Association that he didn't even know Nagaraju's caste.
Close friends of Nagaraju, who spoke to The Hoot on condition of anonymity, said that he met the company's HR people twice and was told he was not entitled to any medical benefit as a contractual employee. "The third time, he went to the office and than came to my office nearby, sat for a long time with me and said 'I don't want to step into this office again', said a friend and colleague.
The suspicion of discrimination grows the with the fact that Nagaraju did not possess a health card though all employees of the newspaper are routinely issued a health card. According to the journalists The Hoot spoke to, Dalit journalists who are desperately in need of a job, or come from backward areas, are already vulnerable and newspaper managements fix their salaries at a lower rate. As journalists on contract and unorganized, they are unable to challenge their wages.
A major reason why Dalits do not enter the media is because they do not have either the network to pull them in, or the bargaining power to negotiate in an increasingly contract-based media environment. Networks matter in media houses where entrance exams may not exist, and even if they do. In a state like Bihar journalists would say a decade ago that the predominance of Brahmins in this profession was partly because if you were a Brahmin, you hired other Brahmins.
Contract employment does away with the need to pay all recruits at the same level the same salary. The allegation was that Nagaraju was being paid less than others recruited at the same level. He was reportedly recruited for Rs 15,000 a month. He did, however, get a substantial raise later but his supporters allege that others got bigger raises.
The differential pay issue further underscores why there is little incentive for Dalits to enter the profession. Can really poor working class families afford to send their children to this profession? Will it pay them enough to support families, will it offer them job security? Hiring in journalism is arbitrary, there are no scales.
Both Dalits and Adivasis tend not to opt for jobs in journalism, even when the opportunities are there, because they get better pay and job security in other fields, namely the government where they have job quotas, and in the foreign funded non government sector where donors often push organisations to employ the under-privileged.
If Nagaraju had been in Government employment he would have had access to loans and free health care. The truth is that in many parts of the country journalists are paid no better than salaries given to domestic servants in metro cities, regardless of which caste they belong to. The editor of one of the two largest circulated Hindi newspapers said a few years ago that the average salary of the journalists he employed was Rs 12,000. You need Dalits and Adivasis to be particularly driven to want to join a profession that offers so little in material terms in return for the tenacious commitment required to do well in it, without the advantages of birth and upbringing in an English speaking universe. Particularly when they come from families that cannot support them financially.
Talking to editors in Ranchi newspapers some thirteen years ago for a series The Hoot did on journalism in the new states, we began to understand why they were few Adivasis in full time journalism. It wasn't because papers would not employ them. It was because they could not afford to be employed by newspapers which offered little job security or benefits. There were Adivasi contributors to the local papers, but they found remunerative full time employment elsewhere.
So why worry if they don't need jobs in this sector? Only because their perspective in reporting on their communities would be different.
What makes Nagaraju's story poignant and tragic is how badly he wanted to be a journalist, and in an English newspaper. His origins were incredibly fraught. His father went missing when he was four years old, and his mother struggled as a daily wage labourer to bring up Nagaraju and his five siblings. He worked from an early age as a construction laborer, then an ice-seller, and eventually became an artist who painted sign boards in his village.
But he was a young man in search of a vocation more than a routine job. He was driven. He sought out stories. He hankered for opportunity. And then disease and misdiagnosis killed him. It is a wrenching story and an important one.
If more people like Nagaraju, from segments of the population that are deprived and discriminated against, do not enter journalism you will not get a consistent spotlight on the issues that plague this community. You may not get it even if the media has more people from these communities but at least the chances will be better.
Paranjoy Guha Thakurta's account on this website of the kinds of stories Nagaraju persisted in seeking out and doing, illustrate this. He reported about prisoners and their families, orphans and stray animals. Some of his articles on the poor "donating" their organs and the dilapidated public health-care system appeared as front-page anchors in TNIE after he had lobbied hard to get them accepted.
Work such as his might never have got the visibility of a P. Sainath or a Katherine Boo but if more Nagarajus came into the profession, their presence, because of their experiences and insights, would help to change the perspective of much reporting.
Such articles are only possible because of your support.
Help
the Hoot. The Hoot is an independent initiative of the Media Foundation and requires funds for independent media monitoring. Please support us. Every rupee helps.