The Congress' hits and misses on Twitter
Analysing the tweets for a month revealed what works and what doesn't, and that Rahul Gandhi does better than his party.
Research by SIMRAN AGARWAL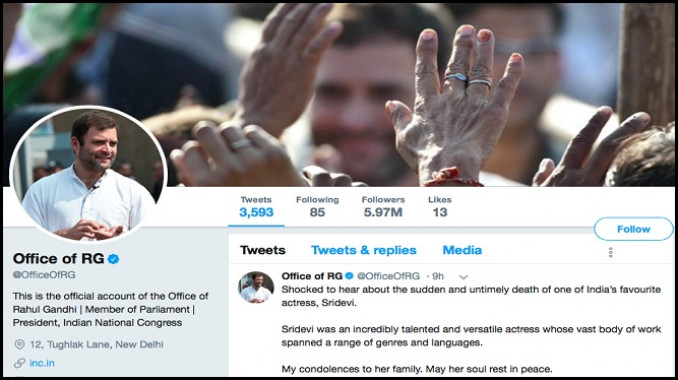 What makes some Congress Party tweets fly and others fall flat? The same as what makes other tweets generally gain traction. They have to be witty or sarcastic or catchy or preferably all three. Nothing works better than a clever pot shot. Tweets that end up dead in the water are ponderous and wordy. Every political party has been struggling to figure out the magic formula that will get them Twitter followers. Most are failing because their messages are routine. The Congress Party's track record shows a mixed bag.
Right after the appointment of Rahul Gandhi as the party president we tracked the daily tweets of the Congress Party's Twitter account (@INCIndia) for a month, a period comprising important events and activities such as the release of the CAG report on the 2G Scam, the Gujarat election outcome, the Congress' Foundation Day, and many more. The conclusion? The Congress needs snappier tweet writers.
The party produces an average of 15-20 tweets a day, excluding days when there were party events and Rahul Gandhi's speeches. Their tweets can be categorized under some overarching themes: criticism of the Modi government, commemoration, Rahul Gandhi's activities, congratulatory messages, speeches and statements made by Congress individuals and committees, comments on national incidents, and cultural and political quizzes and polls.
But despite churning a lot of posts, they do not garner enough response and support from their followers (4.04 million).
The reason could be because many posts are neither clever nor catchy, and often sound like information bulletins. Over a month, from 15th December 2017 to 15th January 2018, they posted 28 tweets about AICC press briefings and 9 statements from INC COMMUNIQUE using Twitter as a space for press releases.
Some tweets put out information about party members addressing the media or speaking in either house of Parliament, such as 'Spokesperson @Shobha_Oza addresses the media on #Aadhaar' or 'RS MP @rajeevgowda speaks in Rajya Sabha on the state of the economy.' They accounted for less than a thousand likes and tweets combined from a follower base of 4.04 million.
Other tweets lambasted the government with rhetorical one-liners or wordy questions:
'Bhajpa raj mein ab betiyan surakshit nahin hai, apraadh aur apraadhiyon ke aage Sarkar ne ghutne teke' (Daughters are no longer safe under the rule of BJP government, the government has kneeled before crime and criminals);
'arthvyavastha behaal, aam log behaal, nyaya dene wali vyavastha behaal! Aakhir yeh kaisa 'new india' banaya jaa raha hai?'(The economy is helpless, ordinary people are helpless, judicial system is helpless! What is this 'New India' being made?);
'There is a clear divergence between Mr. Modi's public posturing on corruption, vs his actions';
'Instead of focusing on job creation, the Modi Govt is channelling anxiety over the lack of opportunities into communal strife.'
Wit works
Congress tweets receive a better response when they are catchy or funny, such as this one accusing the BJP government of renaming Congress schemes - 'Modi Sarkar ko lagbhagh 4 saal hone wale hai aur aaj bhi use apni photo khichwane ke liye Congress ke kiye kaamon ka hi feeta katna padh raha hai' (The Modi government is going to be about 4 years old, and even today, it has been cutting ribbons for the work done by the Congress to get its photo-ops).
This post received a total of 6000 retweets and likes as opposed to less than a 1000 each for those mentioned earlier. Similarly, they received a comparatively huge response for the sarcastic and comical video called 'a recipe for a BJP star campaigner' which gained more than 15,000 retweets and likes combined and their #JanKiBaat satirical cartoon series which received an average of 2,000 to 3,000 responses.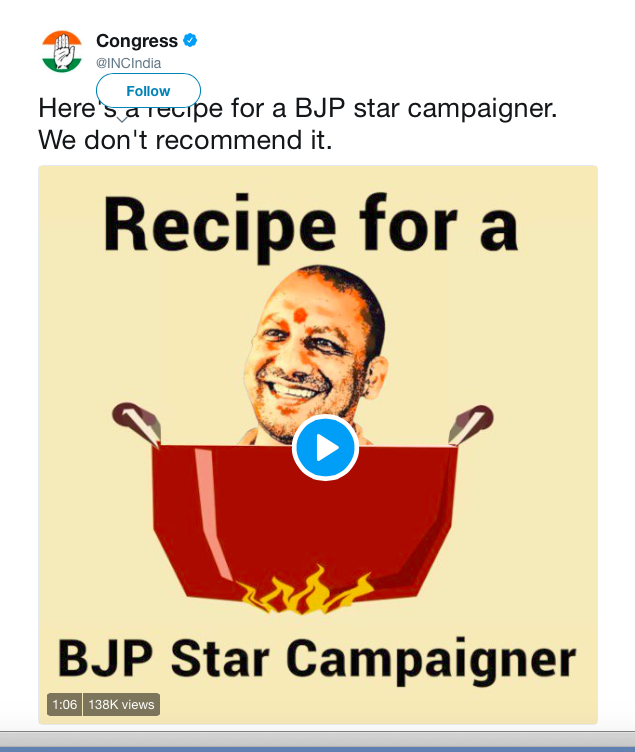 Here's a recipe for a BJP star campaigner. We don't recommend it.
https://twitter.com/twitter/statuses/951461203955539968
2,460 replies4,613 retweets10,966 likes
Culture quizzes flop
The party account has ventured into culture-related quizzes under the hashtag #WhatTheFact and current events-related polls under the hashtag #IndiaSpeaks, in order to create possibilities for people to 'test their knowledge of India' and to garner public support. This has been a bit of a flop.
For instance, cultural quizzes about the history of traditional art forms such as 'which of the following classical dance forms is native to northern india? #WhatTheFact-Bharatnatyam, Kathakali, Kathak, Kuchipudi' or 'The Gwalior gharana is associated with which art form? #WhatTheFact- Dance, Theatre, Music, all of the above', received barely any participation and endorsement, only 7263 and 2793 votes respectively and under a thousand likes and retweets. The following polls seeking public opinion on the national and international incidents under #IndiaSpeaks have faced a similar fate.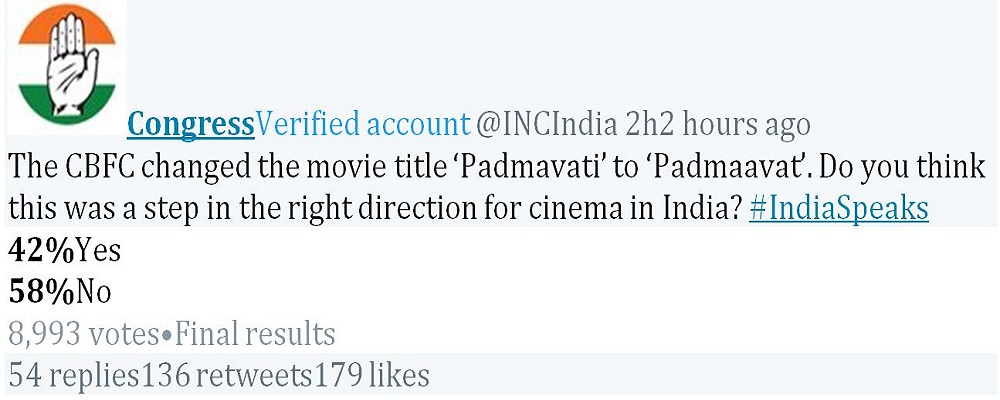 The Congress has recently incorporated these quizzes and polls into their campaign for Karnataka's upcoming elections with the aim of highlighting flaws in the BJP government or their promoting already existing Congress schemes. This too has generated a feeble response.
The @INCIndia account does better when it retweets the Office of Rahul Gandhi account. Although new to Twitter (his account dates back to May 2015), fairly low-key and tweeting only twice a day on an average (as compared with the party's 531 posts over a month), he has a snappy approach to criticising the government.
Clever potshots are a big hit. Such as this one: If BJP had a film franchise it would be called Lie Hard #BJPLieHard#BJPLies#HowManyBJPLies
(4,685 replies 10,739 retweets 31,241 likes). And this: Dear Mr Jaitley - thank you for reminding India that our PM never means what he says or says what he means. #BJPLies -
4,006 replies 14,517 retweets 33,153 likes. His clever vocabulary while criticising the BJP government works well with the Twitterati but so do his posts about his foreign visits and congratulatory messages.
Gandhi has also tried to portray the image of an accessible and compassionate leader by responding to posts by his followers. On 25th of December he replied to this post by user Dipali Sikand (@SikandDipali): 'Today my grandmother turned 107. Her one wish. To meet @OfficeOfRG Rahul Gandhi! I asked her why? She whispers ... He's handsome!'.
'Dear Dipali, please wish your beautiful grandmother a very happy birthday and a merry Xmas. Please also give her a big hug from me. Best, Rahul,' was the reply. This post generated over 36,000 likes and retweets combined. Later he called the user personally to wish her grandmother happy birthday, to which the user posted 'And as if this was not enough @OfficeOfRGMr.Gandhi called and personally wished my Nani!! This is #TrueHumaness. Thank you all of you for the blessings for her. Each one of them matter.
Break-up of ORG tweets
Foreign visits

Criticism of the BJP government

Commemoration

Wishes and congratulatory messages

Extracts from speeches

Comments on national incidents

Thanking ministers and distinguished persons

6

8

5

9

5

2

25
Twitter use across parties
We observed the Twitter activities of the BJP (@BJP4India) and the three major opposition parties - Congress (INCIndia), Trinamool Congress (@AITCofficial) and Aam Aadmi Party (@AamAadmiParty) - for a period of five days (5th February to 10th February). These parties have 9.02 million, 4.05 million, 165 thousand, and 4.56 million followers respectively. (With a presence in barely three states, AAP's followers are more than those of the Congress Party.)
It was found that all four parties use their accounts for showcasing their performance, pitching their development goals and ideas, criticising other parties, celebrating their leader, and miscellaneous activities such as congratulatory and commemoration messages, notices on press briefings and statements from other party members and committees, party events, and quizzes and polls.
Total no.

Tweets

Party

Performance (in %)

Development

(in %)

Criticism of other parties (in %)

Activities of leader (in %)

Misc (in %)

TMC

116

2.5

7.75

22.41

6.03

61.2

AAP

221

37.10

14.02

26.24

7.23

15.38

Cong

196

5.61

1.02

37.25

15.82

40.31

BJP

179

25.7

4.47

33

17.87

19
The four parties have a varied degree of Twitter presence of which TMC uses Twitter the least with fewer than 10 tweets a day on average as opposed to 25 tweets a day for AAP, and 30 tweets a day for both the Congress and the BJP.
After observing these accounts for five days, we found that the TMC had 2.58 % of total tweets dedicated to the party performance in Bengal; the AAP dedicated 37.10% tweets to its performance in Delhi (the survey period coincided with the third anniversary of its government); the Congress had 5.61% tweets about its performance in Karnataka owing to the upcoming elections; and the BJP had 25.7% tweets about its performance nationwide.
Similarly, the TMC had 7.75% tweets about its development plans for the state of West Bengal; AAP had 14.02 %; the Congress had 1.02%; and the BJP had 4.47%.
All the parties seemed to use Twitter mostly for criticism of other parties and governments. TMC had 22.41% tweets criticising the central government for muzzling the opposition in parliament, AAP had 26.24% tweets criticising the central government for their support to the mayor and for the Rafael scam, and the Congress dedicated most of its posts (37.25% tweets) to the criticism of the BJP government at the centre and states.
The BJP too indulges in criticism of the activities and statements of the opposition parties, predominantly the Congress, in parliament and in the states and dedicated 33% of its posts to this.
The parties also celebrate the activities of their leader on Twitter through photographs, videos, and speech excerpts. The four parties had 6.03% (TMC), 7.23% (AAP), 15.82% (Congress), and 17.87% (BJP) devoted to such praise. They also posted some miscellaneous activities, such as those mentioned above. This was more prominent in the case of TMC and Congress who often post in the manner of news bulletins stating party events in one liners. TMC had 61.2% tweets on such miscellaneous activities, AAP had 15.38%, the Congress had 40.31%, and the BJP had 19%.
Having looked at the quantitative aspects of their Twitter accounts, it is also interesting to look at some qualitative aspects such as the nature, language, and tone of their posts.
As mentioned earlier, the TMC and Congress often use their Twitter feed as notice bulletins to announce party engagements with the press and in parliament.
Their tweets are predominantly in English and probably aimed at informing the media. TMC has an understated Twitter presence as opposed to AAP and the Congress that actively use written and pictorial methods to criticise the government in power. TMC draws less than 50 likes and retweets combined to all its posts. AAP, on the other hand, has a better response and generates 1000 likes and retweets combined, on an average.
AAP, in keeping with its name, often retweets posts from the public validating their views. Take this post by a Twitter user @AdityaMenon22 on February 8: "Appreciate @ArvindKejriwal's radio message about #AnkitSaxena's murder. The only way we can prevent crimes like this is to act when they happen in front of us. Not by making it a communal issue". This was retweeted by the party. AAP tweets largely in Hindi.
The BJP and the Congress, on the other hand, indulge in trading charges and taking digs at each other on Aadhaar, the economy, defence deals, and lately farmers' issues in Karnataka. The BJP's post on 7 February on Modi's speech in the parliament asked: "Why should anyone feel bad if the country improves 'ease of doing business' rating? It is beyond comprehension. If nothing, some start questioning the credibility of the rating agency just because it has did not happen under their rule! (PM @narendramodi).
To this, the Congress retaliated on its feed with a videos and tags such as "Time for another fact check: Is the jump in India's ease of doing business ranking really worth celebrating? Well, turns out it isn't! #BJPLies" and "Here is the other video we promised @narendramodi ji. We spotted some inaccuracies in your speech. Never Fear. We can be your fact checker. (#ModiLies").
Party leader retweets work better
One similarity between the party accounts is that they draw a better response when they retweet posts of their party leader. This could be due to the personalization of politics in India and worldwide which reduces the image of a political party to its leader and his or her private life. For example, the post sending out Christmas wishes by the Congress account @INCIndia drew a mere 3000 likes and retweets combined while the post by Rahul Gandhi @OfficeOfRG drew over 30,000 likes and retweets combined.
Similarly, for the post commemorating Deendayal Upadhaya, the post by the BJP account @BJP4India got a total of 2000 likes and retweets combined while a post by Modi and Amit Shah doing the same got 28,000 and 14,000 likes and retweets, respectively.
AAP WhatsApp Pulse
AAPWhatsAppPulse (@AAPWhtsAppPulse) is an initiative to maximise the reach and efficiency of Whatsapp in spreading news, broadcasts and exposing hoaxes. This network is created among party followers and supporters who participate in the chain of message broadcasts which begins with the party itself.
WhatsApp Pulse exists as an application, Facebook page and WhatsApp group. The aim, as the Twitter bio suggests, is "AAP SUPPORTER'S CRUSADE on Whatsapp AGAINST PAID AND BIASED propaganda". Individual supporters also share their own views which get retweeted by the account. This is unique to AAP as other parties often partake in fake, paid accounts and bots to spread propaganda.
Simran Agarwal is a student of Media Governance at Centre for Culture, Media and Governance, Jamia Millia Islamia.