When a virus goes viral
Social media in Kerala has been spreading falsehoods and panic over the Nipah virus
RAJEESH KUMAR T V explains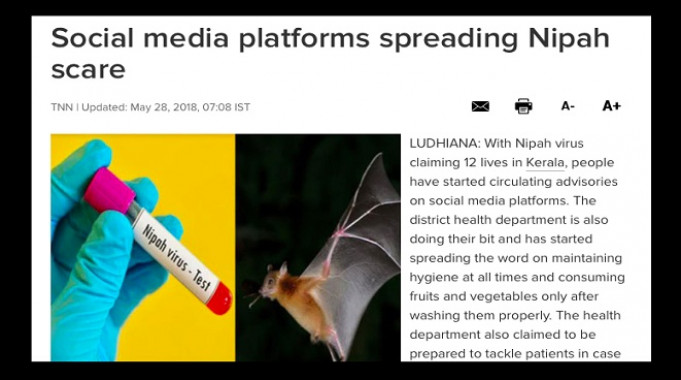 While social media virality inherently carries the potential to reach out to a vast majority, its effects on social life can be simultaneously positive and negative. What Kerala has been witnessing for the last few days is the worst face of this phenomenon and that too in the toughest time in the history of the state. 
Kerala has been under the deadly threat of the Nipah virus which has already claimed the lives of 13 within a very short time. While doctors and the government are diligently working towards eradicating the threat of a rapidly spreading virus, what has been difficult is tackling the viral rumours on social networking sites and instant messaging applications.
WhatsApp and Facebook have been found to be the major carriers of panic. Though the Nipah virus has been reported only in Calicut district, social media messages are saying the virus has been found in Kannur, Wayanad, Malappuram and Kottayam districts too.
According to officials, there have so far been no cases of Nipah reported in these districts. Earlier the Directorate of Health Services had put out an advisory for tourists suggesting that those who wished to be extra cautious may avoid Calicut, Kannur, Wayanad and Malappuram.
But in a recent advisory, the Directorate has made it clear that there is no threat of Nipah in Kannur and Wayanad districts and it has removed these two districts from its intense surveillance.  The District Medical Officer of Malappuram district has also said that there is no Nipah virus presence in Malappuram district.  
Yet The News Minute reports that a social media message saying "no one from Kerala must be allowed to visit Goa" is doing the rounds. A number of messages asking people to refrain from eating chicken are also spreading.  
State and police get tough
Many a time, the state authority has been forced to step in to clarify and explain the reality. The Chief Minister himself came forward to request the public to refrain from spreading rumours on social media. The state police have said that criminal cases will be filed against those who spread rumours on social media. Following this warning, The Kannur District Collector also warned  miscreants through a Facebook post that stringent action will be taken.
However, the viral rumours continue to cause panic in different areas even though the state has been able to control the virus threat by taking timely action and even though the situation calls for citizens to behave responsibly.   
The Age of Virality
This situation gives cause for concern over the social impact of networking platforms. With the unprecedented popularity of social networking sites, the second decade of the 21st century has been witnessing changes in the way people communicate with each other and engage socially.
One such change is what Robert Payne, a digital media expert, terms Virality 2.0. Payne postulates that we are now in an era of virality where the virtual production and circulation of media content is further characterized by the viral replication by itself.
Mixed with apprehension and appreciation, the discourse over the social implications of networking platforms has always been disputatious.  According to Payne, social media has potentially rephrased the semantics of message transmission by popularizing the word sharing which has ultimately ended up bringing in relatively less responsible content sources.
"As transmission has been rebranded as sharing, the question of personal and moral responsibility attendant to transmission and infection have been erased in favour of a bland ideology of interactivity," says Payne.  
'Going viral' has become a desired communication achievement in the age of virality as it connotes successful and effective media distribution.  Payne argues that "virality in and around a web 2.0 context marks an observable shift away from an earlier discursive convention cantered on the virus as an agent of attack upon vulnerable points within an uncontained network".
Though the term viral symbolically relegates virus into the past, the new phenomenon is structurally built around the idea of what a virus does: attack a vulnerable point within an uncontained network and rapidly spread it to others.
The current situation in Kerala re-ignites Payne's question: when transmission of messages is rebranded as sharing, does it abnegate the individual and moral responsibility of citizens? The question 'what is the way out?' is still a complicated one. While social media and its capability of virality ensure a great deal of social progress through a relentless information flow, a blanket 'no' to platforms would be a terrible mistake.
The better way is to say no to both utopian and dystopian rhetoric pertaining to social media. Keeping a highly optimistic and deterministic attitude towards social media could take us towards danger. It is always better to keep in mind that social media is not a utopia constituted with equal opportunities and positive vibes. At the same time, holding an ill-minded approach to these new technologies could also be disastrous as it can take us back to one-way communication.
As another expert, Danah Boyd, says: These extreme rhetorics are equally unhelpful in understanding what actually happens when new technologies are broadly adopted. Reality is nuanced and messy, full of pros and cons. Living in a networked world is complicated".  
Rajeesh Kumar T V is UGC-Junior Research Fellow, Dept. of Electronic Media and Mass Communication, Pondicherry University. Email: rajeeshkumar.t.v@gmail.com